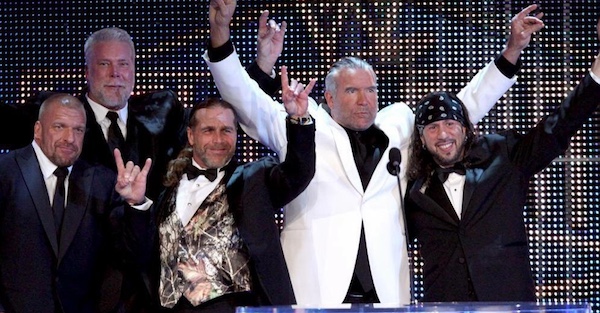 Shawn Michaels/Facebook
Shawn Michaels/Facebook
Many fans have debated about how the Shield would match up against some of the other top factions in wrestling history.
The New World Order, particularly its original three-man incarnation of "Hollywood" Hulk Hogan, Scott Hall and Kevin Nash, have long been linked as "dream opponents" to the trio of Roman Reigns, Seth Rollins and Dean Ambrose.
However, in response to PWP Nation's tweet asking how his faction would fare against the recently reunited "Hounds of Justice," Nash answered literally that the nWo would lose because they are "retired" and "179 years old collectively."
Presumably, the hypothetical match was meant to have both groups in the prime of their respective runs, be it the Shield now or during its initial incarnation from 2012-14 and nWo circa 1996.
However, given Nash's history of having a dry sense of humor in shoot interviews and on social media, his answer shouldn't come as much of a surprise.
In July, the 58-year-old former multi-time World champion tweeted that he was grateful for fans asking for another "run" with WWE, but joked that he doesn't "even have a brisk walk left" after numerous surgeries.
The comment came specifically after Nash suffered a torn meniscus one week prior. He said that injury necessitated a surgery, which marked the 32nd time that he underwent a procedure.
Nash, a WWE Hall of Famer, last wrestled for the company in 2011 and has otherwise worked various matches for several smaller promotions. His most recent match was in 2016, but with another surgery and Nash frankly admitting that he?s getting older, it?s probably unlikely that we will see Nash back in a competitive role in WWE.