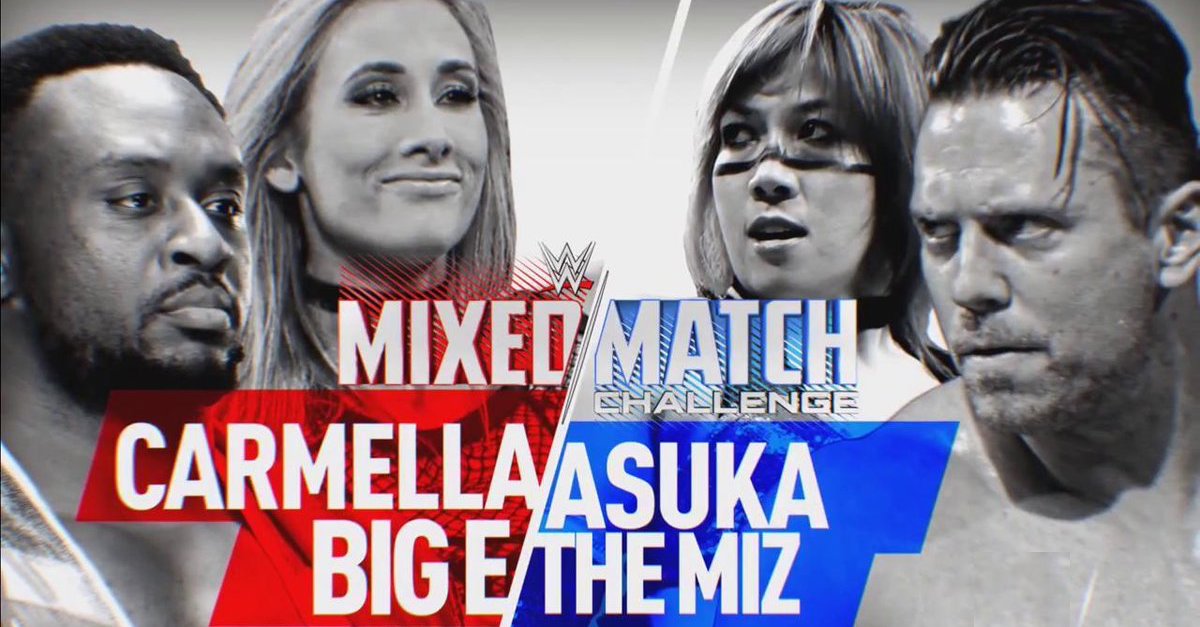 @WWE/Twitter
@WWE/Twitter
The WWE Mixed Match Challenge aired Week 2?s matchup live on Facebook Tuesday, January 23, with The Miz and Asuka facing off against Big E and Carmella at 10 p.m. ET.
The Miz and Asuka def. Big E and Carmella via submission
Carmella and Big E wore matching singlets, but Miz and Asuka continued their chant of, "We will win."
Big E took it to Miz early on, working over the Intercontinetal champion. Big E tried to hit the Big Ending, but Miz revered into his ddt. Carmella broke up the pin attempt, and Asuka attacked Carmella.
The duo then hit Miz kicks at the same time. Miz reversed a powerbomb attempt by Big E, then worked over the former tag champion to a rest hold.
Miz missed on a turnbuckle clothesline and Asuka made the hot tag. She was getting pumped up with Miz before she caught a super kick to the face from Carmella. Asuka gained the advantage, hit the running knee and put Carmella in the arm bar for the submission victory.
WWE Mixed Match Challenge results and schedule
First Round:
Week 1: Finn Balor & Sasha Banks def. Shinsuke Nakamura & Natalya
Week 3: Braun Strowman & Alexa Bliss vs. Sami Zayn & Becky Lynch
Week 4: Goldust & Alicia Fox vs. Jimmy Uso & Naomi
Week 5: Elias & Bayley vs. Rusev & Lana
Week 6: Apollo Crews & Nia Jax vs. Bobby Roode & Charlotte Flair
Second Round:
Week 7: Balor & Banks vs. Miz & Asuka