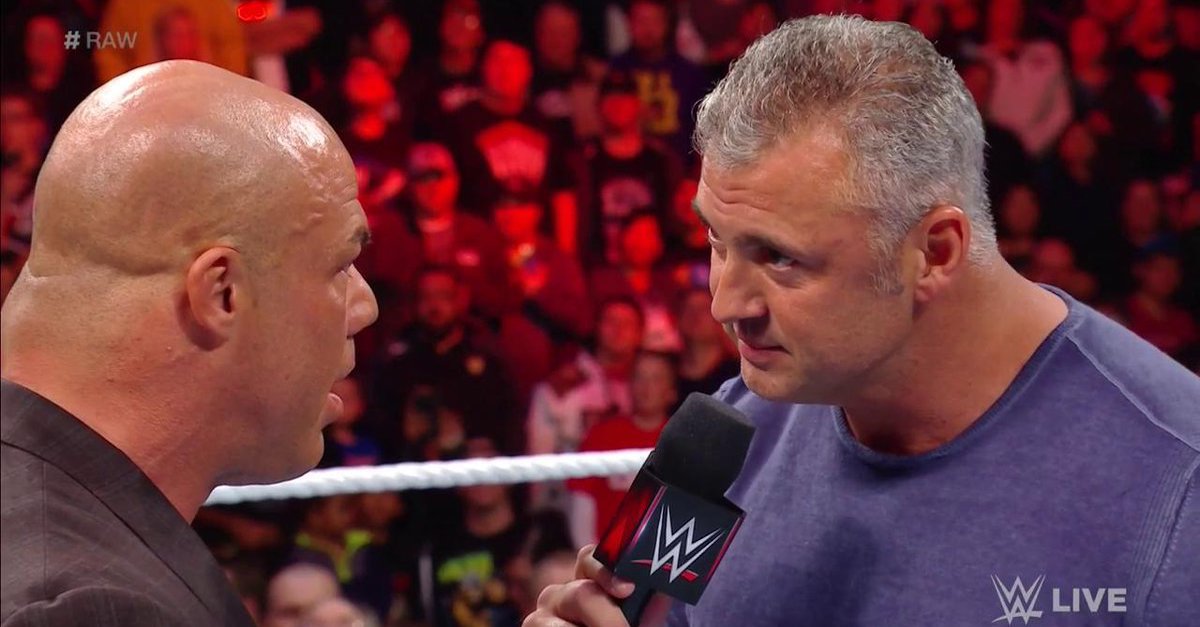 @WWE/Twitter
WWE Monday Night Raw broadcast live from Green Bay, Wisconsin on the USA Network at 8 p.m. ET.
So Smackdown just invaded Raw and it's better than the WCW/ECW Invasion angle ever was
As Kurt Angle was announcing the Raw Survivor Series squad to take on Smackdown Live, Shane McMahon and the SD Live roster (or at least a good amount of them) show up to the arena and announce their presence with authority. Shane just said two words and the SD Live roster went backstage to attack, I'm assuming these two words will be a common theme as Survivor Series builds…..
Under. Siege.
The final 10 minutes of Monday Night Raw consisted of the SD Live Roster doing their worst West Side Story impression while laying waste to the Raw roster, wether they be men or women or Enzo. The SD Live Roster landed the first punch in what should be an exciting four weeks till Survivor Series.
Brock Lesnar responds to Jinder Mahal's challenge at Survivor Series
Remember Raw's Universal Championship? Yeah, you had to remember that there actually was a champion at one time. Well, Brock came to Green Bay tonight and answered he challenge from Mr. Mahal. Well, the advocate for Mr. Lesnar did. Oh how I've missed you Paul Heyman.
Paul Heyman cuts the promo that everybody was waiting for, he cut one on Jinder Mahal and it was beautiful. He pointed out that Mahal was basically a paper champion and wasn't worthy of holding the belt.
After explaining that Brock was not only going to take him to Suplex City, he would make it be known that Lesnar officially accepts the challenge from Jinder Mahal. It's on.
Dean Ambrose, Seth Rollins and AJ Styles def. Miz, Sheamus and Cesaro via pinfall
In a continuation of last night's action, The Miz comes out and demands Kurt Angle should be fired for his actions last night (you know, cause he beat The Miz). So Kurt sets up a match to kick off the show, Dean, Seth and Smackdown Live's AJ Styles against The Miz, Cesaro and Sheamus. Although there was great action for a nice portion of the match, I though it dragged a bit too long. Three segments is a bit much, especially after the cluster-whatever Sunday night was at TLC. The babyfaces pick up the victory and for some reason, Kane comes out…
Ugh.
Kane is back….Yay.
Kane comes out and enters the ring talking about how he got rid of Braun Strowman (who will be out for several weeks or even months) and how he's in need of some competition and who would possibly come out??? Finn Balor!
Kane def. Finn Balor via pinfall
After the break the bell rings and the fight breaks out and Kane's aggression from last night takes over and gives him the early advantage. Finn fights back with some of the sleek work he's always been known for even getting in a solid move that gets Kane into the steel steps. After setting up for a coup de' gras, Kane gets up and choke slams Balor not once or twice but three times to get the pinfall.
Message sent to Braun Strowman, who is in the great garbage truck in the sky.
Survivor Series set up, Monday Night Raw vs. Smackdown Live (Yes, again)
To kick off the show, Raw GM Kurt Angle announces select matches at Survivor Series. Most if not all will have some type of red brand vs. blue brand, the matches include the following….
Universal Champ Brock Lesnar vs. WWE Heavyweight Champ Jinder Mahal
Raw Women's Champ Alexa Bliss vs. SD Live Women's Champ Natalya
Raw Tag Team Champs, Dean Ambrose/Seth Rollins vs. SD Live Tag Team Champs, The Usos
Raw Intercontinental Champion, The Miz vs. SD Live United States Champion, Baron Corbin
Traditional Five-on-Five Survivor Series Matches, both men and women..
Alicia Fox def. Bayley and Sasha via pinfall and will captain Monday Night Raw women's team at Survivor Series
In a triple threat match, Alicia Fox used her craziness to get over and win the match against Banks and Bayley. Clearly they are using this to give Alicia a final push before she hangs up the boots. It will be interesting to see how this goes. Especially with the—
Oh. My. God.
Smackdown Live just invaded Monday Night Raw.
Monday Night Raw Best of the rest
Asuka def. Emma (via pinfall)
Jason Jordan def. Elias (via DQ)
Team Kalisto def. Team Enzo (via pinfall) in 10-man Tag Team Action
Monday Night Raw results leading up to Survivor Series