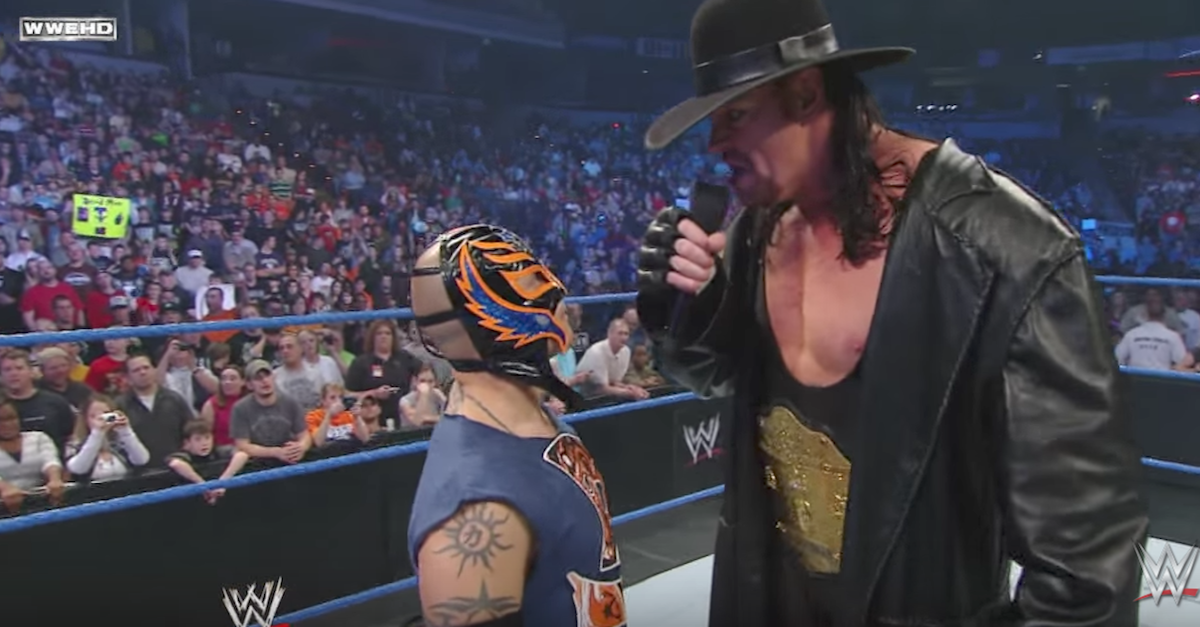 YouTube/WWE
WWE YouTube screenshot
Ever since his return at the Royal Rumble in January, rumors have been that Rey Mysterio would be joining WWE for one last run at some point.
However, Mysterio's potential return may have suffered a serious setback on Saturday, as Dave Meltzer of the Wrestling Observer is reporting that Mysterio may have suffered a torn bicep in a match with Northeast Wrestling. The report says that after the injury, Mysterio took the match straight to the finish and that there was heavy swelling in his arm afterwards.
Depending on the severity, a torn bicep is an injury that pro wrestlers can often work through before getting surgery down the line. However, if Mysterio has hopes of joining WWE, he might need to have the injury taken care of before he is able to pass the company's medical evaluation.
Surgery for a torn bicep would likely mean at least a four-to-six month recovery, similar to what is happening with former NXT Champion Drew McIntyre. McIntyre suffered his injury at the November NXT TakeOver: War Games show and he is currently not expected back until after WrestleMania in April.
At 43, Mysterio has slowed down, but he is still capable of great matches and he has generally kept healthy by the less demanding independent schedule. He looked to be in fantastic shape in his Royal Rumble appearance, which is significant with the knee injuries that the 25-year veteran has dealt with in the past.
Between WCW and WWE, Mysterio is one of the most decorated "cruiserweight" wrestlers off all time. Mysterio is a three-time WWE world champion, a two-time Intercontinental Champion, five-time tag team champion, and eight-time cruiserweight champion. Mysterio is also one of the few remaining active wrestlers to have worked for the original ECW, WCW, and WWE.