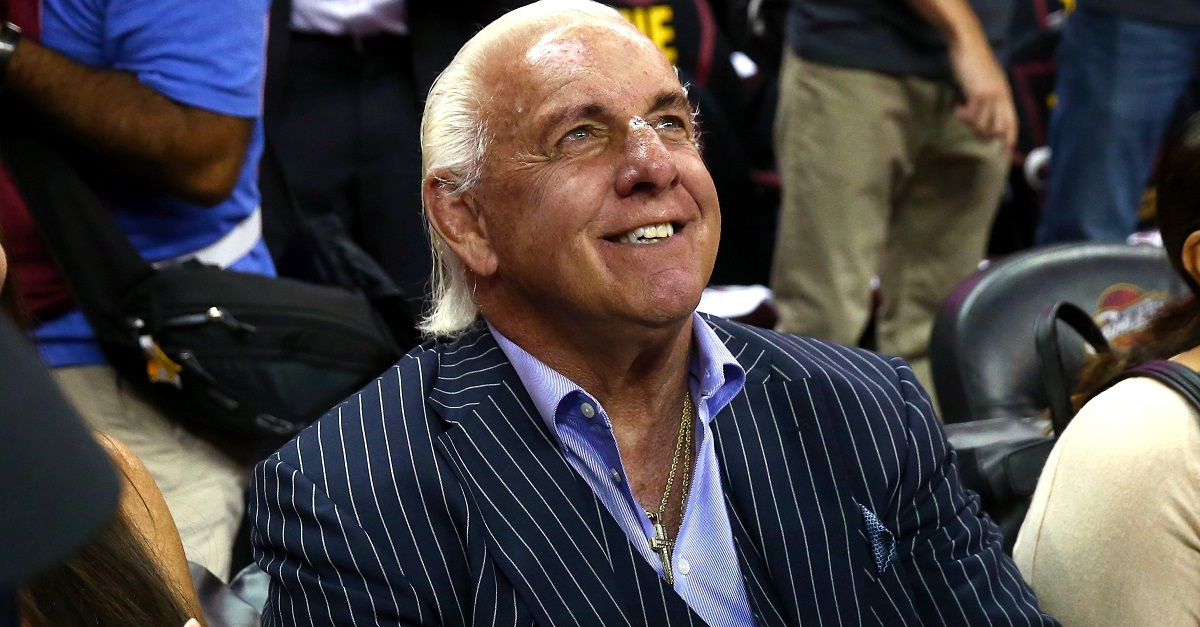 Ronald Martinez/Getty Images
CLEVELAND, OH - JUNE 07: Former wrestler Ric Flair attends Game 3 of the 2017 NBA Finals between the Golden State Warriors and the Cleveland Cavaliers at Quicken Loans Arena on June 7, 2017 in Cleveland, Ohio. NOTE TO USER: User expressly acknowledges and agrees that, by downloading and or using this photograph, User is consenting to the terms and conditions of the Getty Images License Agreement. (Photo by Ronald Martinez/Getty Images)
WWE Hall of Famer Ric Flair joined ESPN First Take to discuss his legendary wrestling career hours before the network premier of his 30 for 30 special: Nature Boy.
During the conversation, Flair revealed that fellow WWE Hall of Famer "American Dream" Dusty Rhodes, who he had a historic rivalry against during his run in Jim Crockett's National Wrestling Alliance in the 1980s, was his all-time favorite opponent.
"Back then it was Dusty Rhodes," Flair said. "The Dream was something else and we drew money wrestling each other for 20 years. That Great American Bash, we'd leave for 46 days and go from one side of the country to the other and, of course, the last week we'd just park ourselves in Vegas, fly the private jet to Seattle back to Vegas, Portland back to Vegas, Albuquerque back to Vegas, L.A. back to Vegas, Frisco back to Vegas, so you could imagine how we felt flying home to stop in Kansas City to catch one more show."
It's no surprise that Flair would name Rhodes as his favorite opponent considering his rivalry with the American Dream not only remains one of the best in wrestling history, but also helped catapult him into superstardom as one of the industry's all-time greatest heels.
The rivalry pinned the cocky, arrogant heel Nature Boy against the lovable, everyman babyface American Dream. Flair defeated Rhodes to win the first of his 16 world championships on Sept. 17, 1981 and the feud extended for years as NWA's top angle.
Following Rhodes' death in 2015, Flair told Busted Open Radio that he "idolized" his former rival and reflected on their time together:
"?If Dusty Rhodes came on the scene tomorrow at 25 years of age Vince McMahon wouldn?t have enough money to pay the guy. He was that good? in the ring and on the mic. They don?t make them like him anymore ? he was that good. And he was a genius. I used to say ?Hey what are you doin? man?? and he used to say 'I?m genius-ing' (laughs). It used to crack me up the things that came out of his mouth. He was genius-ing so? that?s it, you know? We made music for 30 years together."
Flair's 30 for 30: Nature Boy documentary will air at 10:00 p.m. on ESPN on Tuesday night.