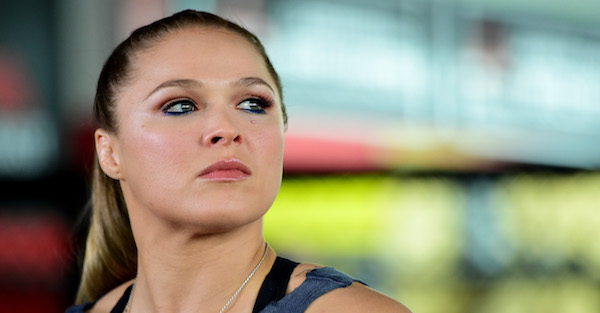 Harry How/Getty Images
GLENDALE, CA - OCTOBER 27: Ronda Rousey speaks to media at a press conference leading up to her fight against Holly Holm in UFC 183 at the Glendale Fighting Club on October 27, 2015 in Glendale, California. (Photo by Harry How/Getty Images)
It appears as thought not everyone is thrilled with Ronda Rousey appearing at the Royal Rumble. This is especially so for some colleagues.
For those unaware, the former UFC megastar debuted Sunday after the historic first ever Women's Royal Rumble. It happened after Asuka won, who then shared a little in-ring moment with Raw Women's Champion Alexa Bliss and Smackdown Live! Women's Champion Charlotte Flair, and it didn't really impede on the moment.
Or, at least that is what some thought before a handful of women's talent spoke out:
It appears, at least from the outside, as if this is more about the national, non-wrestling base coverage the WWE is hoping Rousey draws.
Nix Jax and Nikki Bella might be giving voice to other wrestlers in the back too, and there is always this weird argument to be made in pro wrestling about "who earned it".
Whether this is a work, or their true feelings, the spotlight likely isn't shifting off of Rousey anytime soon. We'll see if any of these side comments are used to stack the deck against Rousey on television.