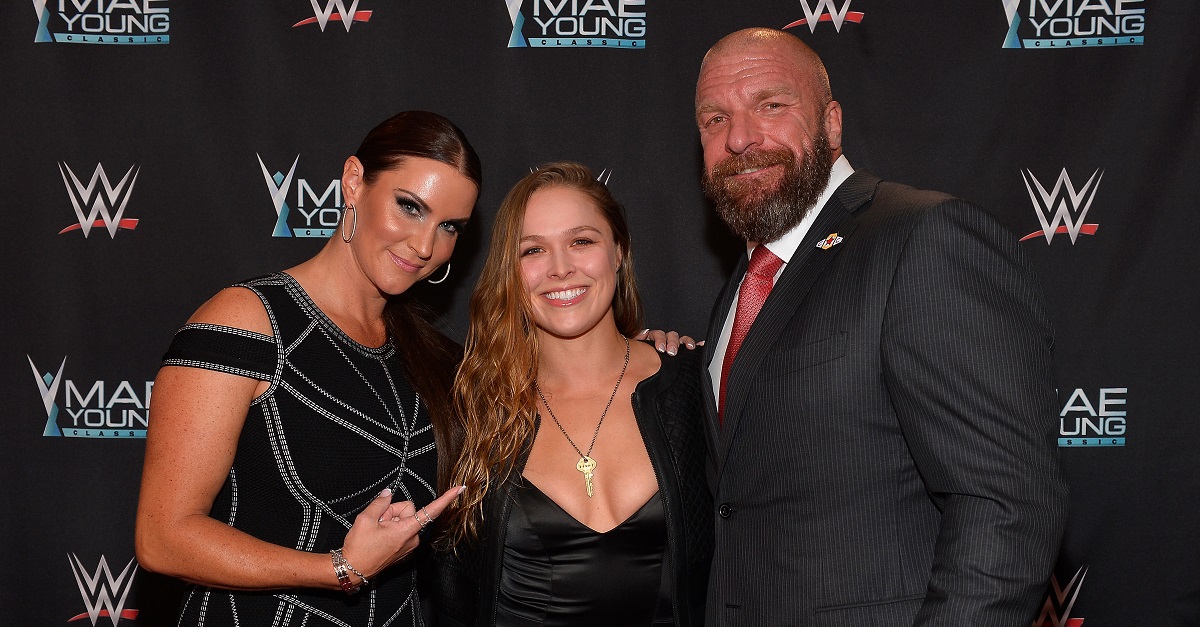 Bryan Steffy/Getty Images for WWE
LAS VEGAS, NV - SEPTEMBER 12: (L-R) WWE Chief Brand Officer Stephanie McMahon, MMA fighter Ronda Rousey and WWE Executive Vice President of Talent, Live Events and Creative Paul "Triple H" Levesque appear on the red carpet of the WWE Mae Young Classic on September 12, 2017 in Las Vegas, Nevada. (Photo by Bryan Steffy/Getty Images for WWE)
Despite Ronda Rousey not being in the octagon recently, she is still one of the more popular fighters in the world. However, it appears "imminent" that she will be transitioning to a different kind of fighting as USA Today is reporting that she is finalizing a deal with WWE.
It remains to be seen if she would be on the full-time roster or if Rousey would appear in a part-time role.
While participating as an active in-ring competitor during WWE's RAW tour in Europe, WWE executive Paul "Triple H" Levesque appeared on Good Morning Britain to discuss the company's potential working relationship with UFC stars Conor McGregor and Ronda Rousey.
Levesque also acknowledged there is mutual interest between WWE and former Rousey in bringing in the UFC Women's Bantamweight Champion.
"She is very interested in our business, always has been. Huge fan, that's where the 'Rowdy' Ronda came from. I think she's interested in the opportunity and I'm interested in offering the opportunity, so we have some talking to do."
Back in October, the Wrestling Observer reported that a match between Rousey's UFC Four Horsewomen (Shayna Bazler, Jessamyn Duke and Marina Shafir) and WWE's Four Horsewomen (Charlotte Flair, Sasha Banks, Bayley and Becky Lynch)  is "set" for WrestleMania. That's a change after original plans called for Rousey and Co. to show up at Survivor Series.
The move came after WWE's decision to focus on Smackdown vs. Raw at the annual show, and according to the Observer, for Rousey, Jessamyn Duke and Marina Shafir to get more practice time in the ring.
WWE posted an exclusive interview with former UFC champion Rousey, Duke and Shafir at Full Sail University following friend and fellow "Four Horsewomen" Baszler's win over Mia Yim during the second-round of the Mae Young Classic.
In the video, the group is confronted by WWE "Four Horsewomen" members Bayley, Becky Lynch and Charlotte Flair.
Rousey throws down her bag and tells the group to "name the time and place," before they retreat.
Footage from the event's taping showed Rousey, Duke and Shafir sitting in the front row interacting with Bayley, Flair and Lynch after Baszler's victory emerged during the tournament, which created speculation that the two groups would eventually work an angle together.
According to their sources, WWE has referred Rousey, Duke and Shafir — the fiancée of current NXT competitor Roderick Strong — to current 205 Live competitor Brian Kendrick's wrestling school in Southern California. The company had previously referred former Total Divas star Eva Marie — who was officially released last month — to Kendrick.
WWE Hall of Famer Jim Ross, who called the Mae Young Classic, told TMZ on last month that Rousey's transition to professional wrestling is "inevitable".