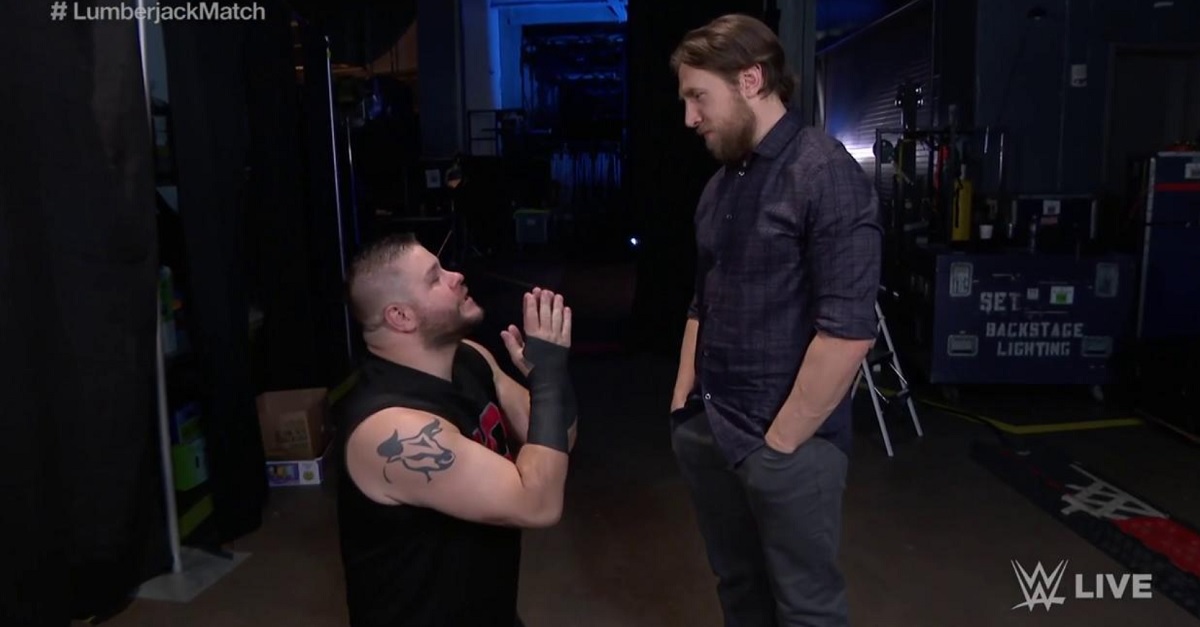 Twitter/WWE
WWE SmackDown Live was broadcast from the Toyota Center in Houston, Texas on Tuesday, November 21, 2017.
WWE SmackDown Live main event: Sami Zayn and Kevin Owens def. (pin) The New Day in a lumberjack tag team match
What's better than a tag team match? A lumberjack tag team match! As a punishment for interfering in the Survivor Series match that cost SmackDown Live a chance to beat Raw, Sami Zayn and Kevin Owens were men on their own island as they took on the New Day and essentially the entire SD Live roster.
As most lumberjack matches go, we see the "bad guys" in the match try and escape but can't due to the group literally carrying Sami right back in. I'm really enjoying the heel Sami Zayn, is he annoying? Yes. Does it work? Yes.
All of the gentleman in the match are great workers so this was a solid three, maybe four-star match.
Then we have the usual lumberjack breakdown where everybody starts to fight and after the melee Sami and Kofi are left in the ring and after a brief back and forth it's Sami who picks up the victory. After the match, Kevin Owens attempts to escape and gets out but Sami does not and is ganged up on by the New Day.
So is this where we see the beginning of the end of Sami and Kevin as a duo?
The end of the show we see Kevin Owens, begging and pleading to keep his job but Daniel Bryan was never going to fire Owens. Instead, he's got a match next week against Randy Orton.
Mahal-Styles rematch set for Clash of Champions
AJ Styles comes out and thanks to the WWE Universe for the support he got after valiantly fighting his way to going up against Brock Lesnar at Survivor Series. We see Jinder Mahal on the big screen (in India?) talking about how he's revoking his rematch clause for Clash of Champions and will face Styles at the mid-December Pay-Per-View.
Just as that was ending, we see the Singh brothers attack AJ but AJ fights his way back and stands tall at the end.
Later on in the show, it's announced for next week: Styles vs. Singh brothers in a handicap match.
The NXT Women's invasion continues
Monday night gave us the return of Paige along with Mandy Rose and Sonya Deville who went after the Women of Raw. Well, things continued on Tuesday night as Liv Morgan, Ruby Riot and Jessica Logan attacked Naomi and Becky Lynch backstage. These weren't just soft jumps and gang up beatdowns. It was legit shoot aggression for the NXT ladies, I loved it.
The new trio continued their path of newfound destruction by taking out Charlotte and Natalya during their rematch for the Smackdown Live women's title. Something is going to happen within the next few weeks where we will see the vets of SD Live fight back or we see a match set up with the trio of Morgan, Riot and Logan.
Bludgeon Brothers def. (pin) Hype Bros.
After weeks and weeks and weeks of vignettes and teases, we see the Bludegon Brothers finally debut. After some soul searching in their Wyatt past we see their new gimmick which is basically them dressing up in what looks to be Kane attire that was never worn and just dyed a much more burgundy red.
Anyway, we see the duo of Harper and Rowan take out the Hype Bros. in very quick fashion. I'm not sure where this is all leading but hopefully, this gimmick gives the longtime pair a shot in the arm to their careers.
Shane McMahon-Daniel Bryan rift grows
So, as much as I loved the Shane-D. Bry relationship, it's starting to crumble and it makes me sad. At the start of the night, Shane comes out to thank the WWE Universe for supporting the SD Live crew at Survivor Series. Even in defeat, Shane is proud of each and every one of the men and women on the roster who bleed blue.
Except for Kevin Owens and Sami Zayn.
Shane calls them to the ring and when you think he's about to fire them, Daniel Bryan comes out and announces that they have a match with the New Day. Later on, just as Shane is about to leave early we see Daniel Bryan is looking a bit mischevious.
When talking to a WWE reporter after the seeing the women from NXT beat down Charlotte and Natalya, Daniel Bryan has no comment. Uhhhhh what??!!??
Shane and D. Bry are about to go their separate ways and I'm not sure I'm ready for it.
Best of the rest
Shelton Benjamin def. (pin) Jey Uso
Aiden English singing about how it's Rusev Day…BECAUSE EVERY DAY IS RUSEV DAY!!!
Fashion Files is returning next week
Xavier Woods dressed as a lumberjack, nobody loves a theme like Xavier!
Build to WWE Clash of Champions