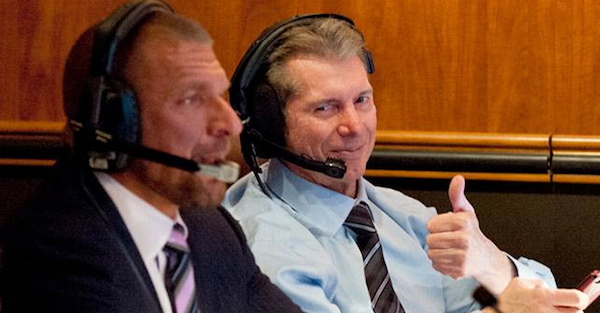 MrMcMahonWWE/Facebook
MrMcMahonWWE/Facebook
WWE is really going all out after being forced to make late replacements for this Sunday's TLC pay-per-view.
WWE already announced that Kurt Angle and A.J. Styles would be filling in for Roman Reigns and Bray Wyatt on the show, was Reigns and Wyatt are among the WWE talents dealing with a serious "viral infection" that has forced them out of their matches.
With WWE pulling Styles from the SmackDown Live tour of South America to perform at TLC, the company has been forced to make a reciprocal move to replace Styles on those shows. It looks like WWE will be relying on another legend making his in-ring return, as 14-time world champ Triple H announced that he would be the one filling in for Styles.
This will mark Triple H's first return to the ring since his match at WrestleMania 33 against Seth Rollins. Triple H — real name Paul Levesque — has wrestled sparingly over the past few years ever since taking over a legitimate executive role with the company.
It's currently unclear who Triple H will be wrestling on those non-televised shows, but it really shows that WWE is going above-and-beyond to cater to the fans in a difficult situation.
Wyatt, Reigns, and Bo Dallas — the third wrestler who has been off of shows due to the illness — have no current timetable for a return to the ring.