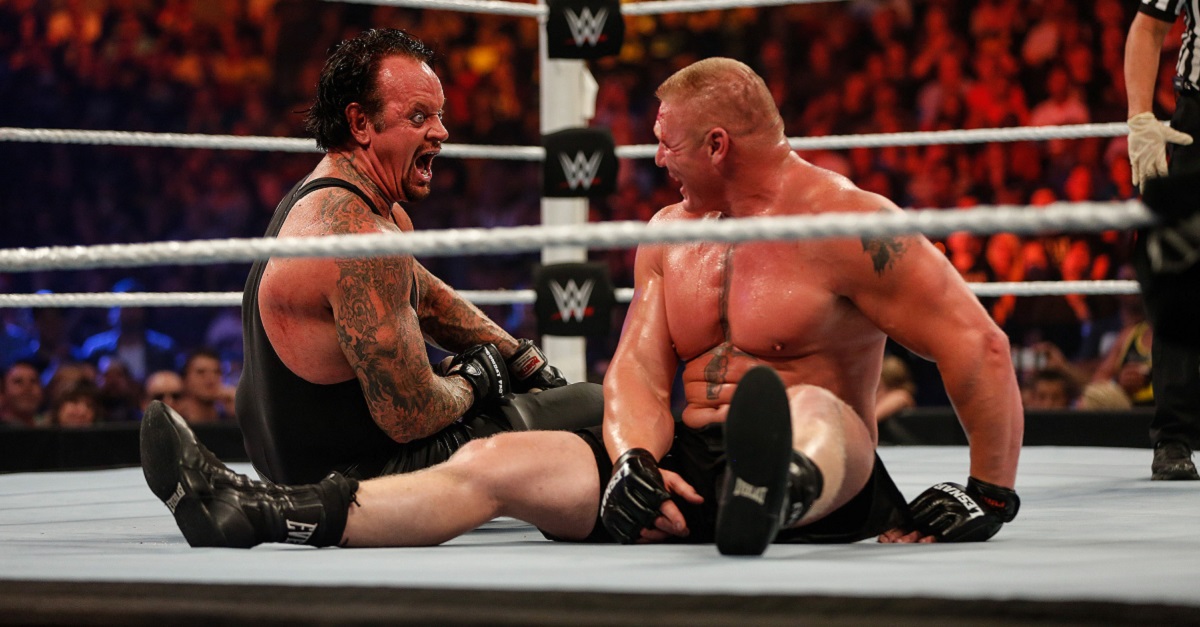 JP Yim/Getty Images
NEW YORK, NY - AUGUST 23: Brock Lesnar and The Undertaker battle it out at the WWE SummerSlam 2015 at Barclays Center of Brooklyn on August 23, 2015 in New York City. (Photo by JP Yim/Getty Images)
The Undertaker usually keeps a low profile about his personal life, so any looks at the man officially known as Mark Calaway are always something new.
So of course something that caught the eye of fans this week was when The Undertaker's wife — former WWE Women's and Diva's Champion Michelle McCool — posted a picture on Instagram of Undertaker and the couple's daughter wearing matching shirts supporting standing during the national anthem.
The shirt, which says "I stand for our national anthem", has become a popular style ever since former San Francisco 49ers quarterback Colin Kaepernick started his protest demonstrations during the national anthem prior to NFL games. Despite Kaepernick having been out of the NFL for a year now, the controversy on the national anthem has become a more heated issue after President Donald Trump made fiery remarks about protesting NFL players back in September.
As for The Undertaker, he still appears to be in-between retirement and a return to WWE for another run at WrestleMania. The big rumored match for him would be with John Cena, which is a singles match that has yet to happen on the biggest stage in WWE.