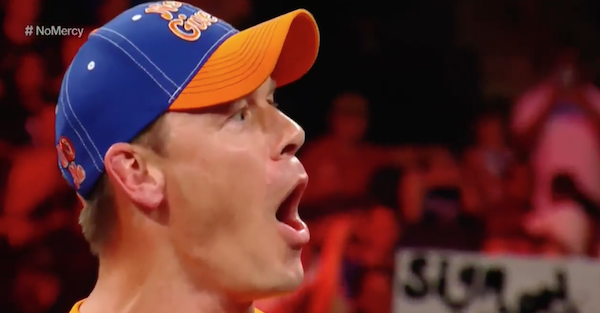 Clippit screenshot
Monday Night Raw broadcast live from Memphis, Tennessee, at 8 p.m. ET on USA Network.
Monday Night Raw Main Event — Raw Women's Championship match: Alexa Bliss def. Sasha Banks (c) by pinfall
Bliss rolled Banks up three times to start the bout looking for a quick pin. Bliss landed a brutal backbreaker across her knee that looked to legit injure Banks.
Bliss connected on a brutal right hand that had Banks out on her feet then hit a sunset flip for the close two count.
Bliss connected on a top rope suplex and as she crawled over to get the pinfall, Banks reversed into the Banks Statement. Bliss reversed into a pinfall, Banks escaped and Bliss hit a DDT for the pinfall.
Nia Jax came down to celebrate with Bliss before turning on her friend and attacking the new champion.
Roman Reigns and John Cena def. The Club (Luke Gallows and Karl Anderson) by pinfall
Cena and Reigns had trouble early on, but both hit their finishers at the same time to beat the Club.
Roman Reigns vs. John Cena contract signing for No Mercy:
Cena said Reigns has been protected his entire career and that's why he wants to fight him. Reigns came out and said Cena isn't as big of a deal as he thinks he is. He said he retired the Undertaker at WrestleMania and said it's not that he doesn't want to fight Cena, it's that he doesn't need to. Cena said fans go back and forth on Reigns because he's a "cheap a**, corporately created John Cena bootleg." He said he's not the guy, he's a guy.
Reigns said people boo Cena because he sucks. Reigns started struggling and Cena told him he needs to learn how to cut a promo.
Reigns called him a "fake b***h." Then called him a part-time "fake a** b***h."Reigns then said Cena jumps off his bus and buries enough young talent as possible and that's how he stays on top of the mountain.
Cena said congratulations, it took Reigns five years to cut a halfway decent promo. Cena said he's still here because Reigns can't do his job. Cena said he can do this part-time better than Reigns can do it full-time. Reigns signed the contract for No Mercy and Luke Gallows and Karl Anderson interrupted the showdown to ask for a match against the team of Cena and Reigns.
WWE Tag Team Champion Dean Ambrose (w/ Seth Rollins) def. Sheamus (w/ Cesaro)
Cesaro distracted the referee and Rollins hit Sheamus with a flying knee. Rollins dove outside onto Cesaro, while Ambrose hit Sheamus with the Dirty Deeds for the pinfall.
Cesaro (w/ Sheamus) def. WWE Tag Team Champion Seth Rollins (w/ Dean Ambrose) by pinfall
Rollins looked to be in control when Sheamus tried to take his legs out on the apron. He evaded Sheamus while Ambrose attacked him and brawled on the outside. Cesaro hit Rollins with an uppercut for the quick rollup and three count.
Sheamus got on the mic and called for Ambrose to fight him next.
WWE Universal champion Brock Lesnar and Paul Heyman segment:
Heyman talked up Braun Strowman being the most deserving title contender in WWE. Heyman reminded the audience of Strowman's beatdown of Lesnar last week and a video package rolled of Strowman hitting two powerslams on Lesnar. Lesnar cut Heyman, grabbed the mic and said, "What he's trying to say is…Suplex City B***h."
Enzo Amore def. Noam Dar by pinfall
Enzo cut a promo ahead of his 205 Live debut. Dar worked Amore over around the ring, taunting and mocking him. Amore eventually reversed an irish whip into a falling down boot to the face for the pin.
No. 1 contender for the Intercontinental championship battle royal: Jeff Hardy def. Big Show, Matt Hardy, Bo Dallas, Curtis Axel, Finn Balor, Jason Jordan, Kalisto, R-Truth, Goldust, Apollo Crews, Curt Hawkins, Elias, Luke Gallows, Karl Anderson
Curt Hawkins taunted after the bell rang and everyone in the match teamed up and tossed him. Big Show sans his beard welcomed the entire ring to attack him, but he fought them off. Balor joined Anderson and Gallows and tossed Big Show in a mini Club reunion. Gallows got eliminated, followed by Anderson by Matt Hardy. Gallows pulled down Matt Hardy as the three brawled on the outside. While refs were distracted, Miz saved Dallas from being eliminated by Balor and Jeff Hardy.
Balor laid out the ring, Bray Wyatt's video played and he showed up behind the former champ to toss him over the top rope. The lights went back on and Wyatt was nowhere to be found. Jordan eliminated both members of the Miztourage, then Elias. As Jordan's back was turned, Jeff Hardy tossed Jordan over the top rope to become the No. 1 contender for Miz's title.
Monday Night Raw best of the rest:
Elias played a song trashing Memphis when Jerry Lawler cut him off to bring out Southpaw Regional Wrestling's Pelvis Wesley. Elias attacked Wesley and hit the Drift Away.
Emma def. Mickie James by pinfall. Mickie James must now tweet whatever Emma wants, including that she started the Women's Revolution.
The Miz cut a promo on the value of the Intercontinental championship diminishing. Kurt Angle announced Miz will defend the title next week against the winner of the next over the top rope battle royal.
Tweets about from:@totaldivaseps OR from:@WWE OR from:@WWEUniverse