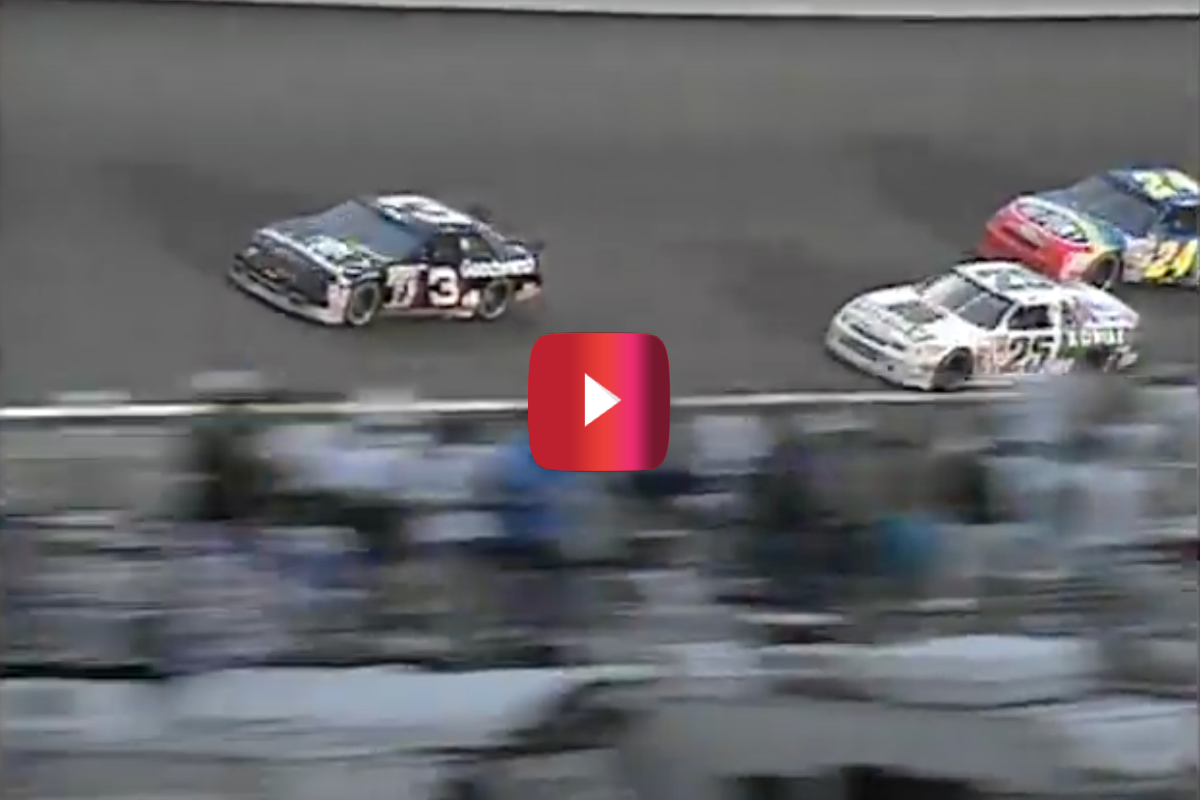 YouTube: Matthew Sullivan
YouTube Screenshot
All eyes were on the track back in 1993 as the 34th annual Coca-Cola 600 Memorial Day weekend race was about to begin. The NASCAR Winston Cup Series race was held at Charlotte Motor Speedway and boasted an all-star lineup. It was the first time the race would start in the late afternoon, so drivers and teams had to also prepare their stock cars for when the sun went down and the track cooled off.
Dale Earnhardt found himself in victory lane that night, but it didn't come easy. The Intimidator had a lot of setbacks early on in the race, and he had to push harder than ever before to pull off the win. Below, we'll go through a breakdown of the race, so we can see how all the action unfolded.
What Happened at the 1993 Coca-Cola 600?
As the green flag was waved, the drivers took off down the track to start the 400-lap NASCAR race. Earnhardt qualified 14th, so he started right around the middle of the pack. Having won the Winston All-Star Race just a week prior, he was determined to use that momentum to turn out another victory.
Things looked good for Earnhardt in the beginning of the race. He managed to squeeze his way up to a second-place position. 90 laps into the race, the second caution flag was waved, and eight laps later, Earnhardt found himself in the lead position for quite a while after that. But, he ran into trouble around the halfway point of the race.
Unfortunately, on lap 225, right in the middle of a green flag pit stop, Rusty Wallace brought out the caution flag. This meant that Earnhardt was now a lap down, and he had to make up some serious time. He pulled ahead of the leaders during the restart and put the pedal to the metal to try and make up some time.
Earnhardt did not hold back, and eventually brought his Chevy race car back up to second position. Even though he was back to the front pack of the group, he still had a distance to go to catch Dale Jarrett in first place. While pushing to close the gap, Earnhardt ran into more trouble as he got stuck behind two lapped drivers: Mike Wallace and Greg Sacks.
Dale Sr. was racing behind Greg Sacks when Sacks spun his car out through the front-stretch grass. This incident brought out another caution flag, which completely eliminated the gap to the first-place car. Dale was hit with some bad news, as NASCAR officials determined that he intentionally spun Sacks to try and eliminate the gap to first place. Frustrated, Earnhardt argued that he didn't even touch Sacks. Whether he did it on purpose or not, he was held on pit road for one lap as a penalty.
For the second time in the race now, Earnhardt found himself a lap down, and he had less than 75 laps left to make up the lost time. He did what he does best, and drove the wheels off the car in an attempt to gain positions. He eventually caught up to the tail section of the field. Rusty Wallace brought out the seventh caution of the day, which put Dale in a good spot and allowed him to catch up and stay pressed on the rear bumpers of the race leaders.
With 39 laps to go in the race, Earnhardt finally made his move into first. Once he was there, he was there to stay, and he took it all the way to the checkered flag for a victory. It was unbelievable, considering all the roadblocks he came across, that he still made his way to the front of the pack. This was a huge victory for Richard Childress Racing, and the crew chief even explained it's one of the fondest memories he has on the team.
This was a massive victory for Earnhardt, especially considering that the Coca-Cola 600 has been described as just one notch below a Daytona 500 win. What an incredible throwback moment in NASCAR history!
Read More: Atlanta, Bristol, Richmond, and More NASCAR Tracks With Speed Limits

1993 Coca-Cola 600 Results
1. Dale Earnhardt — Richard Childress Racing — No. 3 Chevrolet
2. Jeff Gordon — Hendrick Motorsports — No. 24 Chevrolet
3. Dale Jarrett — Joe Gibbs Racing — No. 18 Chevrolet
4. Ken Schrader — Hendrick Motorsports — No. 25 Chevrolet
5. Ernie Irvan — Morgan-McClure Motorsports — No. 4 Chevrolet
6. Bill Elliott — Junior Johnson & Associates — No. 11 Ford
7. Jimmy Spencer — Bobby Allison Motorsports — No. 12 Ford
8. Bobby Labonte — Bill Davis Racing — No. 22 Ford
9. Morgan Shepherd — Wood Brothers Racing — No. 21 Ford
10. Geoffrey Bodine — Bud Moore Engineering — No. 15 Ford
11. Darrell Waltrip — Darwal Inc — No. 17 Chevrolet
12. Phil Parsons — Larry Hendrick Motorsports — No. 41 Chevrolet
13. Michael Waltrip — Bahari Racing — No. 30 Pontiac
14. Kyle Petty — SABCO Racing — No. 42 Pontiac
15. Jimmy Hensley — Alan Kulwicki Racing — No. 7 Ford
16. Bobby Hillin Jr. — Donlavey Racing — No. 90 Ford
17. Greg Sacks — TriStar Motorsports — No. 68 Ford
18. Harry Gant — Leo Jackson Motorsports — No. 33 Chevrolet
19. Dick Trickle — Butch Mock Motorsports — No. 75 Ford
20. Hut Stricklin — Junior Johnson & Associates — No. 27 Ford
21. Rich Bickle — TTC Motorsports Inc. — No. 45 Ford
22. Mike Wallace — Barry Owen Racing — No. 66 Pontiac
23. Kenny Wallace — SABCO Racing — No. 40 Pontiac
24. Sterling Marlin — Stavola Brothers Racing — No. 8 Ford
25. Jimmy Horton — Active Motorsports — No. 32 Chevrolet
26. Ted Musgrave — RaDiUs Motorsports — No. 55 Ford
27. Lake Speed — Lake Speed Racing — No. 83 Ford
28. Mark Martin — Roush Racing — No. 6 Ford
29. Rusty Wallace — Penske Racing South — No. 2 Pontiac
30. Davey Allison — Robert Yates Racing — No. 28 Ford
31. Rick Mast — Precision Products Racing — No. 1 Ford
32. Rick Wilson — Petty Enterprises — No. 44 Pontiac
33. Terry Labonte — Hagan Enterprises — No. 14 Chevrolet
34. Chad Little — Melling Racing — No. 9 Ford
35. Joe Ruttman — Moroso Racing — No. 20 Ford
36. Derrike Cope — Cale Yarborough Motorsports — No. 98 Ford
37. Ricky Rudd — Hendrick Motorsports — No. 5 Chevrolet
38. Jimmy Means — Jimmy Means Racing — No. 52 Ford
39. Dave Marcis — Marcis Auto Racing — No. 71 Chevrolet
40. Wally Dallenbach Jr. — Roush Racing — No. 16 Ford
41. Brett Bodine — King Racing — No. 26 Ford
This post was originally published on May 28, 2020.