When he was just four years old, Jimmie Johnson started racing motorcycles. Now, at 46 years old, the El Cajon, California native is retired from full-time stock car racing, leaving behind a legacy as one of the most successful and richest NASCAR drivers ever, with seven Cup Series championships, a whopping net worth, and a future Hall of Fame induction undoubtedly on the horizon.
By looking at Johnson's impressive NASCAR career achievements and accolades, as well as some of his more lucrative off-the-track activities, we'll give you a brief look at just how the former driver of No. 48 Chevrolet Camaro for Hendrick Motorsports went about racking up all his impressive wealth over the years.
From Promising Newcomer to 7-Time Champ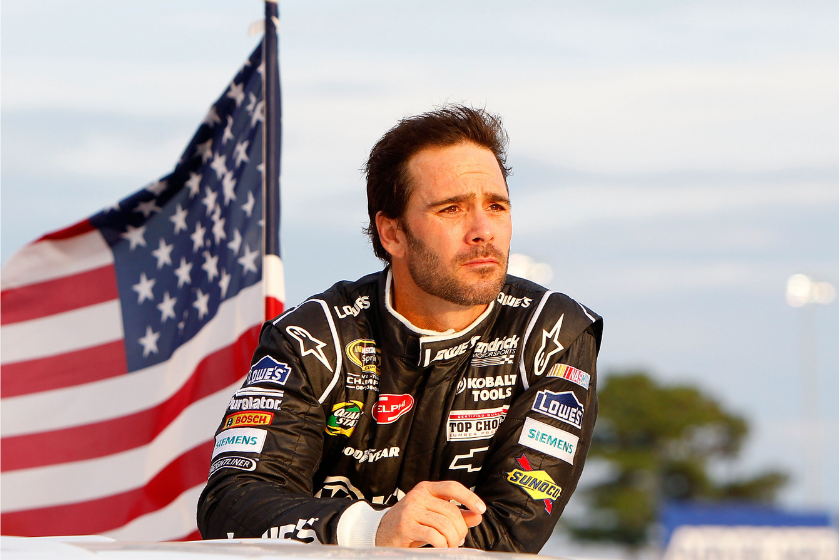 Starting his full-time NASCAR Cup Series career back in 2002, Jimmie Johnson began sowing the seeds for his future NASCAR dominance early on, by becoming the first rookie driver to lead the point standings and to win twice at the same track (Dover) during a season. As Johnson's stock rose as a stock car racing driver, so did his career earnings, and he went from making just $212,000 in 2005 to $16.2 million in 2015.
It was actually four-time Cup champ Jeff Gordon who discovered Johnson in '02 and convinced Rick Hendrick to sign him to Hendrick Motorsports. Jimmie stuck with the team for his next 20 years in the sport, and, well, you know how that panned out.
The seven-time Cup champ Johnson is tied with Richard Petty and Dale Earnhardt Sr. for the most championships in NASCAR history. Oh, and five of those championships, from 2006 to 2010, were won in a row. FIVE. How many American athletes can you name who have had a five-peat? I'll wait…
In 686 Cup Series races run over 20 years, Johnson has 83 career wins, 374 top-ten finishes, and 36 pole positions.
If you dive deeper into those impressive numbers, you'll find a laundry list of accomplishments that'd we remiss if we didn't call out. You ready?
First off, Jimmie Johnson is a two-time Daytona 500 winner, a four-time Coca-Cola 600 winner, and a four-time Brickyard 400 winner.
He's also known for his incredible streak of race wins on a number of tracks, winning 11 times at Dover International Speedway, nine times at Martinsville Speedway, eight times at Charlotte Motor Speedway, and seven times at Texas Motor Speedway. Oh, and he also became the first driver to become the Associated Press "Male Athlete of the Year" and has won "Driver of the Year" five times.
Yeah, we'd say Jimmie isn't too bad at this whole racing thing.
Oh, and just because he retired from NASCAR, that doesn't mean he's done with racing for good. In 2021, he ran 12 races in the IndyCar Series, and is currently racing in the series in 2022.
In any case, it's no surprise to see him gracing Forbes lists year after year. The guy puts in serious work on the track. And, as you're about to see, off the track, as well.
Jimmie Johnson's Net Worth Makes Him One of NASCAR's Richest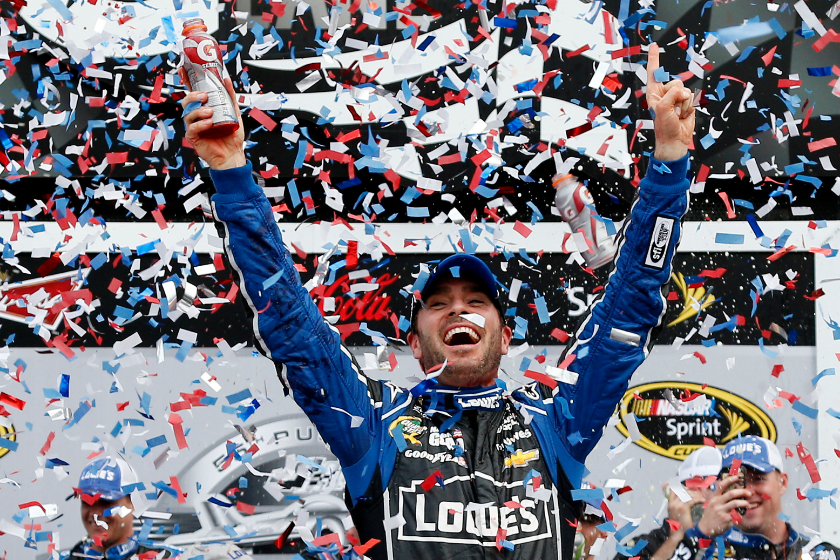 Jimmie Johnson has an estimated net worth of $160 million, according to Celebrity Net Worth.
Besides his racing salary and winnings, Johnson has racked up millions from endorsement deals, having worked with such brands as Gatorade, Seiko Watch Corporation, Blue Bunny, and Chevrolet over the course of his career. In 2012, Jimmie earned $7 million from his Gatorade and Chevrolet deals, with a collective deal revenue of $6.7 million in 2013 and $6.5 million in 2014 and 2015. Currently, Johnson makes around $5 million from sponsorship deals.
The longtime racer doesn't just like making money. He likes to spend it, too. He owns a home in Charlotte, North Carolina, where he lives with his wife Chandra Janway and his two daughters, Genevieve and Lydia.
Besides the Charlotte house, Johnson also has a 3,234-square foot apartment in New York that he bought in 2013 for $14.25 million. Being a race car driver and all, Johnson has an impressive car collection that is said to be worth hundreds of thousands of dollars. In that collection, he has a Chevy SS, a Ford Fusion, a 1967 Camaro, and a 1971 Chevy Corvette, just to name a few.
Jimmie Johnson isn't just about making money. He's also about giving back. In 2006, he and Chandra launched the Jimmie Johnson Foundation, which helps families and communities in need.
Jimmie Johnson's Victory Lanes, which was founded in 2007, is a four-lane bowling alley that supports Habitat for Humanity, Make-A-Wish Foundation, and other charities. The bowling alley's yearly golf tournament has raised a total of $8 million for K-12 public education.
Considering the amount of money that Jimmie Johnson is worth, he could easily have been one of those guys who spent it all on luxury yachts and private planes. The fact that he uses his wealth and influence to give back in such a positive way is what makes this legend such an important figure in the sport of NASCAR.
Products featured on FanBuzz are independently selected by our editors. However, when you buy something through our links, we may earn a commission.
This post was originally published on October 18, 2018.
Related Videos