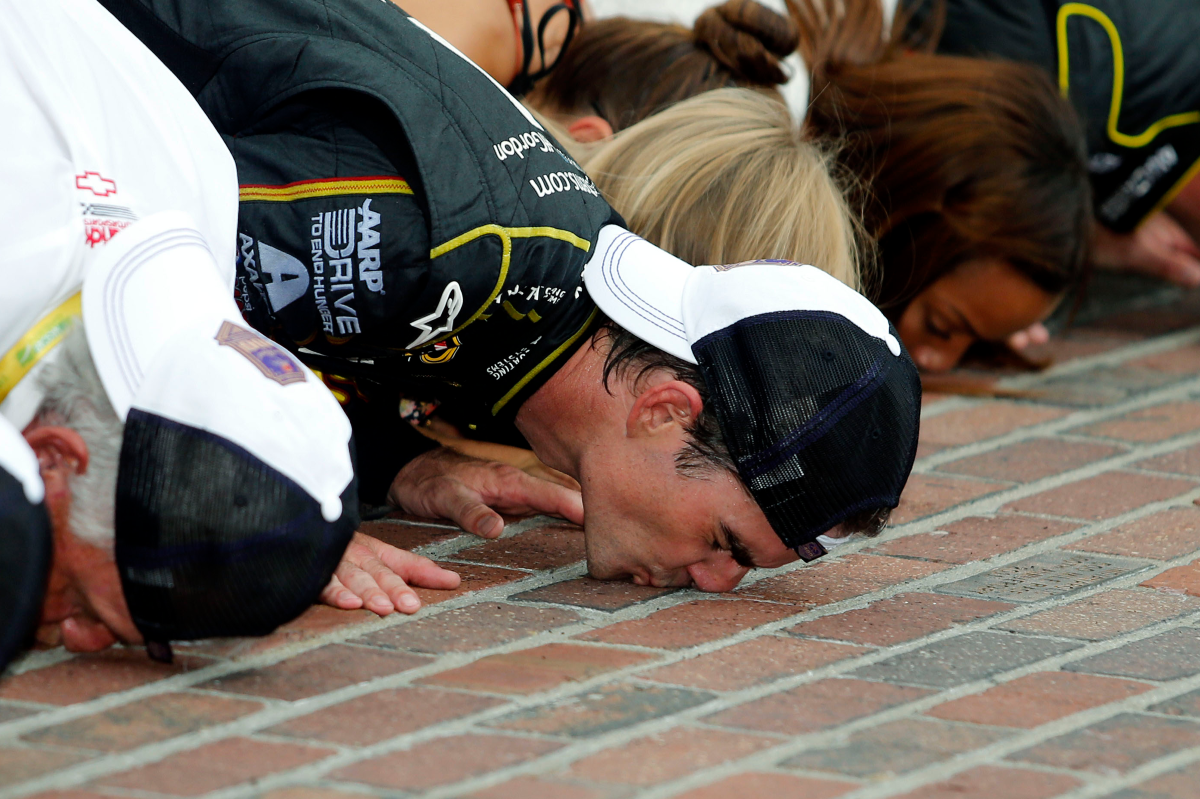 AP Photo/Robert Baker
AP Photo/Robert Baker
For the last 26 years, NASCAR fans have known that when you want to see action, the Brickyard 400 is the race to watch. Held at Indianapolis Motor Speedway, this race not only offers good fun for spectators, but it also pays a sizable purse to the team that makes it to victory lane.
The very first Brickyard 400 was held in 1994. That inaugural race marked the first race held at IMS since the Indianapolis 500 in 1916, and it also became NASCAR's most-attended event, with crowds over 250,000. Jeff Gordon got the very first win at the NASCAR race, and he went on to win four more times — 1998, 2001, 2004, and 2014.
The Indiana race has been nothing but action over the years, and just last year, Kevin Harvick took home the victory at the Big Machine Hand Sanitizer 400, winning for the second time in a row.
As it turns out, the Brickyard 400 is changing things up for the upcoming NASCAR Cup Series race in 2021. For the first time, the race will be held on combined road courses totaling a distance of 200 miles, as opposed to a 400-mile race around an oval track. This newer track is also utilized by IndyCar GMR Grand Prix. It will certainly be a new challenge for the teams, but it should be very interesting to see who the first driver is to get to the finish line on the new layout.
Since things are moving to a road course, it seems like the perfect time to look back at who was able to pull off a win on the oval. Below, we'll take a look at the previous winners from each year starting with 1994.
Read More: Denny Hamlin, Joey Logano, Martin Truex Jr., and More Drivers Give Hottest Moon Landing Takes at Daytona 500
Brickyard 400 Winners
1994: Jeff Gordon ? Hendrick Motorsports ? No. 24 Chevrolet
1995: Dale Earnhardt ? Richard Childress Racing ? No. 3 Chevrolet
1996: Dale Jarrett ? Robert Yates Racing ? No. 88 Ford
1997: Ricky Rudd ? Rudd Performance Motorsports
1998: Jeff Gordon ? Hendrick Motorsports ? No. 24 Chevrolet
1999: Dale Jarrett ? Robert Yates Racing ? No. 88 Ford
2000: Bobby Labonte ? Joe Gibbs Racing ? No. 18 Pontiac
2001: Jeff Gordon ? Hendrick Motorsports ? No. 24 Chevrolet
2002: Bill Elliott ? Evernham Motorsports ? No. 9 Dodge
2003: Kevin Harvick ? Richard Childress Racing ? No. 29 Chevrolet
2004: Jeff Gordon ? Hendrick Motorsports ? No. 24 Chevrolet
2005: Tony Stewart ? Joe Gibbs Racing ? No. 20 Chevrolet
2006: Jimmie Johnson ? Hendrick Motorsports ? No. 38 Chevrolet
2007: Tony Stewart ? Joe Gibbs Racing ? No. 20 Chevrolet
2008: Jimmie Johnson ? Hendrick Motorsports ? No. 48 Chevrolet
2009: Jimmie Johnson ? Hendrick Motorsports ? No. 38 Chevrolet
2010: Jamie McMurray ? Earnhardt Ganassi Racing ? No. 1 Chevrolet
2011: Paul Menard ? Richard Childress Racing ? No. 27 Chevrolet
2012: Jimmie Johnson ? Hendrick Motorsports ? No. 48 Chevrolet
2013: Ryan Newman ? Stewart-Haas Racing ? No. 39 Chevrolet
2014: Jeff Gordon ? Hendrick Motorsports ? No. 24 Chevrolet
2015: Kyle Busch ? Joe Gibbs Racing ? No. 18 Toyota
2016: Kyle Busch ? Joe Gibbs Racing ? No. 18 Toyota
2017: Kasey Kahne ? Hendrick Motorsports ? No. 5 Chevrolet
2018: Brad Keselowski ? Team Penske ? No. 2 Ford
2019: Kevin Harvick ? Stewart-Haas Racing ? No. 4 Ford
2020: Kevin Harvick ? Stewart-Haas Racing ? No. 4 Ford