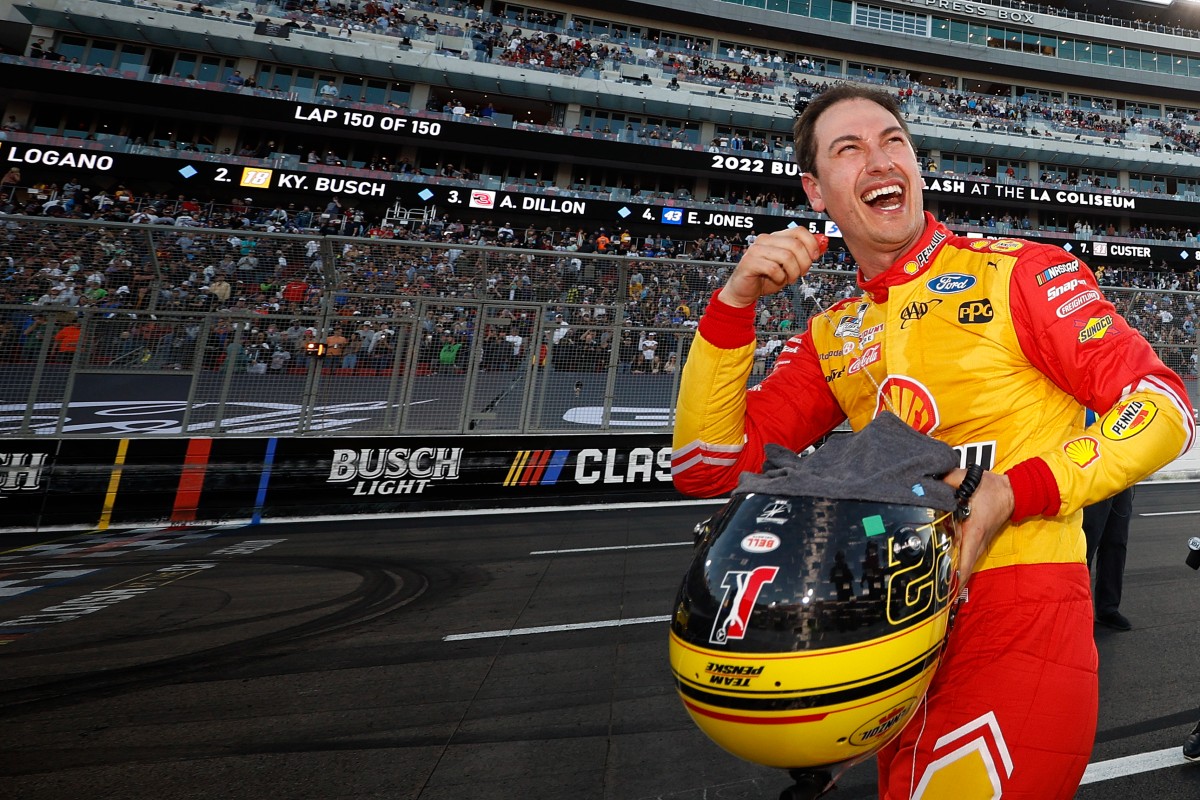 Chris Graythen/Getty Images
Chris Graythen/Getty Images
Back during his early racing days, Joey Logano earned the nickname "Sliced Bread," because he absolutely dominated on the track. Now, whether or not the Middletown, Connecticut native is the greatest thing since sliced bread is certainly up for debate, but he's definitely one of the greatest NASCAR drivers of the modern era.
With a NASCAR Cup Series championship and a host of other impressive wins under his belt, Logano is pretty damn good at turning left and gets paid a whole lot of money to do it. Here, we'll take a brief look at Logano's racing career and see just how much the 29-year-old race car driver is worth.
Joey Logano's NASCAR Career
When he made his full-time NASCAR debut back in 2008, Joey Logano started off with a bang. At only 18, he secured his first major NASCAR win and also became the youngest driver to win a race in the NASCAR Xfinity Series (which at the time was the NASCAR Nationwide Series). In 2009, he became the youngest driver to win a Monster Energy NASCAR Cup Series (then the NASCAR Sprint Cup Series) race. That same year, Logano won the Sprint Cup Series Rookie of the Year. From 2008 to 2012, Logano drove the No. 20 Toyota Camry for Joe Gibbs Racing, during which time he racked up two wins, 16 top-five finishes, and 41 top-10 finishes.
In 2013, after struggling during his last couple years at JGR, Logano moved to Team Penske, where he currently drives the No. 22 Ford Mustang GT. Logano's hot streak picked back up at Penske. In 2015, he became the second-youngest winner of the Daytona 500. After coming a hair away from winning the Cup Series championship in 2016 and missing the playoffs in 2017, Logano finally got his big title win in 2018 at the age of 28.
As if that weren't impressive enough, here's a snapshot of Logano's accomplishments in the three major NASCAR series. With 411 Cup Series races run, Logano has a total of 25 wins, 206 top-10 finishes, and 22 poles. In 176 Xfinity Series races, Logano has 30 wins, 143 top-10s, and 36 poles. Finally, he has one win, four top-10s, and one pole in seven Truck Series races.
With stats like that, it's no wonder Joey Logano's net worth is as massive as it is.
Joey Logano's Net Worth
Joseph Thomas Logano has an estimated net worth of $24 million. According to Forbes, the prolific racer earned $11 million in 2018 alone, with $9.6 million coming from salary and winnings and $1.4 million coming from endorsements and licensing.
On December 13, 2014, Logano married his childhood sweetheart, Brittany Baca, and the couple has a one-year-old son together, Hudson Joseph Logano. Besides buying his family's home in Huntersville, North Carolina, Logano also had an pretty impressive luxury car collection, which includes a Ferrari 488GTB, a Porsche 718 Boxer, and a McClaren 570S. All told, the collection is worth around $770,000. But, hey, when you're worth $24 million, you can drop that kind of money.
Products featured on FanBuzz are independently selected by our editors. However, when you buy something through our links, we may earn a commission.
This post was originally published on December 18, 2019.
Related Videos