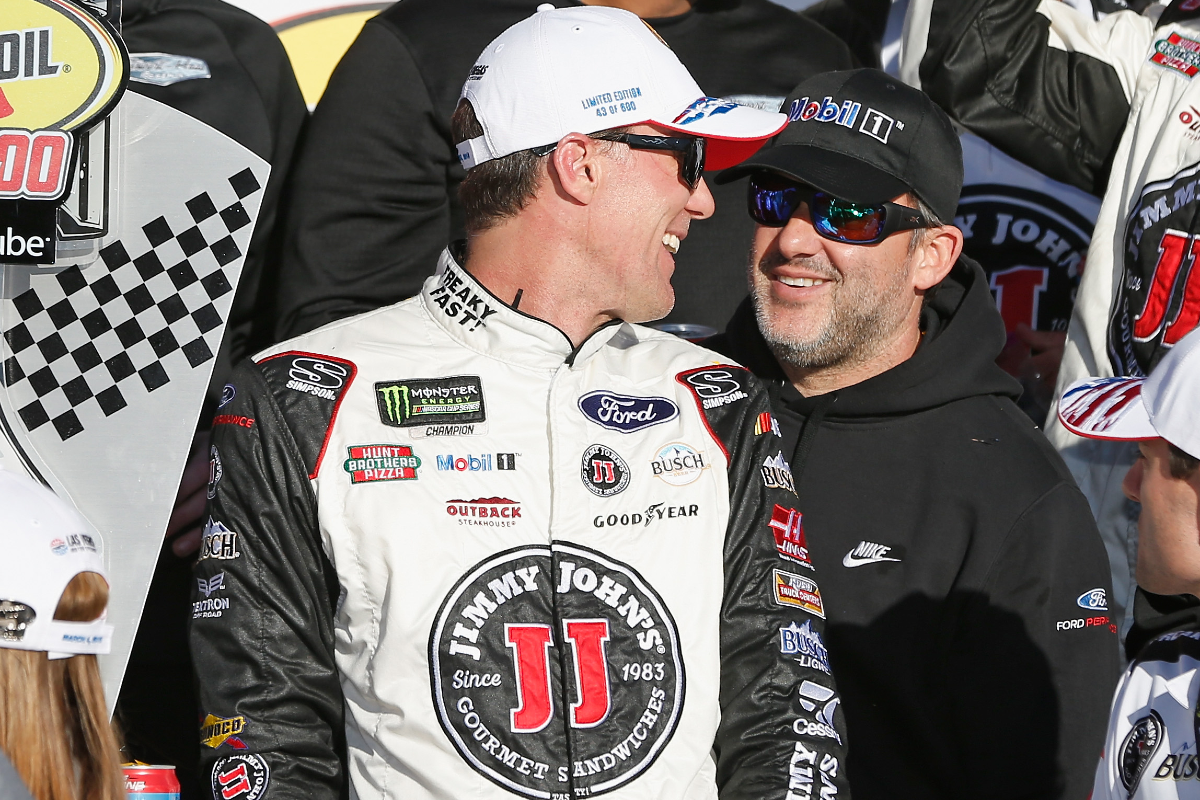 Brian Lawdermilk/Getty Image
Brian Lawdermilk/Getty Image
Whether he's offering words of praise or criticism, Tony Stewart has never been one to hold back. So, when the NASCAR Hall of Famer said that Kevin Harvick is "the complete package," you know he meant it.
At 45 years old, Harvick is certainly proving that age is just a number, as the driver of the No. 4 Ford Mustang for Stewart-Haas Racing finished the 2020 Cup Series season with nine wins and has nearly 10 top-five finishes in 2021.
In an interview with NBC Sports, Stewart was asked if Harvick's accomplishments in 2020 were more or less proof that drivers should not be judged for racing after the age of 40.
"I think you're definitely right on that," the SHR co-owner began. "You look in different forms of motorsports there are drivers that are over the age of 40 that still win a lot of races, win a lot of championships as well. I feel like, and I can't remember how many years ago this wave of starting to try to find these 14-, 15-, 16-year-old drivers that was a huge push for everybody, and I feel like they've really put an emphasis in an area that they've overlooked some really good talent, and I think Kevin is a perfect example of that."
"But I'm also gonna go back to years ago. I've said it then and all the way to the present and I'll still continue to say it — Kevin Harvick is the complete package. He's a great race car driver. He was a great owner. He's great at building teams. He's great at managing teams. He understands how partnerships and sponsorships work in this sport and he also has a great management company, so Kevin Harvick single-handedly is the most well-rounded driver in NASCAR right now — has been for years and that's why someone like him is able to do what he's done this year."
"He has the ability every week to go out and if we can give him a car that's close and in the ballpark, he can do the rest of the work and get it the rest of the way. On days that the car is perfect and he's perfect, you've seen what happens. It's proof that you don't have to be a 14-, 15-, or 16-year-old driver to be great and all this emphasis on finding the next young guy, there are other guys in the sport."
Read More: Kevin Ward Jr., Tony Stewart, and the Ultimate Sprint Car Racing Tragedy
As you may know, Stewart has always been critical of NASCAR immediately accepting younger talent before they really have a chance to prove themselves, and he used another seasoned driver to make his point: Martin Truex Jr.
"Look at Martin Truex Jr.," Stewart said. "Martin has been around this sport for a long time. One variable changed in the equation and all of a sudden Martin is a championship-caliber driver, so I laugh and I make fun of all the organizations that are looking for these super young kids that are kids. Some of them don't even have their driver's licenses and their parents are having to drive them to the race shop and I'm like, 'You have to let these kids grow up.' They aren't mature yet. They're great race car drivers, but at the same time I've also told people to tell my how good their 14- or 15- or 16-year-old kid is I said, 'Well, has he crashed hard yet? Or her?' And when they say no, I said, 'Well, don't tell me how good he is until he comes back from a hard crash and then let's see how good he is because then you're gonna find out what you've got.'"
"So a lot of these young guys, the cars are so safe that they feel like they're invincible in them and they all run fast, but they don't have the savvy and the background of someone like a Kevin Harvick has and a Martin Truex has to sit there and go out and understand why they're doing everything the way they're doing and that's why you see a guy like Kevin Harvick have the success that he has."
This post was originally published on October 21, 2020.
Related Videos