Associated Press
Chris Graythen/Getty Images
Like most sports, professional auto racing has plenty of strange and longstanding traditions. On the NASCAR side of things, you've got the Grandfather Clock trophy at Martinsville Speedway and the kissing of the bricks at Indianapolis Motor Speedway.
Speaking of IMS, perhaps one of the weirdest traditions in racing comes from IndyCar, specifically the Indy 500, also known as "The Greatest Spectacle in Racing." As the winners receive the coveted Borg-Warner Trophy, they also engage in one time-honored celebration: they drink milk.
Why Do Indy 500 Winners Drink Milk?
Where does this drinking milk tradition come from anyway? Why don't the winners drink orange juice or diet Dr. Pepper?
According to Indianapolis Motor Speedway, it all dates back to 1936 and was originated by Louis Meyer. Apparently, the three-time Indianapolis 500 winner often drank buttermilk to refresh himself on a hot day. After winning the race in '36, Meyer saw that there was milk available in Victory Lane, and he decided to drink some, almost as if it were gatorade.
Well, an executive with something called the Milk Foundation (yep, that was an actual thing) was so excited over the publicity that came from Meyer being photographed drinking the milk that he worked to make the practice an annual thing. And, so it was! — save for a stretch between 1947-1955.
As you can probably imagine, IndyCar racers have come a long way from just drinking a glass of buttermilk. In fact, in recent years, drivers have actually given their milk preferences to the American Dairy Association of Indiana (the official milk delivery service of the Indy 500), should they win the big race. Yeah, this whole milk-drinking tradition is clearly a pretty big deal.
In the poll here, you can check out the preferences of last year's drivers, including Marco Andretti, Takuma Sato, Simon Pagenaud, Helio Castroneves, Alexander Rossi, and Scott Dixon. If you watched last year's Indy 500, you probably remember that Castroneves was the race's winner, and therefore got to enjoy a celebratory milk dousing.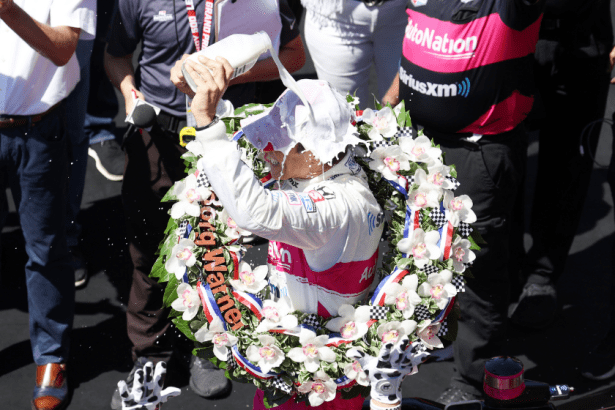 As if the practice of drinking milk after a race weren't strange enough, the American Dairy Association of Indiana has designated "milk people" to give out the celebratory milk to the winning team. Yep, they're literally called "milk people."
They're actually dairy farmers, voted for by the ADAI board, with two-year terms. Who knew milk could be such a political enterprise? At the end of the race, the first-year milk person hands out the milk to the owner and mechanic, while the second-year milk person has the distinct honor of presenting the bottle of milk to the winning driver.
Now, I wonder what happens if an Indy 500 winner is lactose intolerant?
Products featured on Fanbuzz are independently selected by our editors. However, when you buy something through our links, we may earn a commission.
This post was originally published on May 23, 2019.
Related Videos