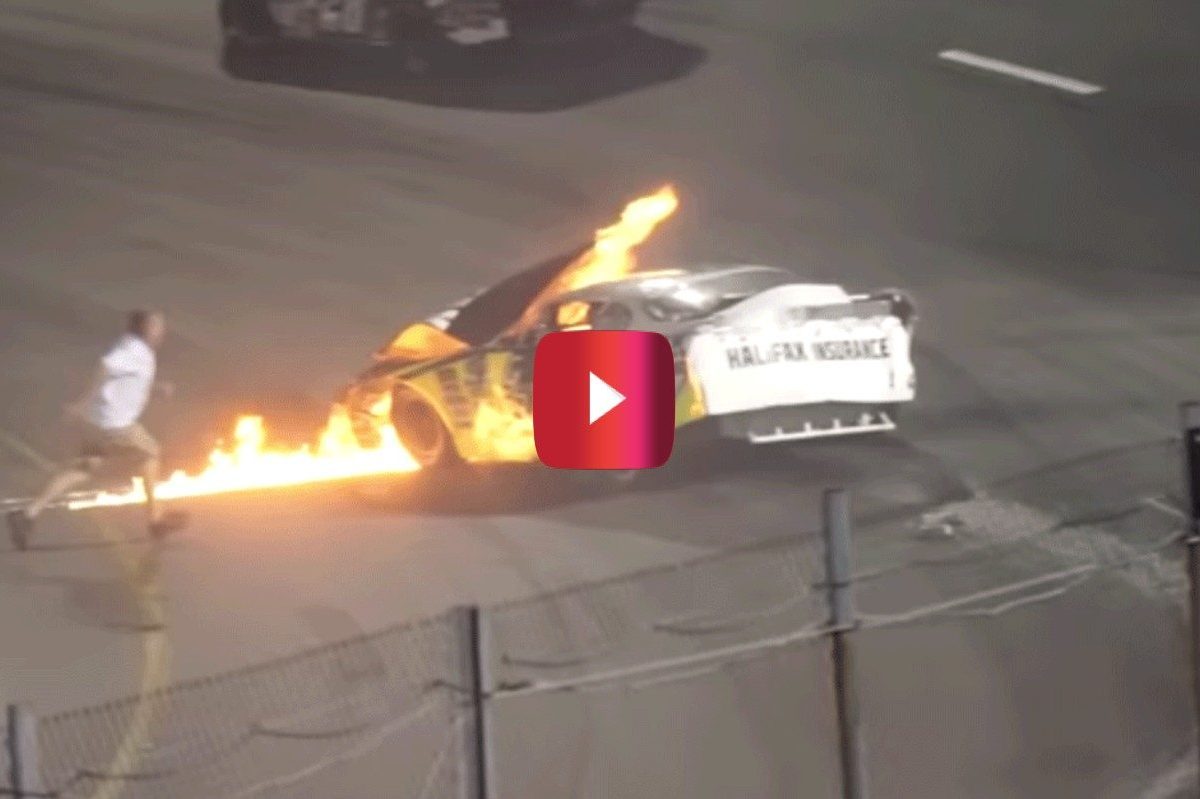 YouTube: TMRacingVideos
YouTube: TMRacingVideos
The South Boston Speedway is an American track known to fans as SoBo, based in South Boston, Virginia. Near Martinsville, Virginia, SoBo has been operated as America's hometown track since 1957 and is 400 miles long. That family spirit is visible at every event the track holds, but was especially on display on June 16, 2018, when a father, also the crew chief, leapt over the barricades to rescue his son, the driver, from his car as flames poured from the hood.
During the NASCAR Late Model 100 as part of the Whelen All-American Series, speedway star Mike Jones was involved in a crash that sent him into walls and spinning out of control before crashing into another driver.
You can see the full video of the crash below, but here's an easy breakdown: See the two drivers parallel to each other during turns 3-4, but as the turn closed, you can see it's quickly turns into a competition for space. Matt Bowling's car just touches the left rear of Jones' vehicle and both go spinning into the wall. You can see the spilled fuel from Mike Jones' car that caught fire.
Dean Jones, Mike's dear ol' dad and crew chief, ran onto the track to help his son from the cockpit before he returned to hit the fire suppression system inside. NASCAR took the license held by Jones because he had shorts on while he was on the race track. Many fans, however, called foul play and believed that Matt Bowling should've faced sanctions.
The messages from both Mike Jones and Dean Jones following the accident are enough to make you thank your own dad for just being your dad.
Mike Jones posted to Facebook,
"First of all I'm ok.

Thanks TORP Chassis for building a safe race car.

Thanks everyone for the 100s of texts and messages i've gotten in the last 20 minutes. Scariest moment of my life was trying to get out while the flames were only getting bigger and bigger.

We once again had a bad fast hotrod running nose to tail for the lead. Some just can't a little limited guy competing with veterans from day 1. God was with me tonight."
Dean Jones echoed the sentiment of miracles and gratitude,
"1st and foremost I want to thank the good Lord above for having his hand on mike tonight and keeping him from harm. Matt bowling hooked mike in turn 4 and wrecked mike who hit the wall harder than anything I have seen. Thank you craig Oliver for building a safe race car that protected my son.

Mikes car stopped almost in from of our pit stall and when I saw the flames, without any hesitation I jumped the wall to help pull him out of the car. No one except sweet baby Jesus would have kept me from freeing my son from a burning race car.

Before all the races were complete, an official asked for my Nascar license for being on the track with shorts on. I even asked are you serious right now? That?s ok, it?s only a piece of paper. My boys are everything to me.

Mike was momentarily hung up from getting out of the car but he knows I would have never left his side until he was clear and out of the car. Thank you God he got out in just as the car was a complete ball of fire.

The car is a total loss but my son is whole and safe. It breaks my heart for mikes sake because racing is his passion and he is so talented. He has never taken or asked for one penny for racing but he does it because he loves it so dearly. Thank you to everyone involved and your prayers but continue to pray for mike because his body took a tremendous impact tonight.

I love you Mike."
A scary night for the team from Halifax County, we're just glad to know that all drivers on the short track ended up doing okay after that terrifying moment.
This post was originally published on June 20, 2018.
Related Videos