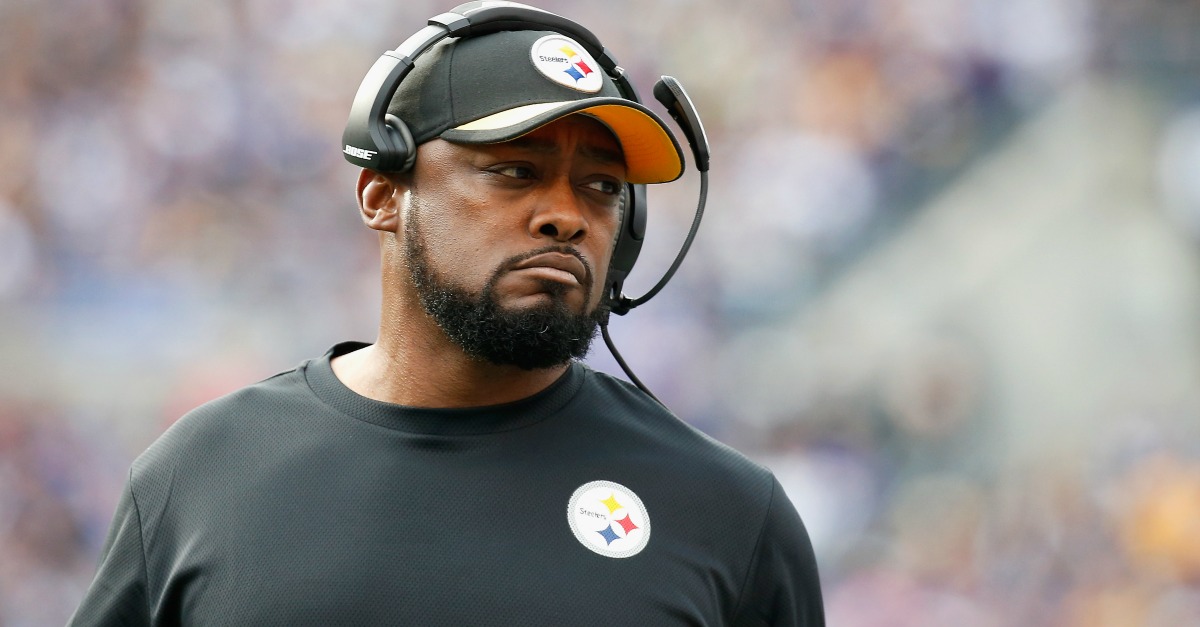 Associated Press ; Flickr: Ted Van Pelt ; AP Photo/Mike McCarn
<> during the first quarter at M&T Bank Stadium on December 27, 2015 in Baltimore, Maryland.
The September 6 race at Darlington Raceway doesn't just kick off the 2020 NASCAR Cup Series playoffs with the 71st running of the Southern 500, but it also marks the South Carolina track's sixth throwback weekend.
This year's throwback campaign at "The Track Too Tough to Tame" is a celebration of "NASCAR's Champions…Past, Present and Future" and "New Traditions…First Race of the 2020 NASCAR Cup Series Playoffs."
There are obviously a lot of directions that Cup and Xfinity Series drivers could go in with that theme, so let's take a look at some of the best throwback paints schemes for 2020.
2020 Darlington Throwback Paint Schemes
Aric Almirola, No. 10 Stewart-Haas Racing Ford
Almirola will pay tribute to Edward Glenn "Fireball" Roberts Jr., a two-time Southern 500 winner — and Florida native like Aric — who died following a crash at the 1964 World 600.
Austin Dillon, No. 3 Richard Childress Racing Chevrolet
Dillon honors Junior Johnson, the moonshine bootlegger turned NASCAR legend. Nicknamed "The Last American Hero," Johnson died on December 20, 2019 at the age of 88.
Brad Keselowski, No. 2 Team Penske Ford
The 2012 Cup Series champion will be honoring…well, himself with the Discount Tire scheme that he rocked during his first season with Team Penske about 10 years ago.
Chase Elliott, No. 9 Hendrick Motorsports Chevrolet
It's a bittersweet year for Jimmie Johnson fans, as the seven-time Cup champ and surely soon-to-be Hall of Famer is ringing in his final season as a full-time NASCAR driver. Chase Elliott will be paying tribute to the racing great with a scheme from Johnson's 2009 championship season.
Clint Bowyer, No. 14 Stewart-Haas Racing Ford
Bowyer is going peak throwback, with a tribute to Kyle Petty's No. 42 PEAK Pontiac, which he took from the pole at Rockingham Speedway for his third career NASCAR Cup Series back in 1990.
Denny Hamlin, No. 54 Joe Gibbs Racing Toyota
The three-time Daytona 500 winner is headed WAY back to 1973 with this Darlington-winning scheme rocked by Cale Yarborough, a five-time Southern 500 winner and three-time Cup Series champion.
Read More: Briggs & Stratton Files for Bankruptcy Amid COVID-19 Pandemic
Erik Jones, No. 20 Joe Gibbs Racing Toyota
Erik Jones may race for Joe Gibbs Racing, but he'll be channeling a little bit of Stewart-Haas Racing at Darlington. Well, at least its co-owner, with a throwback to Tony Stewart's 2005 fall Martinsville Speedway paint scheme.
Jimmie Johnson, No. 48 Hendrick Motorsports Chevrolet
Johnson is tricking out his Chevy in memory of the two other legends in the seven-time Cup Series champion club: Dale Earnhardt Sr. and Richard Petty.
Joey Logano, No. 22 Team Penske Ford
Logano is paying homage to the iconic driver of another No. 22 car — Bobby Allison — with the Hall of Famer's scheme from 1985.
Kevin Harvick, No. 4 Stewart-Haas Racing Ford
Not only is Kevin Harvick's Busch scheme an epic throwback to NASCAR Busch Series champions, but Darlington will also be selling custom 1997 Busch beer cans during race weekend. Hell yeah!
Kyle Busch, No. 18 Joe Gibbs Racing Toyota
Like Brad Kesolowski, Kyle Busch is also throwing it back to an old paint scheme of his own, specifically the 2004 M&M's look. The start of something great!
Martin Truex Jr., No. 19 Joe Gibbs Racing Toyota
Truex, an avid fisherman and outdoorsman, will be sporting the Bass Pro Shop colors that Hank Parker Jr. raced in at Atlanta in 2003.
Matt DiBenedetto, No. 21 Wood Brothers Racing Ford
DiBenedetto honors the Wood Brothers? 1963 Ford Galaxie, which Tiny Lund drove to victory in the 1963 Daytona 500 and team founder Glenn Wood drove in his last win as a Cup Series driver later that year.
Ryan Newman, No. 6 Roush Fenway Racing Ford
Newman, having thankfully recovered from his terrifying crash at the Daytona 500, is hearkening back to his pre-NASCAR days, with a 1999 scheme from the USAC Silver Crown Series, where he won the National Championship.
Tyler Reddick, No. 8 Richard Childress Racing Chevrolet
Reddick's throwback scheme is a tribute to Jeff Burton?s rookie year in 1994.
William Byron, No. 24 Hendrick Motorsports Chevrolet
Byron, Jimmie Johnson's teammate at Hendrick, is honoring the retiring driver's 2013 championship season with an All-Star Race scheme.