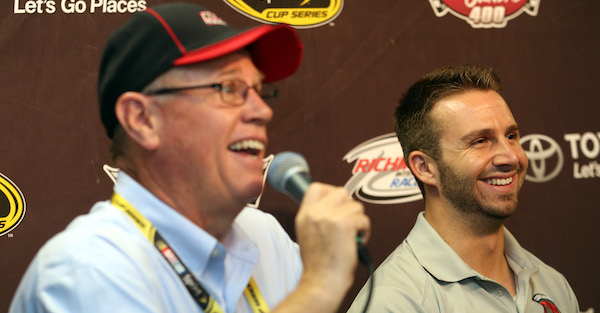 Matt Hazlett/Getty Images
RICHMOND, VA - APRIL 22: Matt DiBenedetto, driver of the #83 E.J. Wade Construction Toyota, and BK Racing owner Ron Devine speak with media before a practice for the NASCAR Sprint Cup Series TOYOTA OWNERS 400 at Richmond International Raceway on April 22, 2016 in Richmond, Virginia. (Photo by Matt Hazlett/Getty Images)
BK Racing owner Ron Devine filed for bankruptcy before the 2018 season started so they could reorganize their debt, and while the team has lost sponsors, they've still been able to compete in the Cup Series this year.
ESPN's Bob Pockrass reported that BK Racing will continue competing over the next three races if they follow two guidelines.
First, they have to show proof of workers compensation. Second, they have to show proof of commercial liability of insurance, according to a ruling from a U.S. Bankruptcy Court judge.
"BK Racing can continue to compete through the three-race West Coast swing as long as it shows proof of workers compensation and commercial liability of insurance, a U.S. Bankruptcy Court judge ruled Tuesday," Pockrass wrote. "The team earned $450,000 for finishing 20th at Daytona and $92,000 for finishing 36th at Atlanta. Among the March financial estimates of according to attorney statements in court: Assuming a finish of 30th, $385,000 in purse for four races; potential overall revenues of $500,000-$900,000; and payroll expenses and taxes of at least $92,000. A wreck would cost the team $5,000 to $25,000 in extra weekend costs."
Related: Major NASCAR team making significant behind-the-scenes change
Devine said after the bankruptcy hearing that he is still confident in the future of the team.
"BK Racing will be racing," Devine said according to Pockrass. It is strong. We will continue to work to resolve our issues with the bank. We will be compliant with Chapter 11 rules. We will continue to deliver tremendous value to our sponsors and continue to race competitively."
Gray Gaulding competed for the team at Daytona and Atlanta in the No. 23 Toyota. He finished 20th at Daytona and 36th at Atlanta.
The team is planning for Gaulding to race full-time this season, but the bankruptcy issue led to a cause for concern for them for the remainder of the year.
It looks like they'll be able to compete for at least the next three races, but beyond that is up in the air.