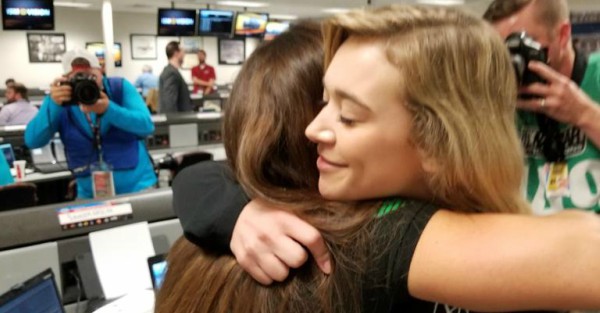 @C21SueSoldit / Twitter
Danica Patrick's final race in NASCAR ended in disappointment as she crashed out of the Daytona 500. It closed the books on her seven-year NASCAR career that began in 2012. During that time, she was unable to score a win or even a top-5 finish, but her impact on the sport went well beyond the track.
Seeing a woman competing at the highest level of stock car racing inspired a new generation of young women in racing. One of those women was Natalie Decker, who tweeted out her appreciation before Patrick's final NASCAR race:
Related: NASCAR fans are wondering if one tradition will return with Danica Patrick retiring
Decker is a racer herself, and recently joined elite company by becoming only the fifth woman in the ARCA series to win a pole position. She also became the fourth woman ever to win pole position at Daytona International Speedway in any series per NASCAR.com. Danica Patrick was the first to accomplish that feat in 2013, the only pole position of her NASCAR career.
The 20-year-old Decker finished fifth in her race at Daytona, an impressive feat for a young driver who suffered damage to her car when she hit the back of another car.
?My first time at Daytona, I sat on the pole and got fifth. So I?m really happy,? she said.
Decker joined NASCAR?s Drive for Diversity program in 2015, and has been racing stock cars since she was 12. It is her first full time season in ARCA, but she ran seven races for Venturini Motorsports in the series last year. Until Daytona, her best start was eighth at Elko Speedway and her 5th place finish bested her previous career-best seventh place finish at Road America.