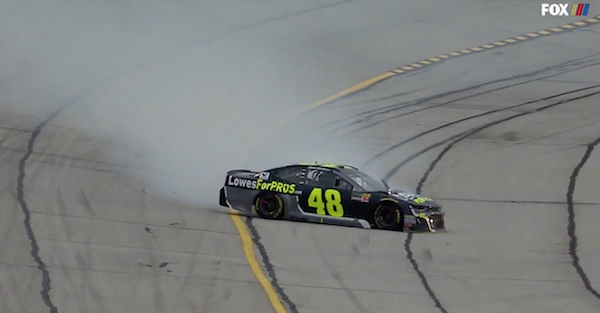 FOX:NASCAR/Clippit
FOX:NASCAR/Clippit
After a disappointing showing last week at Daytona and an uncharacteristic late season slide a season ago, Jimmie Johnson needed a strong showing at Atlanta.
He entered Sunday's race with five wins at Atlanta ? the most of any active driver ? and it was a great opportunity for him to get back on track.
Instead, Johnson had tire issues on Lap 159 in Stage 2, and he lost control of his No. 48 car. The caution came out as his team tried to address the problem.
Related: Jimmie Johnson shifts the blame for crashes at Daytona 500
Johnson was running 19th at the time of the caution, so it wasn't as if he was having a strong performance anyway.
He qualified 22nd and hadn't had the showing many fans expected or hoped for after last week's poor start to the season at Daytona.
It's never a good idea to count out the seven-time champion considering he's one of the greatest drivers in the history of the sport, but it's clear he and his team at Hendrick Motorsports have some issues to resolve if they want to return to championship form this season.