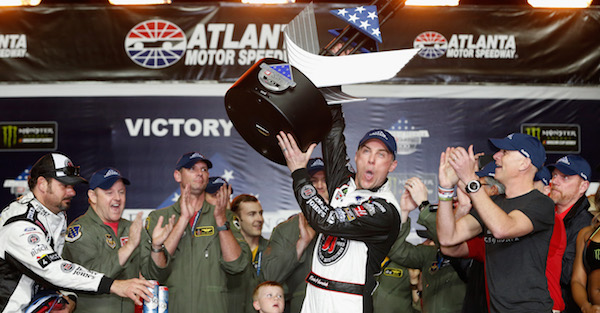 Brian Lawdermilk/Getty Images
HAMPTON, GA - FEBRUARY 25: Kevin Harvick, driver of the #4 Jimmy John's Ford, celebrates in Victory Lane after winning the Monster Energy NASCAR Cup Series Folds of Honor QuikTrip 500 at Atlanta Motor Speedway on February 25, 2018 in Hampton, Georgia. (Photo by Brian Lawdermilk/Getty Images)
Kevin Harvick has waited 17 years to recreate that special moment from his first win at Atlanta in 2001.
In Harvick's third career start in 2001, he won his first career race at Atlanta. He's won plenty of races in between and a Cup Series championship, but he hasn't been able to replicate that magic from 2001 where it all started until today.
Harvick has dominated at Atlanta the last five years, but he came up just short in each race.
Related: Atlanta?s stage one winner got burned by a rule adopted by NASCAR just this season
Just look at these stats from ESPN's Bob Pockrass. Entering today, Harvick had led 734 laps at Atlanta since 2014 without a win. He led for another 173 laps today ? that's 907 since 2014 ? and this year he was finally able to secure his second career win at Atlanta.
The win certainly wasn't an easy one for Harvick. He won the first stage and finished fifth in Stage 2 after Brad Keselowski took home the stage win, but Harvick was challenged by Denny Hamlin and Joey Logano in the final stage of the race.
Hamlin and Logano both tried to use a different pit strategy than Harvick late in the race. They attempted to only pit twice in the last 100 laps, while Harvick used a more regular pit strategy. It was a bold strategy by Hamlin and Logano, and Harvick made them pay as he passed both with 35 laps remaining.
Trevor Bayne's car started smoking, which led to a caution and a wreck between Bubba Wallace and Ricky Stenhouse Jr. Harvick had a great restart that kept him in first place, and he cruised to the victory.
Related: An impenetrable smoke screen crashed a fan favorite NASCAR driver in Atlanta
Keselowski finished second, followed by Clint Bowyer, Hamlin and Martin Truex Jr.
Logano, Kyle Busch, Kurt Busch, Kyle Larson and Chase Elliott rounded out the top 10.
Daytona 5o0 winner Austin Dillon finished 14th, while Bubba Wallace finished 32nd.
Harvick earned his 38th career Cup Series victory, and he will almost certainly be back in the playoffs unless he somehow falls outside of the top 30 in the points at the end of the year ? which is highly, highly unlikely.