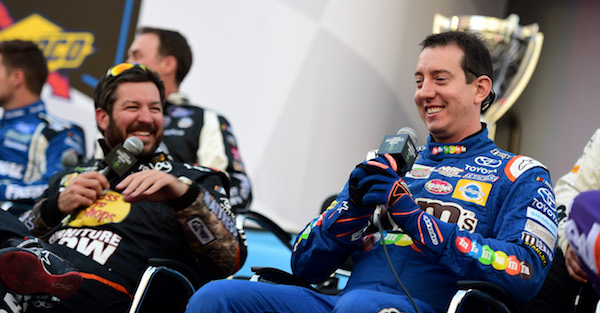 Jared C. Tilton/Getty Images
LAS VEGAS, NV - NOVEMBER 29: Monster Energy NASCAR Cup Series champion Martin Truex Jr., driver of the #78 Furniture Row/Denver Mattress Toyota talks with Kyle Busch, driver of the #18 M&M's Caramel Toyota, following the NASCAR Victory Lap Fueled by Sunoco on November 29, 2017 in Las Vegas, Nevada. (Photo by Jared C. Tilton/Getty Images)
The Daytona 500 didn't go as planned for Kyle Busch as he finished 25th, but the former Cup Series champion started off the second weekend of the season on the right note.
Busch won the pole at Atlanta Motor Speedway on Friday, edging out Ryan Newman with a speed of 184.652 during qualifying. It marked the first time Busch has won the pole at Atlanta.
According to NASCAR.com, Newman was second with a speed of 184.419. He was followed by Kevin Harvick at 184.388, Daniel Suarez at 184.229 and Brad Keselowski at 183.856.
Daytona 500 winner Austin Dillon qualified 25th, while runner up Bubba Wallace checked in at No. 19.
Other notables include Joey Logano at 16th and Ryan Blaney at 26th.
Jimmie Johnson, who has won five times at Atlanta, qualified at 22 with a time of 181.236.
Related: Sunday?s NASCAR race in Atlanta could be in trouble
The news wasn't so great for defending champion Martin Truex Jr. Truex's No. 78 car failed pre-qualifying inspection three times, so he will be forced to start at the back of the field at the Folds of Honor QuikTrip 500.
Truex will also be without car chief Blake Harris, who was ejected from the race weekend after the car failed inspections.
It wasn't the news Truex wanted heading into the weekend ? especially after he said he thinks the true contenders will emerge at Atlanta. Starting at the back doesn't necessarily doom him for the race, but it's certainly not the ideal situation.
Brad Keselowski will look to defend his title on Sunday at Atlanta, weather permitting. Rain could push the race back to Monday or Tuesday.