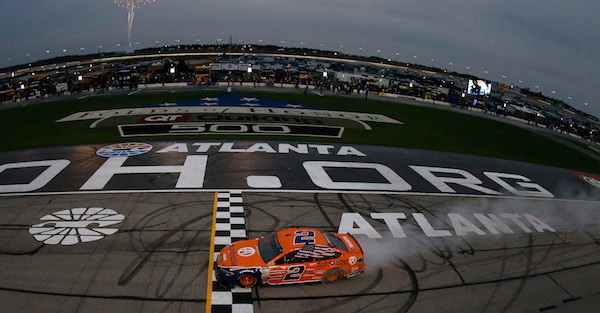 Matt Sullivan/Getty Images
HAMPTON, GA - MARCH 05: Brad Keselowski, driver of the #2 Autotrader Ford, celebrates with a burnout after winning the Monster Energy NASCAR Cup Series Folds Of Honor QuikTrip 500 at Atlanta Motor Speedway on March 5, 2017 in Hampton, Georgia. (Photo by Matt Sullivan/Getty Images
The Folds of Honor QuikTrip 500 will start at 1:06 p.m. ET on Sunday for Atlanta Motor Speedway's Monster Energy NASCAR Cup Series race thanks to inclement weather, NASCAR said in a statement Saturday.
The race was originally scheduled to start at 2:16 p.m. ET, but it's been moved back one hour and 10 minutes. Driver introductions will take place at 12:15 p.m. ET. You can watch all the action on FOX.
According to the report, officials made the decision with an 80-percent chance of rain expected for the area on Sunday.
This isn't the first time officials have dealt with a threat of rain at Atlanta.
The race takes place one week after Austin Dillon's thrilling Daytona 500 win.