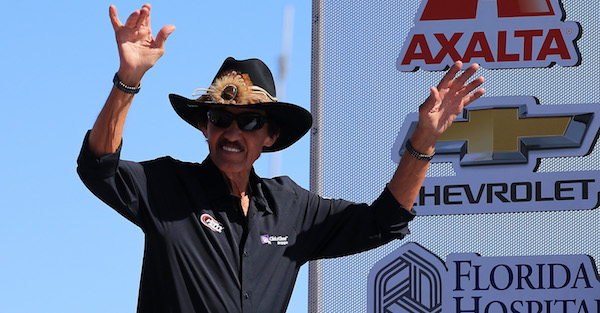 Daniel Shirey/Getty Images
DAYTONA BEACH, FL - FEBRUARY 18: NASCAR Hall of Famer and team owner Richard Petty is introduced prior to the Monster Energy NASCAR Cup Series 60th Annual Daytona 500 at Daytona International Speedway on February 18, 2018 in Daytona Beach, Florida. (Photo by Daniel Shirey/Getty Images)
It's safe to assume Richard Petty has accumulated some impressive memorabilia throughout his tenure in NASCAR as a driver and an owner.
Now, Petty is planning to auction off cars, trophies and just about any and everything from his career. The auction is set for May 12 at Planet Hollywood Resort & Casino in Las Vegas, and it will be conducted live and online through Julien's Auctions.
Petty told the Associated Press that he's selling a little bit of everything, including cars that won at Daytona.
"We're putting some pretty good stuff out there, some winning Daytona cars, some rings, some watches, some knives," Petty said via ESPN.
"You name it, we've got a little bit of everything. Some of the uniforms, some stuff that really meant something in my career."
Related: Major NASCAR team making significant behind-the-scenes change
Items up for auction include his 1974 day-glow red and Petty blue Dodge Charger and his 1981 Daytona 500 trophy. Petty won 31 of his 200 races in the Charger ? including his fifth Daytona 500 ? and it's expected to sell for $400,000 to $600,000.
He's also selling the 1978 Chevrolet Monte Carlo he drove in 1979 en route to his seventh and final Cup Series championship.
"We feel like we've got enough stuff in the museum, and none of my kids really want it," Petty said.
"They've got enough of their own junk. So we got together and said, hey, let's throw some stuff out there and see if there are other people interested in some of the stuff we've got."