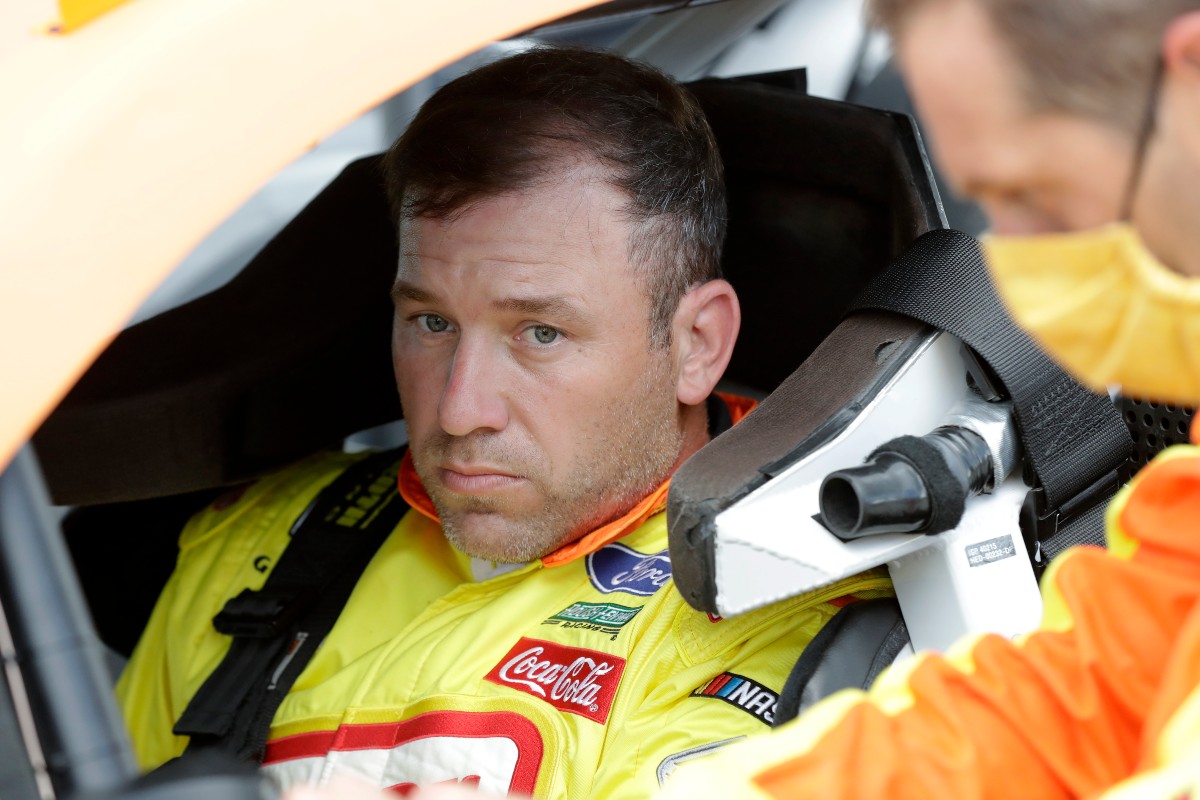 AP Photo/Wilfredo Lee
AP Photo/Wilfredo Lee
The casual NASCAR fan may have never heard the name "Ryan Newman" until his terrifying crash at the 2020 Daytona 500. But, did you know that Newman has been racing in the NASCAR Cup Series for the past 20 years?
At 43 years old, Newman is one of the most seasoned NASCAR drivers racing today. As a result of racing at NASCAR's highest level for so long, he's earned some serious coin. Let's take a look at how Ryan Newman got to where he is today.
Bio and Early Career
Born on December 8, 1977 in South Bend, Indiana, Newman began his racing career in 1993, competing in the United Midget Auto Racing Association and the All-American Midget Series. That year, he won both Rookie of the Year and the championship. He moved to the United States Auto Club (USAC) in 1995, and in 1996, he was named Rookie of the Year again in both the Midget Series and the Silver Crown. Three years later, Newman was the first driver to win in all three USAC divisions (Silver Bullet, Sprint, and Midget) while also winning the Silver Bullet Series championship.
With 100 feature wins and two titles, Newman is an official member of the Quarter Midget Hall of Fame. In 2001, Newman graduated from Purdue University with a B.S. in vehicle-structure engineering.
Read More: Darlington, Michigan, New Hampshire, Richmond, and Other NASCAR Race Tracks With Speed Limits
NASCAR Career
After two years competing in the ARCA Series (NASCAR's feeder series) with Penske Racing, Ryan Newman kicked off his NASCAR Cup Series career in 2002. He won six poles that season, breaking the rookie record set by Davey Allison. With 14 top-five finishes and 22 top-10s, Newman would end up beating out none other than Jimmie Johnson for the 2002 NASCAR Winston Cup Series Rookie of the Year.
The 2020 Daytona 500 wasn't Newman's first experience with disaster at "The Super Bowl of Stock Car Racing," as the driver of the No. 12 Dodge also kicked off the 2003 season with a crash at Daytona International Speedway.
Newman racked up eight wins and 11 poles in 2003. His number of poles that season earned him the nickname "Rocket Man." Newman would go on to see the checkered flag at the 2008 Daytona 500, which also marked the first Daytona 500 win for Penske. From 2009 to 2013, Newman raced the No. 39 Chevy for Stewart-Haas Racing. On April 10, 2010, Newman broke a 78-race winless streak at the Subway Fresh Fit 600 at Phoenix International Raceway. This is the first win in NASCAR history for a No. 39 car.
From 2014 to 2018, Newman drove the No. 31 Chevy for Richard Childress Racing. Currently, Newman drives the No. 6 Ford Mustang GT for the Concord, North Carolina-based Roush Fenway Racing.
Out of 657 Cup Series races run, Newman has 18 wins, and 263 top-10 finishes. In the NASCAR Xfinity Series, Newman has seven wins and 35 top-10s. Newman has also raced in seven Truck Series events, with one win, six top-10s, and one pole.
2020 Daytona 500 Crash
Ryan Newman's crash at the 2020 Daytona 500 is already being regarded as one of the most intense NASCAR crashes in recent memory. And, after you watch the footage of the terrifying collision, you'll see why.
On the final lap of the 62nd running of the iconic Daytona Beach race, Newman's Ford was sent hard into a wall, after Ryan Blaney?s bumper caught the back of Newman?s car. His collision with the wall caused him to go airborne, and as he was flipping, his car was hit on the driver?s side by Corey LaJoie. Covered in flames, Newman's car eventually skidded across the finish line. Denny Hamlin would go on to win the race.
Newman recovered at Halifax Health Medical Center, the same hospital that Dale Earnhardt was pronounced dead at following his last-lap crash at the 2001 Daytona 500. After hours without an update regarding the extent of Newman's injuries, Roush Fenway Racing later released a statement that Newman was in serious condition, but had non-life-threatening injuries.
A crash the magnitude of Newman's probably would've convinced most drivers his age to consider retirement. But, after being medically cleared to race on April 27, he ran the remainder of the races for the 2020 season.
Ryan Newman Net Worth
Ryan Newman has an estimated net worth of $50 million, and what he chooses to do with his millions is nothing short of admirable. Not only does Newman give back to the military, but he also helps operate the Ryan Newman Foundation and the Rescue Ranch, which helps with pet adoption and rehabilitation.
On February 13, 2020, just four days before his crash at the Daytona 500, Ryan and his wife of 16 years, Krissie, announced that they would be amicably separating.
"After 16 years of marriage, Ryan and I have decided to amicably separate," Newman's statement read. "We will continue to jointly raise our girls (10-year-old Brooklyn and 7-year-old Ashlyn), while remaining friends and continuing to work together supporting Rescue Ranch. Thank you for the years of support and friendship. We ask that our daughters' privacy be respected during this time."
On a lighter note, Newman is also a vintage car collector and restorer. He owns 14 cars in total, but his favorite is a 1948 Buick Roadmaster convertible. Ryan's rides have even been featured on the History Channel show American Pickers. With NASCAR retirement likely right around the corner, Newman will have a lot more time to beef up his extensive collection. We wonder what the next addition to the garage will be!
This post was originally published on February 18, 2020.