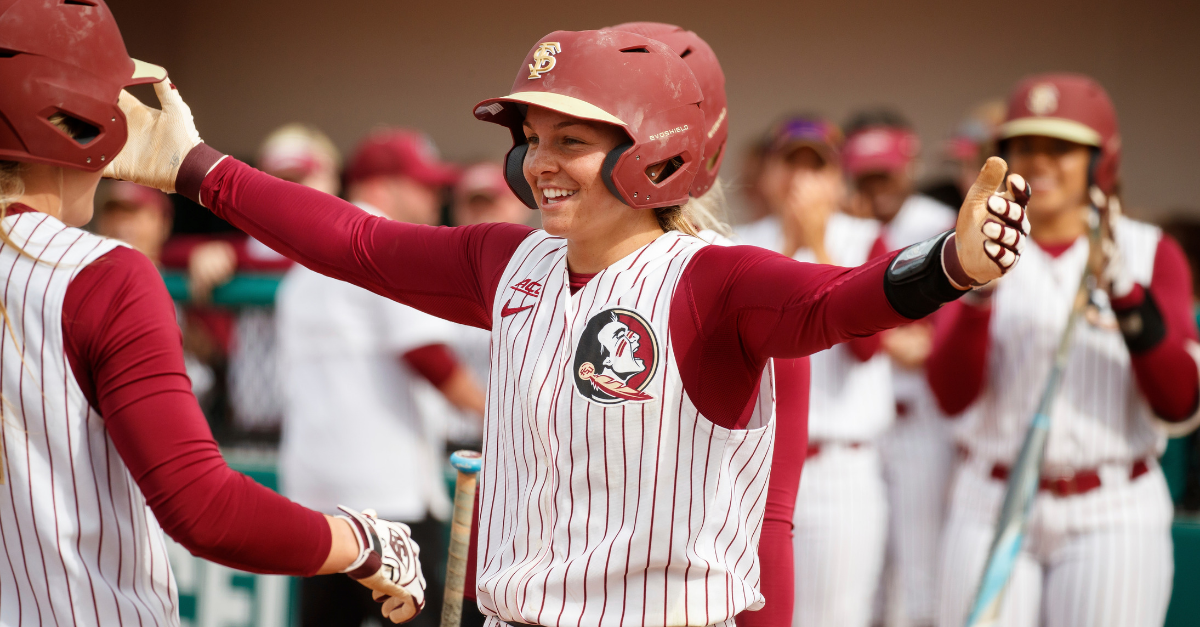 AP Photo/Casey Brooke Lawson
The Florida State Seminoles softball team picked up right where they left off last season after winning the 2018 College World Series. If the 'Noles play like they are, they'll ride this on their way to another appearance in the tournament and, hopefully, back-to-back national titles.
Since arriving in Tallahassee in 2009, head coach Lonni Alameda has turned this team into a force on the national stage. In 11 seasons, she's won 76.8 percent of her games with the Seminoles, appeared in the Women's College World Series three times, won the 2018 National Championship, has won the last six regular season conference titles, and the last five ACC tournaments.
In 2019, the Seminoles won their first 12 games of the season, which is a pretty good start for the reigning national champs. Ranked first in the country ? for good reason ? they are definitely the team to beat in college softball, but they have continued to play well and not be content with what they've done.
In the last week, Florida State beat some really good teams. During the St. Pete/Clearwater Elite Invitational, they beat the third-ranked Oklahoma Sooners, sixth-ranked Tennessee Volunteers, and eighth-ranked LSU Tigers. They also won against Ohio State, Minnesota, and Florida Atlantic. It isn't just that they won these games, though, it's how they have done it. During the invitational, they outscored their six opponents 51 runs to just 19, including a combined score of 21-7 against their three top-10 opponents.
With all that success, they have tightened their grip on the top ranking, receiving 29 of the 32 possible first-place votes in the most recent poll.
If the 'Noles are able to play their best in their toughest games, this will be a team that finds success all year long and deep into the postseason.
RELATED: Despite the Hype, FSU's 2015 Recruiting Class Fell Way Short
And it hasn't just been winning games as a team, individual players are having great seasons so far as well. Cali Harrod(.514) and Zoe Casas(.500) have been great at bat this season, each with batting averages at-or above .500. Sydney Sherrill leads the team with four home-runs, 13 runs batted in, nine walks, and a slugging percentage of .969.
With only 22 runs allowed, it is obvious the pitchers have had a great season thus far. Meghan King and Kathryn Sandercock have accounted for 10 starts and 11 wins. King has a team-best 6-0 record with a .96 ERA and has only allowed 21 hits in 36.1 innings pitched.
If the Seminole softball team can keep this up, which if they are going undefeated in invitationals that include multiple top-10 teams, seems like they should be able to, they will absolutely make their way back to the College World Series with a chance to repeat as NCAA National Champions and bring another title home to Joanne Graf Field.