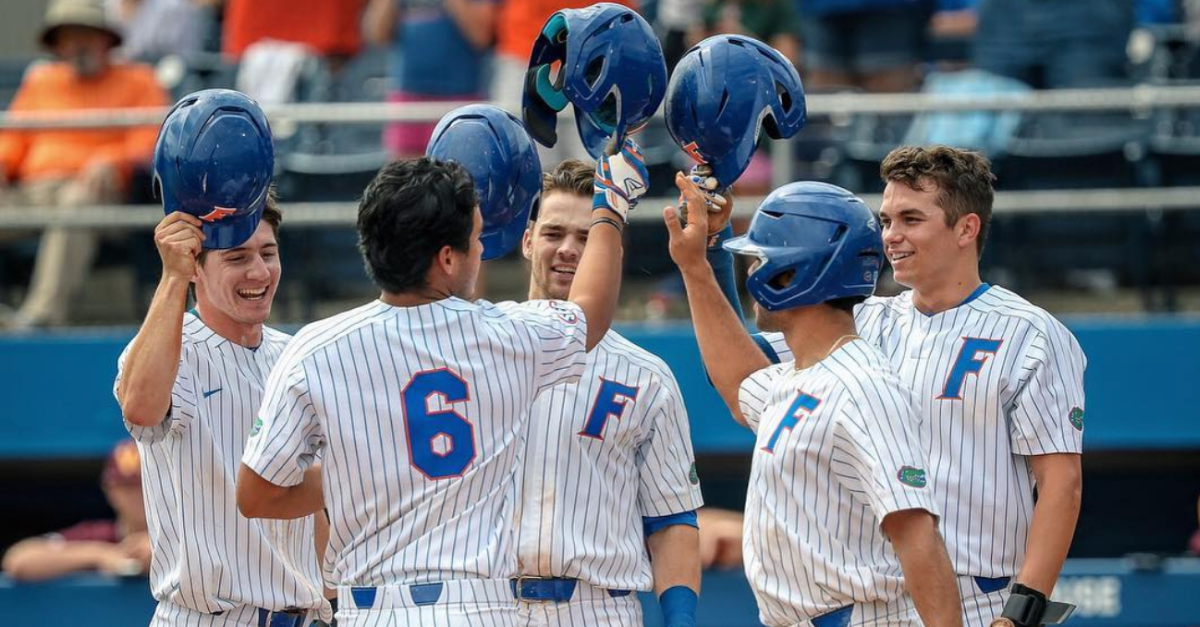 Instagram: @gatorsbb
There?s a reason Kevin O?Sullivan is considered one of the best college baseball coaches in the country. There?s also a reason (or 10) Jim McElwain is no longer the head coach of the Florida Gators football team.
While those statements don?t necessarily correlate, and we don?t have to delve into those reasons, Florida?s baseball team gave everyone an opportunity at an easy jab at McElwain?s forgettable tenure in Gainesville on Sunday.
The third-ranked Gators put up 28 runs against the Winthrop Eagles ? a team that plays in the Big South Conference ? Sunday afternoon at McKethan Stadium in Gainesville. McElwain?s offenses at Florida during his 38 games from 2015-17 averaged just a tick over 23 points a game.
You know how many times the now-Central Michigan coach?s offensive attack failed to score 28 points at UF? 25 times. So, about 66 percent of the time Florida failed to score the same amount of points that UF?s baseball team put up with ease.
OK, no need to beat a dead horse. The baseball game itself was a doozy.
Related: Florida's Kevin O'Sullivan Wins 500th Game, But These are His 5 Most Memorable
The Gators clubbed three grand slams ? they became just the ninth team in NCAA history to hit as many as three in one game. Kendrick Calilao, Jacob Young and Santino Miozzi each hit one. Florida pounded 23 hits and had an 11-run sixth inning in the 28-5 lopsided win.
This comes a day after scoring 16 against Winthrop, whose pitching staff is probably ready to leave town. The 44 runs over the last two games are just three shy of the 47 runs Florida scored over the first 10 games before that.
Like any sensible fan, you were probably wondering a few things like: When?s the last time UF scored 28 runs in a game? What?s the most UF has ever scored? Why did Winthrop ever agree to play Florida in the first place? Well, I have the answer to the first two of those questions.
It?s been 16 years since a Gator team has exploded for 28 runs. Florida beat Hofstra 28-6 in 2003. Hofstra?s pitcher got one out and gave up 11 runs. Florida?s record for most runs in a game came in 2001, when the Gators beat Savannah State, 35-1. Ryan Shealy, who hit 39 career homers at Florida, clobbered two of them that day.
Not even during the days when Preston Tucker and Mike Zunino were thumping baseballs in the orange and blue did the Gators ever score as many as 28 runs. Neither did Florida?s national championship team in 2017.
That?s not to say that this year?s squad is better. They?ve certainly had their struggles, including losses to UCF, USF and North Florida already. Plus, Friday night starter Tyler Dyson has looked a bit erratic at times early in the season.
But it?d be unwise to write any team off 12 games into the season, especially the Florida Gators. As long as they keep doing what McElwain couldn?t, they should be fine.