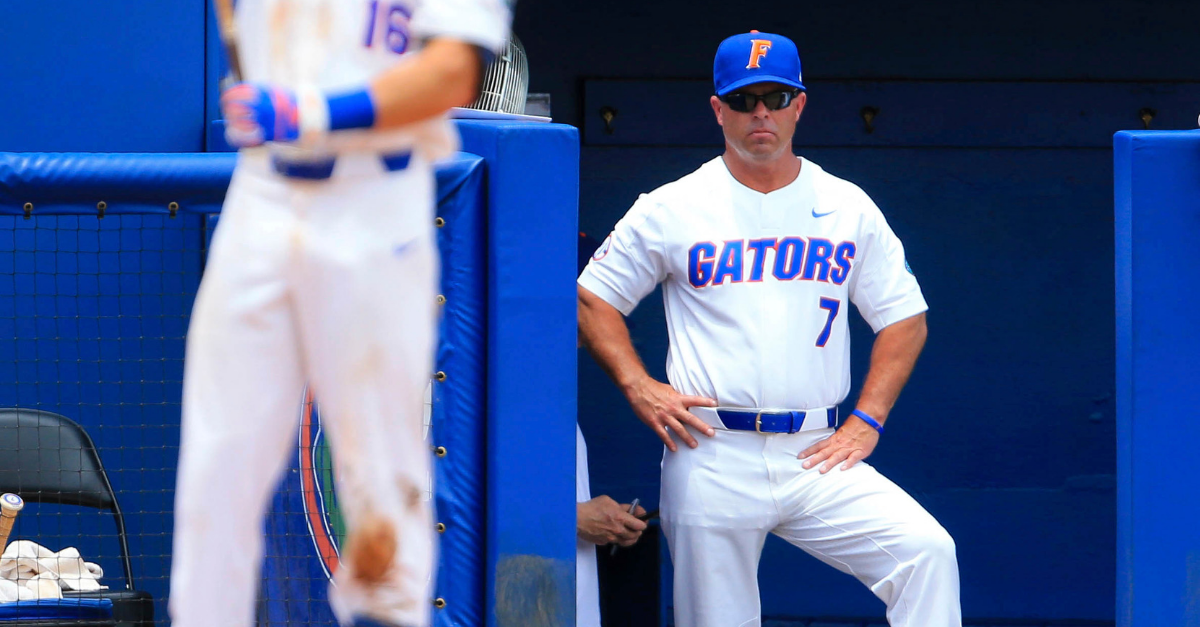 AP Photo/Matt Stamey
Florida Gators baseball coach Kevin O?Sullivan is quickly rising up the ranks of college baseball?s most prestigious coaches. His no-nonsense approach is similar to that of the legendary Bill Belichick. He signs recruiting classes comparable to Nick Saban. The only difference is NCAA baseball just isn?t as followed as college football or the NFL.
While the Florida Gators head coach's name doesn?t carry quite the same weight as those two, he's pretty darn established in the college baseball world. After all, he did sign a 10-year contract extension in 2016 that made him the highest-paid coach in the sport at $1.25 million per year. Oh, and he?s gone to seven College World Series in just 11 years wearing his blue and orange Florida Gators baseball cap.
Now in his 12th season, O?Sullivan has notched his 500th career win at Florida. It?s the fastest any UF coach in history has reached the milestone, and he needed just 729 games to do so. Without further do, let?s take a look back at the most memorable of those 500 victories.
5. Win No. 1 (Feb. 23, 2008)
It may have been against Siena, but O?Sullivan kicked off his career on the right note. The Gators won their season opener and O?Sullivan?s debut by a score of 10-7 at McKethan Stadium. O?Sullivan ? who became the 21st head coach in program history in June of 2007 ? had been Clemson?s pitching coach for nine seasons prior.
?It was a little nerve-racking being a head coach for the first time,? O?Sullivan said in a release. ?It kind of a hit me a little bit during the national anthem in front of the fans. Tonight was a good win for everybody associated with our program and it obviously relieves some pressure.?
4. First win over FSU (March 19, 2008)
O?Sullivan?s first win over rival Florida State came in his first game against the Seminoles. Not only did he beat a legendary coach in Mike Martin, he took down the No. 3-ranked team in the nation ? one that featured 2008 Golden Spikes Award winner Buster Posey and played in the College World Series that year. UF?s 6-1 victory over the ?Noles made O?Sullivan the first Florida head coach to win his first ever matchup with FSU since Joe Arnold in 1984.
3. Florida beats Miami, Advances to CWS (June 13, 2010)
It took the Gators just three seasons to reach Omaha during O?Sullivan?s tenure, and they did it by taking down in-state rival Miami in extra innings in the NCAA Gainesville Super Regional. Austin Maddox roped a clutch 10th-inning RBI double to bring home Nolan Fontana for what ended up being the game-winning run. UF won, 4-3. Florida?s talented team that year featured Fontana, Mike Zunino, Preston Tucker and Brian Johnson. Their run in the College World Series was short-lived, however, as the Gators dropped their first two games.
Related: 5 Former Gators Set Up for Breakout MLB Seasons in 2019
2. Gators down Longhorns, Notch O?Sullivan?s first CWS win (June 18, 2011)
A year after being ousted from Omaha early, the Gator baseball team made a deep NCAA Tournament run in 2011. That began with an 8-4 over Texas in the CWS opener. UF?s offense was able to score enough runs against first-rounder Taylor Jungmann and received a solid start from ace Hudson Randall to advance in the CWS. The Gators went on to defeat Vanderbilt twice to advance to the CWS championship series, where they were swept by SEC rival South Carolina.
1. Florida wins first National Championship (June 28, 2017)
Finally. O?Sullivan had been chasing that first national title for years before the Gators were the last ones standing in 2017. Unsurprisingly, they did it off the one thing O?Sullivan has always placed emphasis on: dominant pitching. Tyler Dyson started the 6-1 win over LSU. Jackson Kowar and Michael Byrne finished it out of the bullpen. O?Sullivan?s career-defining win also made Florida one of just six schools to win a national championship in baseball, basketball and football. Bravo, Sully.