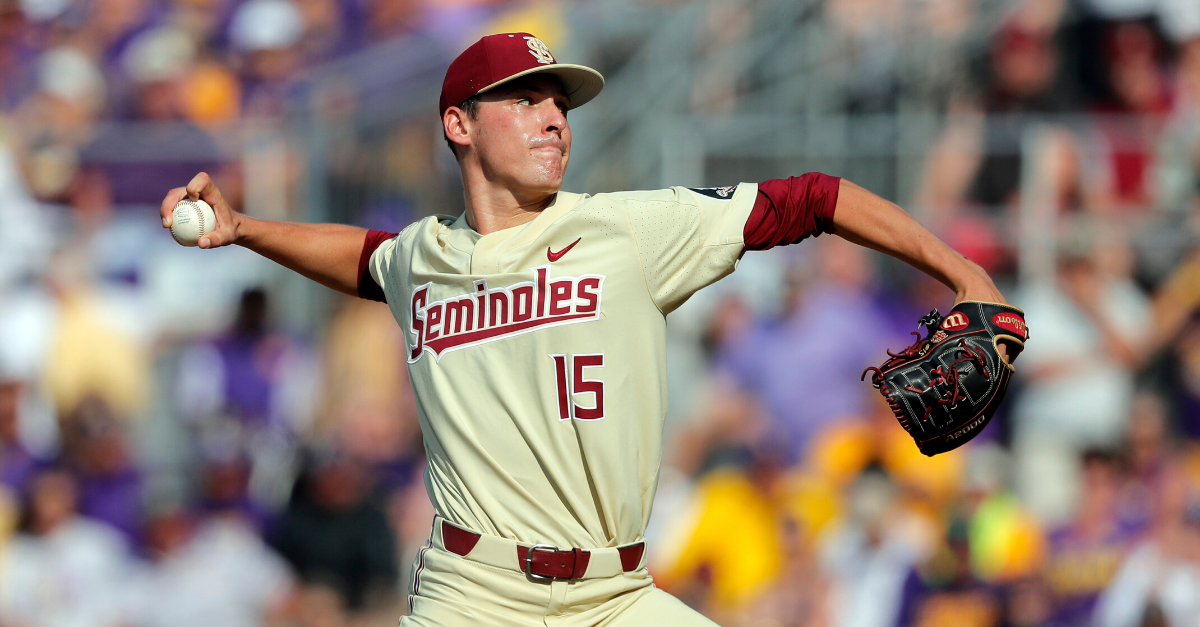 AP Photo/Gerald Herbert
Editor's Update: The 2020 baseball season was canceled due to the spread of COVID-19 and coronavirus outbreak. Florida State finished the shortened season with a 12-5 record.
For the first time in 40 seasons, Florida State Seminoles baseball will be without head coach Mike Martin. The longtime FSU baseball coach retired at the end of the 2019 season and is forever a College Baseball Hall of Fame member. Don't fret, Seminole fans, the elder Martin is passing the torch to his son, Mike Martin Jr., this season.
Florida State baseball enters 2020 the preseason No. 14 team with lofty expectations under the first-year head coach with massive shoes to fill. The Seminoles finished last season 42-23 and earned a trip to the College World Series in dramatic fashion, marking the school's 42nd straight season of 40 or more wins and a postseason berth. It's up to Martin Jr., who spent 22 years as an assistant under his dad, to begin his own legacy by making the NCAA Tournament and reaching Omaha.
The 'Noles have plenty of reasons to be excited about this baseball team.
For starters, their top two rotation spots will be filled by future first-round draft pick C.J. Van Eyk, who possesses a fastball that reaches the upper-90s and two nasty off-speed pitches, as well as junior lefty Shane Drohan, who can run his heater up to 94 mph and put hitters away with a filthy curveball.
FSU lost all-around hitter Mike Salvatore and two serious power threats in Drew Mendoza and J.C Flowers, but they return some key batters this spring. Reese Albert (.283, 9 HRs) is back, as is Robby Martin (.315, 4 HRs, 17 2Bs). But this offense may rely more on the progression of infielder Nander De Sedas, who hit just .231 as one of the most-hyped freshman in the country last year.
The 2020 schedule features 55 games, including 33 at home in Dick Howser Stadium. Martin Jr. will make his head coaching debut in the season opener at home against Niagara on Feb. 14.
Thirty of FSU's games will be played against ACC teams, including preseason top-25 teams Louisville, Miami, Duke, Georgia Tech, Wake Forest and NC State. The Seminoles will also once again play three midweek games against the Florida Gators — one in Tallahassee, one in Gainesville and one in Jacksonville.
FSU Baseball Schedule 2020
Feb. 14-16: NIAGARA
Feb. 18: USF
Feb. 21-23: CINCINNATI
Feb. 25: at Jacksonville
Feb. 28-29: FLORIDA ATLANTIC
Feb. 29-Mar. 1: TEXAS TECH
Mar. 3: at Mercer
Mar. 6-8: at Duke*
Mar. 10: at Florida
Mar. 11: ILLINOIS STATE
Mar. 13-15: GEORGIA TECH*
Mar. 17-18: at UCF
Mar. 20-22: at Pittsburgh*
Mar. 24: Florida (Jacksonville)
Mar. 27-29: NC STATE*
Mar. 31: JACKSONVILLE
Apr. 1: BETHUNE-COOKMAN
Apr. 3-5: at Boston College*
Apr. 9-11: NOTRE DAME*
Apr. 14: FLORIDA
Apr. 17-19: at Wake Forest*
Apr. 21-22: STETSON
Apr. 24-26: MIAMI*
May 1-3: LOUISVILLE*
May 5: JACKSONVILLE
May 6: at Stetson
May 14-16: at Clemson*
May 19-24: Atlantic Coast Conference Tournament (Charlotte, NC)
May 29-June 1: NCAA Regional
June 5-8: NCAA Super Regional
June 13-24: College World Series (Omaha, NE)
* ? Denotes ACC game
ALL CAPS ? Denotes home games