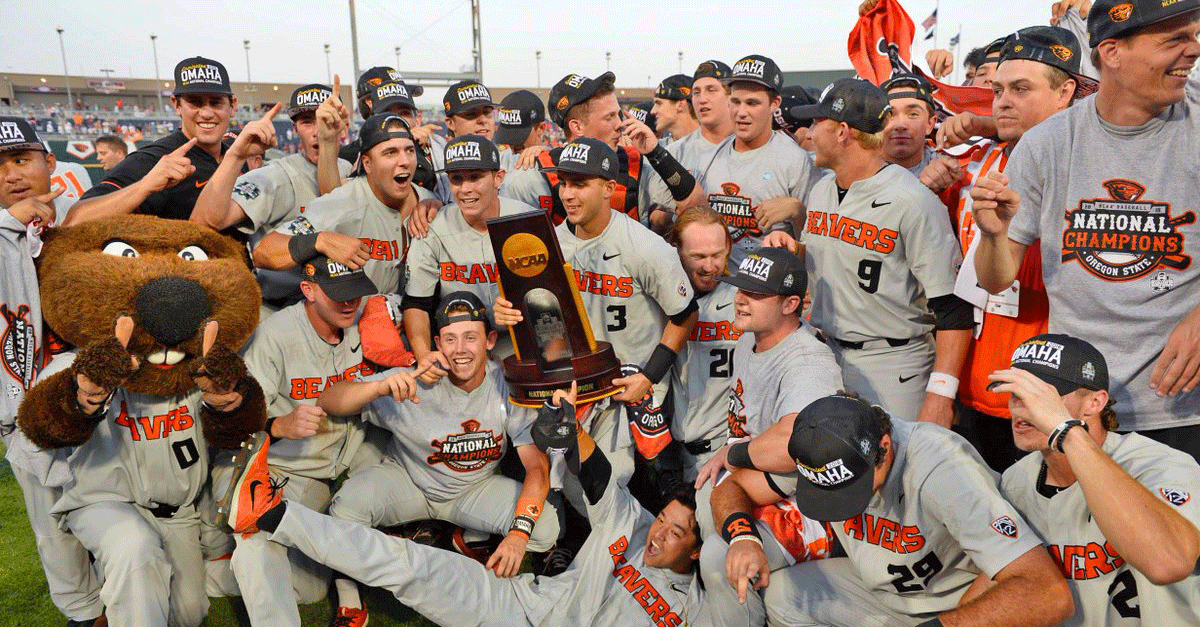 Twitter: @BeaverBaseball
Sometimes it?s better to be lucky than good. Other times it pays off to be great. Both seemed to be case for the Oregon State Beavers during the 2018 College World Series. After a rainout on the scheduled first day and a series-opening loss, Oregon State rallied against Arkansas in incredible fashion and capped it off with a cruising 5-0 victory over the Razorbacks on Thursday night.
The victory was sweet. The national championship trophy returns to Corvallis, Ore., for the first time since 2007.
It was quite the ride for Oregon State, which finished the season 55-12-1. Just when everything looked gloom throughout the CWS, the Beavers flipped the script each and every time, and here are the three biggest reasons why they are national champions:
1. Oregon State had a little (or a lot) of luck.
No matter what transpired in the winner-take-all Game 3, and there were several notable things, none of it would have happened had Arkansas not botched a game-winning play in the ninth inning of Game 2. Everything circles back to to that foul ball. Baseball can be cruel, and Arkansas got the absolute worst dose of it.
2. The Beavers were clutch.
Lucky? Sure. There?s no denying Oregon State caught a massive break, but make no mistake, this title was earned and not given. The Beavers, despite being down to their last strike, still needed timely hits in Game 2 to complete the comeback and they got big-time hits in the finale.
In fact, in eight games in Omaha, Neb., OSU faced elimination six times and won every game. Sophomore catcher Adley Rutschman showed up when it mattered most, too. He batted .567 with a CWS-record 17 hits and was named the tournament's Most Outstanding Player.
3. Pitcher Kevin Abel was strictly dominant.
Wow. That?s all anyone can really say here. The freshmen right-hander was beyond electric in the CWS, posting a 4-0 mark with a 0.86 ERA, and became the first NCAA pitcher to ever win twice in the same College World Series Finals.
What?s even more impressive is what Abel did in Game 3 against a potent Arkansas lineup.
After throwing an inning of relief the night before, the San Diego native was the starting pitcher on Thursday and threw a two-hit complete-game shut out with 10 strikeouts on 129 pitches. It was a masterpiece unlike any other seen on college baseball?s biggest stage.
What a team. What a story. What a championship.