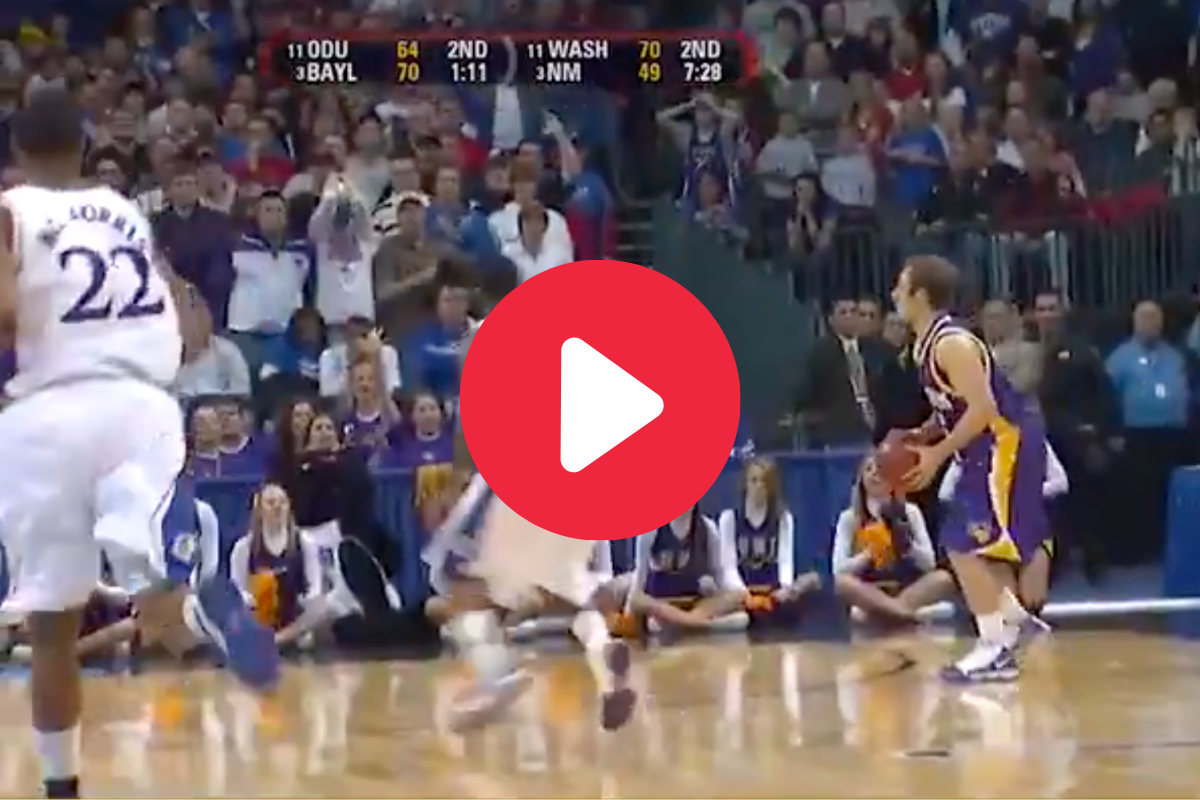 Screenshot from Twitter
Ali Farokhmanesh was feeling it.
His Northern Iowa Panthers were on the verge of taking down the top-overall seed Kansas Jayhawks. UNI held a 63-62 lead with 37 seconds left. The shot clock had 30 ticks.
Time for a heat check.
Ali Farokhmanesh's Shot Against Kansas
RELATED: Michael Jordan?s Clutch NCAA Title Shot Sparked His Legacy
Ali Farokhmanesh received a pass. He took a jab to fake out a defender and fired a triple.
It's every coach's dream. Farokhmanesh must've been a coach's kid because that's the ideal shot.
The shot undoubtedly went in. Just how it was drawn up.
Farokhmanesh's three was the nail in the coffin in the 69-67 win in Oklahoma City. The Panthers were going to the college basketball tournament's second weekend.
UNI's first-round NCAA Tournament win over UNLV ? in which Farokhmanesh hit the game-winning 3-pointer with 4.9 seconds left ? and second-round upset over Kansas broke a lot of brackets in 2010. You hate to see a blueblood go out like that. Just hate it.
The Jayhawks were hoping for their second title in three years, but Farokhmanesh had another plan in mind. The program has only won two since 1988. I'm just stating facts.
Northern Iowa fell to Michigan State 59-52 in the Sweet 16.
Farokhmanesh's dagger was a major highlight of the coveted One Shining Moment, however, and earned him a spot on the cover of Sports Illustrated.
Ali Farokhmanesh's Coaching Career
After hitting one of the ballsiest shots in March Madness history, Farokhmanesh went undrafted in the NBA and played professionally in Europe.
He retired in 2014 and became a graduate assistant for the Nebraska basketball program under head coach Tim Miles. He was promoted to director of player relations and development in 2016.
Farokhmanesh returned to Iowa as an assistant coach at Drake in 2017. When the Bulldgos' men's basketball coach Niko Medved left for Colorado State in 2018, Farokhmanesh joined his staff in Fort Collins.
The coronavirus pandemic deprived us of a 2020 NCAA Tournament. In its absence and on the 10-year anniversary of his shot, the coach and his family recreated the moment on the Rams' court.
His kids Tai and Mila and his wife Mallory played his teammates. He finished the play with a smooth stroke. Still got it.
His youngest son Liam played the part of KU fans everywhere in an Oscar-worthy performance.
March Madness is the epitome of Murphy's Law. Sometimes you have to just let it fly.