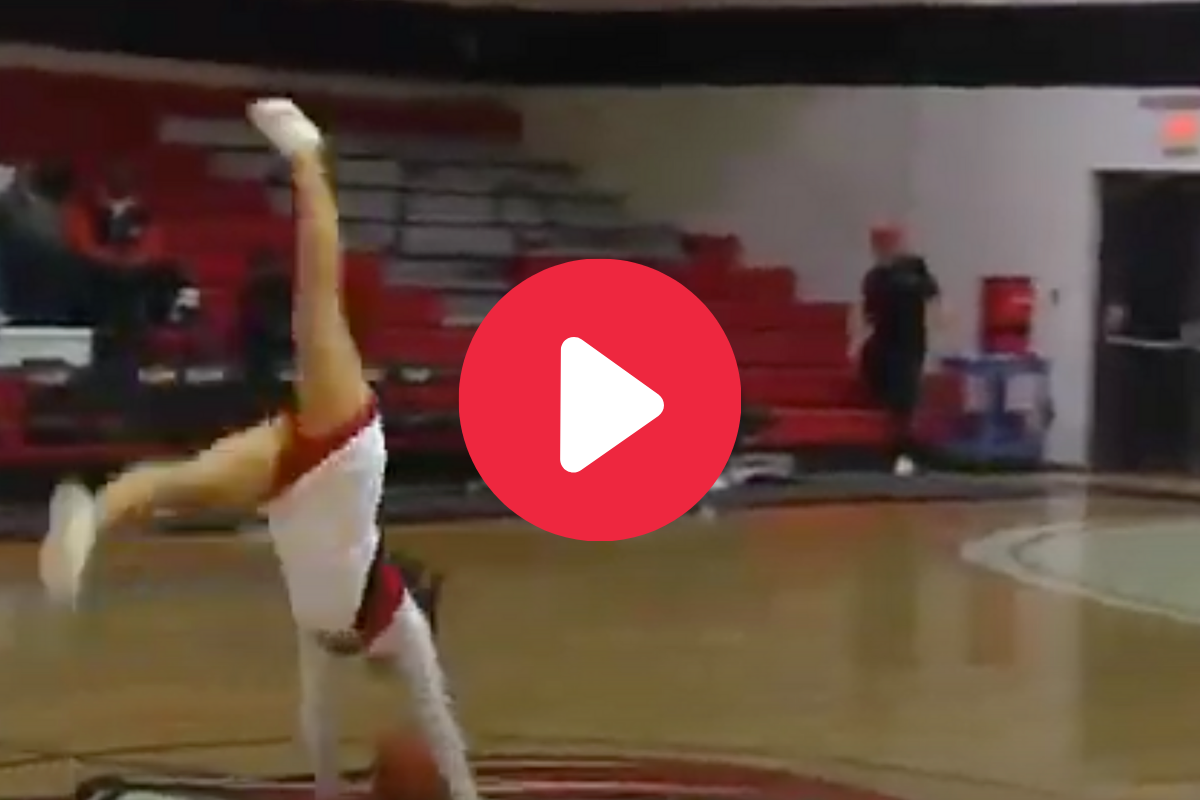 Screenshot from YouTube
Cheerleaders aren't usually the best athletes on the court or the field. Most of the time, they're on the sidelines with a pair of pom poms yelling out cheers in support of their team (unless they're from East St. Louis, like these brawling ladies).
Ashlee Arnau is proving that stereotype is complete and utter animal excrement found in Pamplona (I'll let you guys figure out which curse word that could be). The William Carey University cheerleader doubled as an acrobat and Harlem Globetrotter at halftime of her school's senior night game when she hit one of the toughest shots you'll ever see.
Half court. Front flip. Trick Shot. Buckets.
Cheerleader's Front Flip Half Court Shot
RELATED: Wild Cheerleader Brawl Forces High School to Cancel Season
With a packed house waiting in anticipating in Hattiesburg, Mississippi, Arnau did a front handspring at half court and threw the basketball into the hoop all in one motion.
You could put Michael Jordan in a skirt and I guarantee you he won't hit that shot ever. That's right, MJ, Ashlee Arnau can make a shot that you can't.
Arnau couldn't believe it. Her teammates couldn't believe it. The fans couldn't believe it, either.
According to the Associated Press, Arnau wasn't just a cheerleader when she made this shot in 2013. She also played soccer and ran track for the NAIA school.
Arnau said she had been trying to make the shot — which she formulated from overhead soccer throw-ins — at games all season, but she never practiced it.
?Everyone was going crazy,? Arnau recalled to the Associated Press. ?They were cheering my name.?
In 2015, Ashlee "The GOAT" Arnau pulled off the same trick again:
Who even cares what the score of the basketball game was? William Carey University cheerleader Ashlee Arnau stole the show and for good reason. An acrobatic half-court trick shot like that should have been the talk of campus afterward.