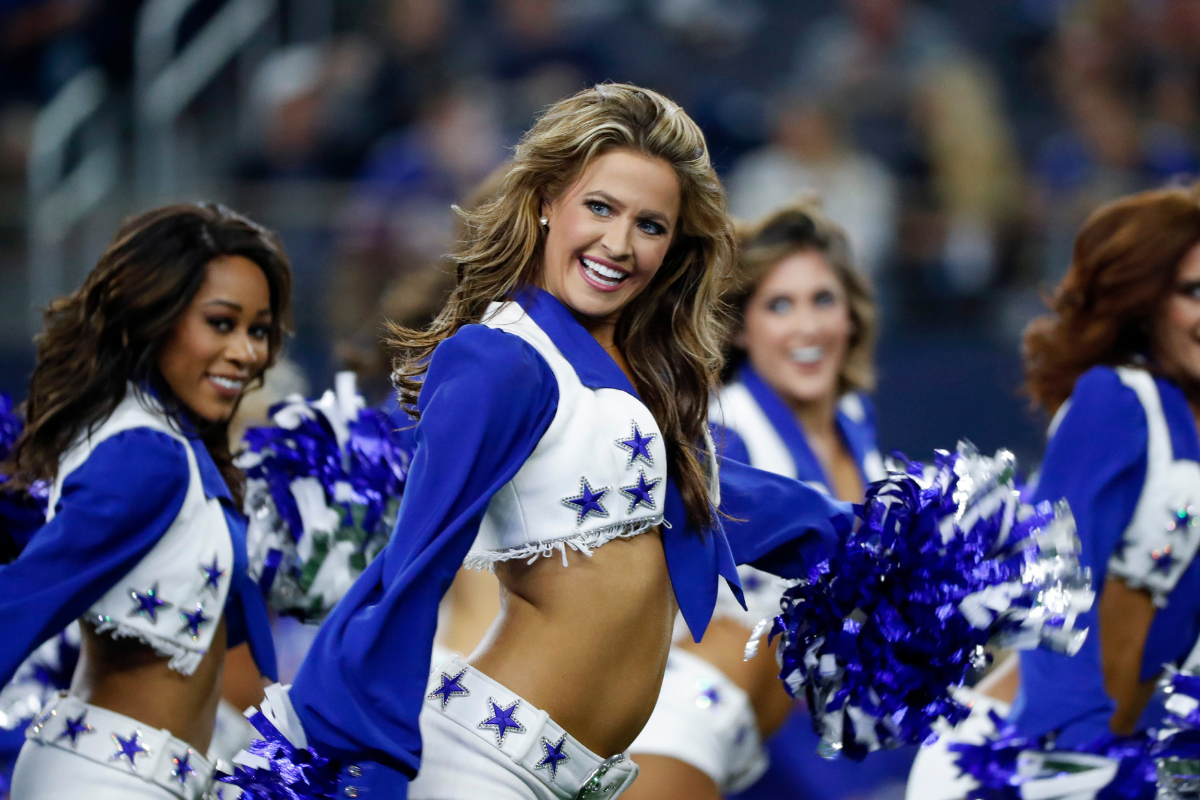 AP Photo/Roger Steinman
The average NFL team is worth more than $2 billion, so it makes sense that even the smaller, unheralded jobs like waterboys make surprisingly good money. For whatever reason, though, the same can't be said for the salary of NFL cheerleaders.
Cheerleading is not as glamorous as you might think. The NFL's professional cheerleaders must abide by a strict set of rules and a rigid schedule. Their duties include day-long practices and showing face at team appearances for which they are compensated very poorly. It's far from what you saw on the sidelines in high school.
Considering owners like Jerry Jones can afford a $250 million yacht, you'd think he'd be able to pay the Dallas Cowboys cheerleaders at least minimum wage. The most famous cheerleading squad in America deserves way more than that, but that's an argument for a different day.
While National Football League teams are printing money and the football players are cashing in on massive paydays, members of the cheer squads are getting paid sometimes less than minimum wage for their hard work and dedication.
NFL Cheerleaders Follow Strict Rules
RELATED: How Much Money Do Waterboys Make in the NFL?
The life of a cheerleader is not as glamorous as it seems.
For many of these cheerleaders, dancing in mini-skirts isn't their first job. The requirements turn what looks like a fun side gig or part-time job into another full-time job.
Practices can be a commitment of as much as eight hours per week. Public appearances and photo shoots eat into their schedules. Home games are an all-day affair. Plus, some cheerleading squads must work when the team plays on holidays like Thanksgiving or Christmas.
"I really felt like I had two full-time jobs during the season," former Philadelphia Eagles cheerleader Tiffany Monroe told Money. "And our season never really ended. We got a little bit of a break in February."
One anonymous former cheerleader spoke with Cosmopolitan about the harsh realities of the sideline career. Gaining weight is a no-no. Perfectly manicured nails and straight hair are musts. Even the wrong shade of skin could be grounds for firing. Cheerleaders are also barred from fraternizing with the NFL players.
"I quickly found out that the hardest part of professional cheerleading isn't learning the eight counts, high kicks, or whatever cheesy dance move we were being taught," she said. "It was always looking perfect. Our contracts actually said, 'Your appearance must be impeccable at all times.'"
How Much Do NFL Cheerleaders Make?
Despite sharing the same football field with millionaire athletes, cheerleaders only make a small fraction of what the players do.
The same former cheerleader revealed to Cosmopolitan that she made just $3,000 during the 2006 season, but she only took home a few hundred bucks after deducting things like manicures, makeup and personal trainers. Another former San Francisco 49ers cheerleader filed a lawsuit claiming to have made $1,250 in a season, or about $2.75 per hour.
According to Cheat Sheet, the common rate of pay for NFL cheerleaders is $150 each game day and $50-75 per public appearance. Each team plays 10 home games — two preseason and eight regular-season contests.
How much NFL cheerleaders make depends on the number of appearances, but they probably make less than $10,000 per year. That can rise if their team makes the playoffs.
NBA cheerleaders, in comparison, earn similar money per game. But NBA teams play 41 home games, more than four times the amount NFL teams do.
On top of the terrible pay, NFL cheerleading hopefuls must pay to audition in the first place. The Atlanta Falcons, for example, charge $35 while the New Orleans Saints (the Saintsations) and Indianapolis Colts require $75.
NFL Cheerleader Pay Is Improving
The good news is these pom pom professionals have taken a stance in recent years.
Former Cowboys cheerleader Erica Wilkins sued the team after claiming she made $8 per hour, far less than the mascot. The team settled the dispute and the entire squad earned a much-deserved raise.
Both the Tampa Bay Buccaneers' squad and the Oakland Raiders' Raiderettes filed class-action lawsuits in 2014 after taking home just $1,000 for one season.
The result? Teams were forced to cough up money and must now pay for every hour worked.
Other cheerleading squads like the Buffalo Bills' Buffalo Jills, Cincinnati Bengals' Cincinnati Ben-Gals and New York Jets cheerleaders have also won lawsuits.
Whether it be for the New England Patriots, Los Angeles Chargers, Los Angeles Rams, Houston Texans, Detroit Lions, Green Bay Packers, Denver Broncos, Baltimore Ravens, Miami Dolphins, Seattle Seahawks, Pittsburgh Steelers or the rest of the NFL's professional sports teams, let's hope these ladies get paid what they're worth even during the coronavirus pandemic and COVID-19 outbreak last year and moving forward.

This post was originally published on March 31, 2020 but has been updated.