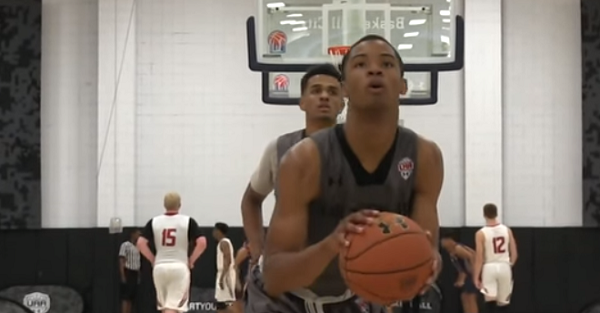 BallIsLife/YouTube
BallIsLife/YouTube
Five-star shooting guard Cassius Stanley already has six schools in the mix for him and it looks like his recruitment might be getting more aggressive from some schools. His father, Jerome, spoke to 247Sports about the schools he's hearing from the most and they are not exactly pushovers.
"I don't want to name any favorites, but right now the schools we hear the most from are USC, Kansas, Oklahoma and Texas, but we don't have any visits set up right now."
Cassius' father also mentioned that Stanford hasn't been talking to them as much and that Arizona has backed off, likely a product of the ongoing FBI investigation. His father also said that Cassius won't be making a decision based on a coaching personality, but mostly on the school and their eventual association with that school.
The class of 2019 recruit is ranked as the No. 9 recruit in the country and the No. 1 shooting guard overall according to 247Sports. The 6-foot-5, 180-pound guard out of California also has offers from Maryland, Oregon, UCLA, UNLV and Gonzaga among others.