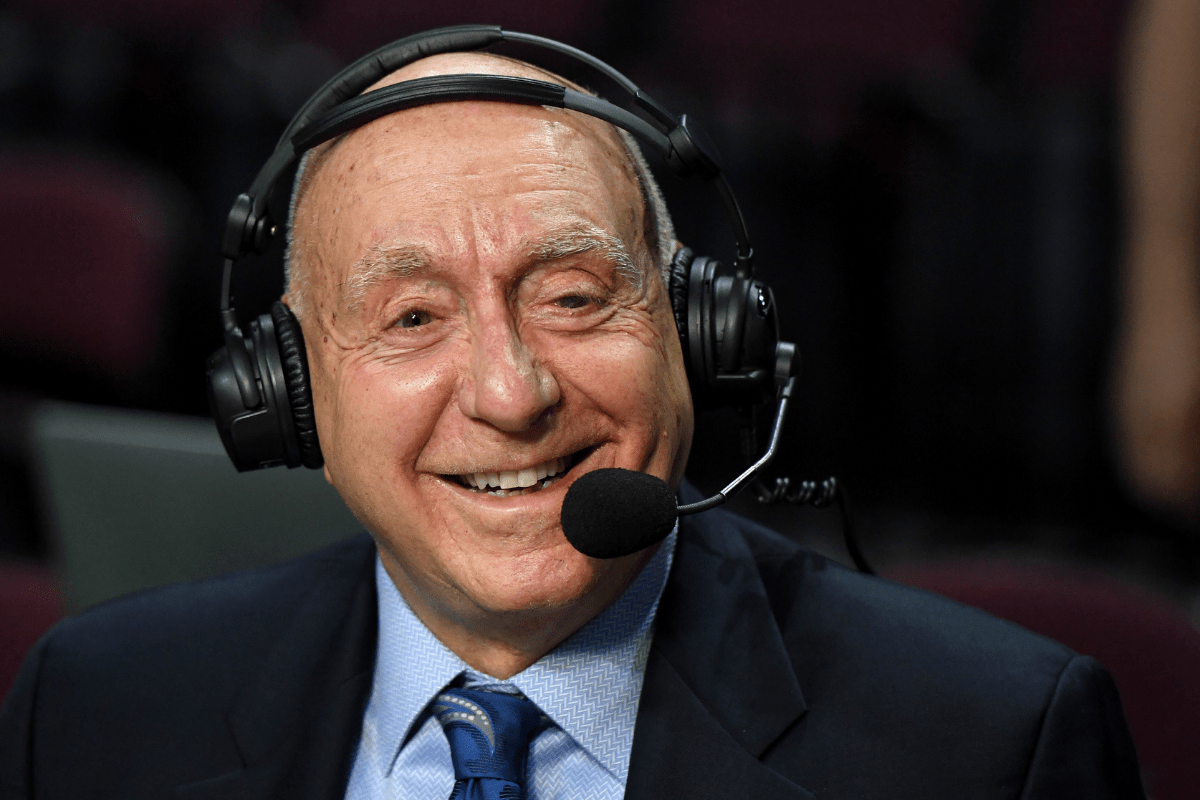 Ethan Miller via Getty Images
Super, scintillating, sensational! Diaper Dandy! P-T-Per! That was awesome, baby!
You can't read those phrases without hearing Dick Vitale's voice. Dickie V has been a college basketball staple for as long as I can remember. If you want to get specific, he's been in the ESPN broadcast booth since the company got off the ground in 1979.
Vitale brings joy and personality to the call that no sports broadcaster can match. He loves college hoops with all his heart, and he's not afraid to show it.
The longtime ESPN announcer was gearing up for his 43rd year on the job until he received his second cancer diagnosis of 2021.
What Type of Cancer Does Dick Vitale Have?
RELATED: Jim Kelly Beat Cancer Multiple Times, And Keeps On Fighting
In October, ESPN's Dick Vitale went to the Internet to make an announcement. The 82-year-old college basketball analyst wrote a press release on ESPN Front Row to reveal he had lymphoma. The lymphoma diagnosis came two months after he underwent surgery to be cleared of melanoma. He cited early detection as a factor in helping him manage both cancers.
Vitale went on to explain his treatment and how it will affect his work schedule:
"The plan is to treat my lymphoma with steroids and six months of chemotherapy. The medical experts tell me it has a 90-percent cure rate. They say I can continue to work so I will have to manage my work schedule around my chemo schedule as they will monitor my test results along the way."
Vitale, who was inducted into the Naismith Basketball Hall of Fame and College Basketball Hall of Fame in 2008, started his chemotherapy as the college basketball season gets into the swing of things.
Dick Vitale Starts Chemotherapy
Sportscaster Dick Vitale kept a positive attitude as he started his treatment at Sarasota Memorial Hospital in Sarasota, Florida.
In a Twitter video, he attributed his spirits to the loving support he's received. The Hall of Famer then went on to say he has a deep understanding of those who have had or have family members who have been diagnosed with cancer.
The former coach of the NBA's Detroit Pistons was involved with cancer research long before he himself dealt with the disease. He's been a longtime supporter of The V Foundation for Cancer Research in addition to hosting the Dick Vitale Gala to raise money for pediatric cancer research every year.
Even though this is the second time Vitale has been diagnosed with a form of cancer this year, you better believe he's fighting to call college basketball games this season. He'll have the entire college hoops world behind him from Duke to Gonzaga to Kentucky to Michigan to UCLA to Loyola-Chicago.
Dickie V's sport won't be the only one backing him, either. High school basketball teams, college football teams such as the Minnesota Golden Gophers, NFL teams such as the New York Giants and Green Bay Packers, MLB teams such as the Detroit Tigers and Tampa Bay Rays as well as other NCAA sports will rally together to support Dickie V.
It's the least everyone could do for the guy who makes watching college basketball so awesome, baby.
Related Videos