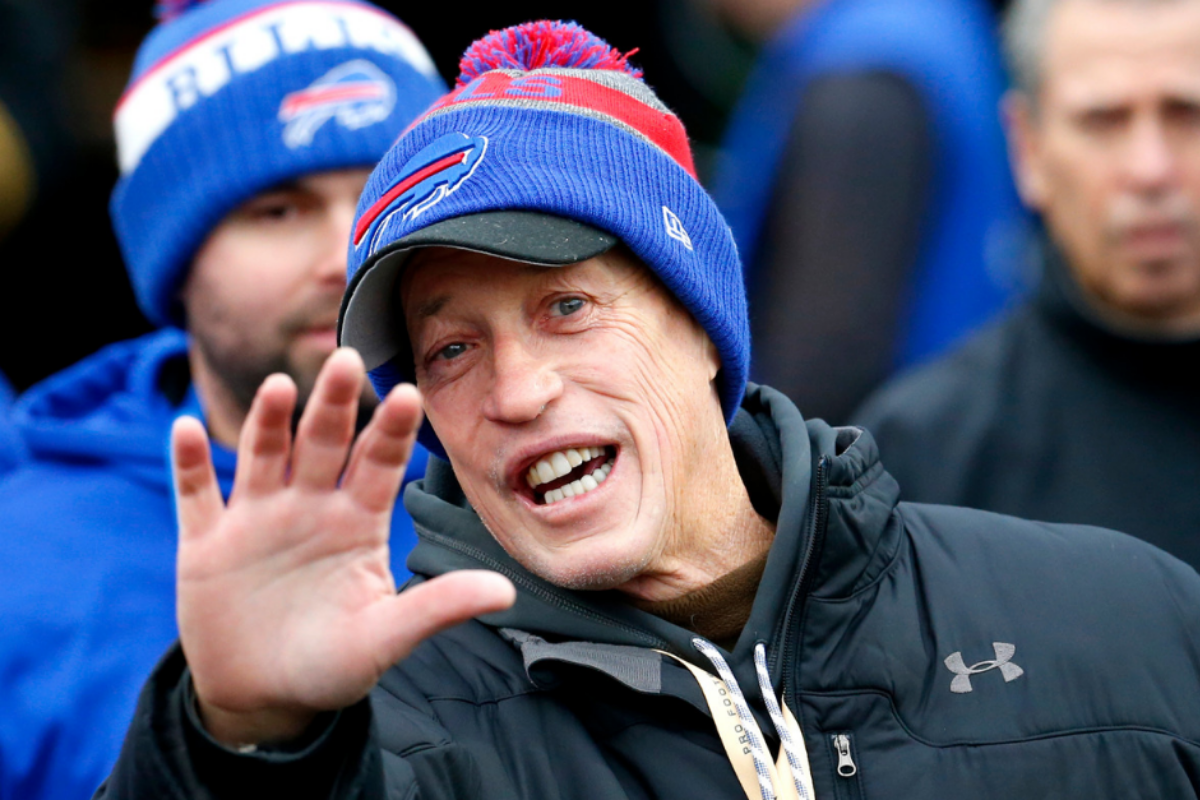 AP Photo/Jeffrey T. Barnes
Former Buffalo Bills quarterback Jim Kelly is one of the all-time great NFL players. His career spanned 11 seasons, and while he was never able to win a Super Bowl, he left behind a substantial legacy.
But for all he's accomplished on the gridiron, life has been nothing short of a battle for the Hall of Fame quarterback off the field.
NFL Career
RELATED: Patrick Mahomes? Parents Helped Create a Superstar QB
Jim Kelly was a drafted by the Buffalo Bills in the first round the 1983 NFL Draft out of the University of Miami. Kelly would take over the starting role in 1986 and maintain the job until his retirement in 1996.
Throughout his career in Buffalo, New York, Kelly solidified himself as a Pro Football Hall of Fame talent, earning a 101-59 record as a quarterback and throwing 237 career touchdown passes.
Kelly's Bills revolutionized NFL offenses, scheming up all sorts of plays including utilizing their tight end under center against teams like the Patriots. Kelly, alongside his favorite target, wide receiver Andre Reed, played in 17 AFC playoff games in his career and helped lead the Bills to four-consecutive Super Bowl appearances, despite losing each of them.

Personal Life
Hall of Fame quarterback Jim Kelly married his wife Jill Kelly in 1996, the same year he called it quits on football. The couple have two daughters together, Camryn and Erin, and also have a late son, Hunter, who tragically passed away from Krabbe Disease in 2005 when he was eight years old.
Jim Kelly's Battle With Cancer
In 2013, Kelly began to feel pain in his upper jaw. After a series of tests and undergoing a biopsy, Kelly had been diagnosed with squamous cell carcinoma, a form of oral cancer. With the loss of his son still weighing heavily upon him and his family, the Kelly's started "Kelly Tough" which is a motto the family have used to guide them through the tough times.
The first year battling cancer wasn't easy for the Hall of Famer. After the 2013 surgery to remove the cancer from his jaw, it returned in 2014. This time, Kelly was forced to undergo multiple sessions of radiation treatment and chemotherapy. Doctors told him that he was facing a less than 10 percent chance of survival.
The cancer returned once more in 2018, but the Kelly clan fought it off like it were a linebacker looking to sack Jim, and as of 2020, Jim Kelly is cancer-free.
Due to his non-stop commitment to his fight, and having the toughest and most supportive family in the sporting world, Jim Kelly was honored with the Jimmy V Award for Perseverance at the 2018 ESPY's, hosted by ESPN.
Now cancer-free, Kelly has been spending time with his wife and daughters, posting pics of themselves to social media during the COVID-19 pandemic.
Kelly can be thankful every day that he has the support of his family in every facet of his life.