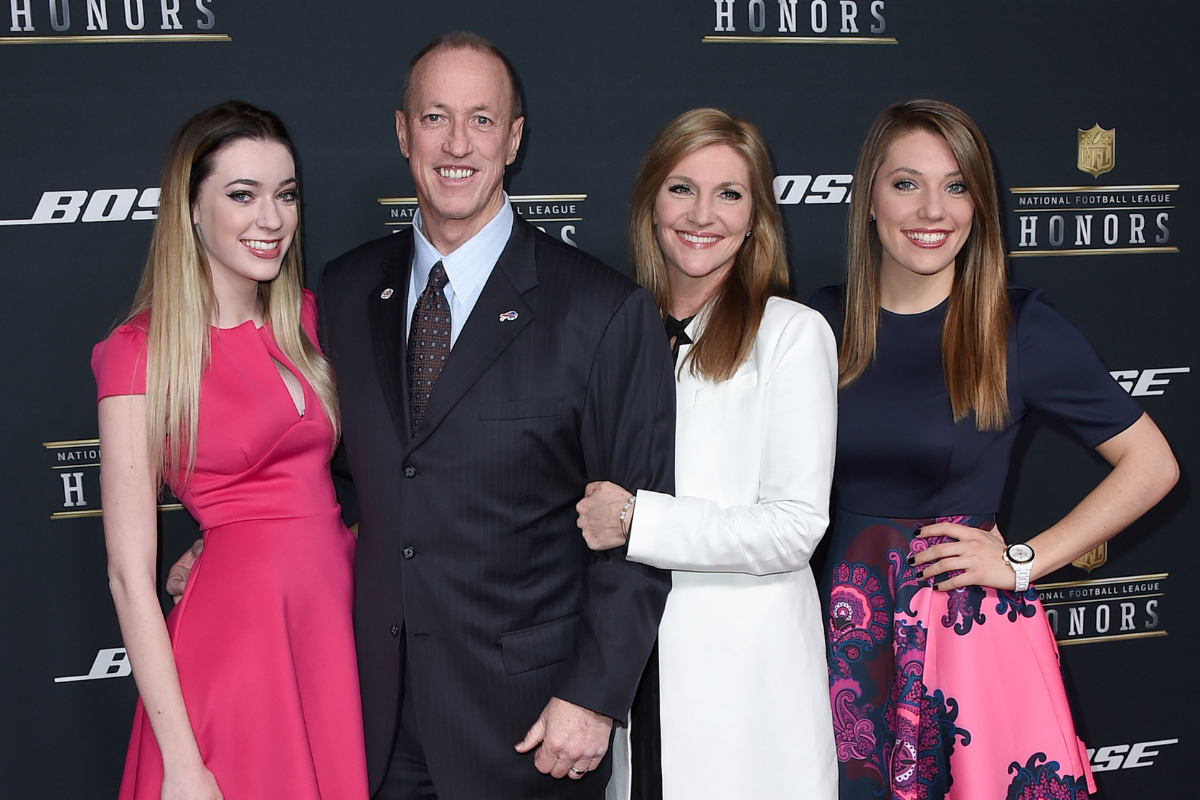 Photo by Jordan Strauss/Invision for NFL/AP Images
Pro Football Hall of Fame quarterback Jim Kelly was one of the greatest NFL players in league history.
Kelly came close to taking home a Lombardi Trophy on multiple occasions, but never quite achieved the ultimate goal of winning a Super Bowl with the Buffalo Bills.
Well, for all the pain he's experienced in defeat on the gridiron, as well as through personal tragedy off of it, one individual has had his back more than anyone else on the planet.
Jim Kelly's biggest fan is his loving wife, Jill Kelly.
Jim Kelly's Wife & Kids
RELATED: Jim Kelly Beat Cancer Multiple Times, And Keeps On Fighting
Jim Kelly has been married to his wife Jill Kelly for more than 25 years. They tied the knot back in May 1996.
The pair had three children together: daughters Erin and Camryn, and son Hunter, who tragically passed away due to globoid-cell leukodystrophy — also known as Krabbe disease — when he was only eight years old.
Hunter wasn't the only member of the family to struggle with health issues, however. Jim Kelly himself was battling cancer starting in 2013 after evidence of cancer, specifically squamous cell carcinoma, was detected in his mouth.
He was declared cancer-free in 2014 after undergoing surgery, chemotherapy and radiation treatments, but the oral cancer returned once again in 2018.
Kelly underwent more surgeries, including one to reconstruct his upper jaw, as he continued his fight. He was awarded the Jimmy V. Perseverance Award at the 2018 ESPY Awards.
The Kelly family has founded various charitable organizations, including the Hunter's Hope Foundation and the Kelly for Kids Foundation.
While the Kelly family has endured its share of struggle, they may be the toughest clan in the nation and they continue to inspire other people with their charitable acts and heartwarming stories, as well their dependence on faith and the strength of God.
Jim Kelly's NFL Career
Jim Kelly grew up in Pittsburgh, Pennsylvania, and played college football at the University of Miami. The Buffalo Bills selected Kelly with the 14th-overall pick in the 1983 NFL Draft.
With the Bills, Kelly led the franchise to four-consecutive Super Bowls, but didn't manage to win a single one. ESPN created a documentary about his lack of success in the Super Bowl, "The Four Falls of Buffalo."
Kelly played in upstate New York from 1986-96 before retiring from professional football.
Throughout his career as a passer, Kelly made five Pro Bowls and one First-Team All-Pro. He threw for 237 touchdowns and featured in 160 games throughout his career, including 17 playoff games.
The 61-year-old former Buffalo Bills quarterback was inducted into the Pro Football Hall of Fame in Canton, Ohio in 2002.
When he gave his commencement speech, Kelly dedicated it to his late son in an emotional moment.
Kelly is arguably the best quarterback in Buffalo Bills franchise history, and now the Hall of Famer is hoping to pass down his wealth of knowledge to current Bills star QB Josh Allen.