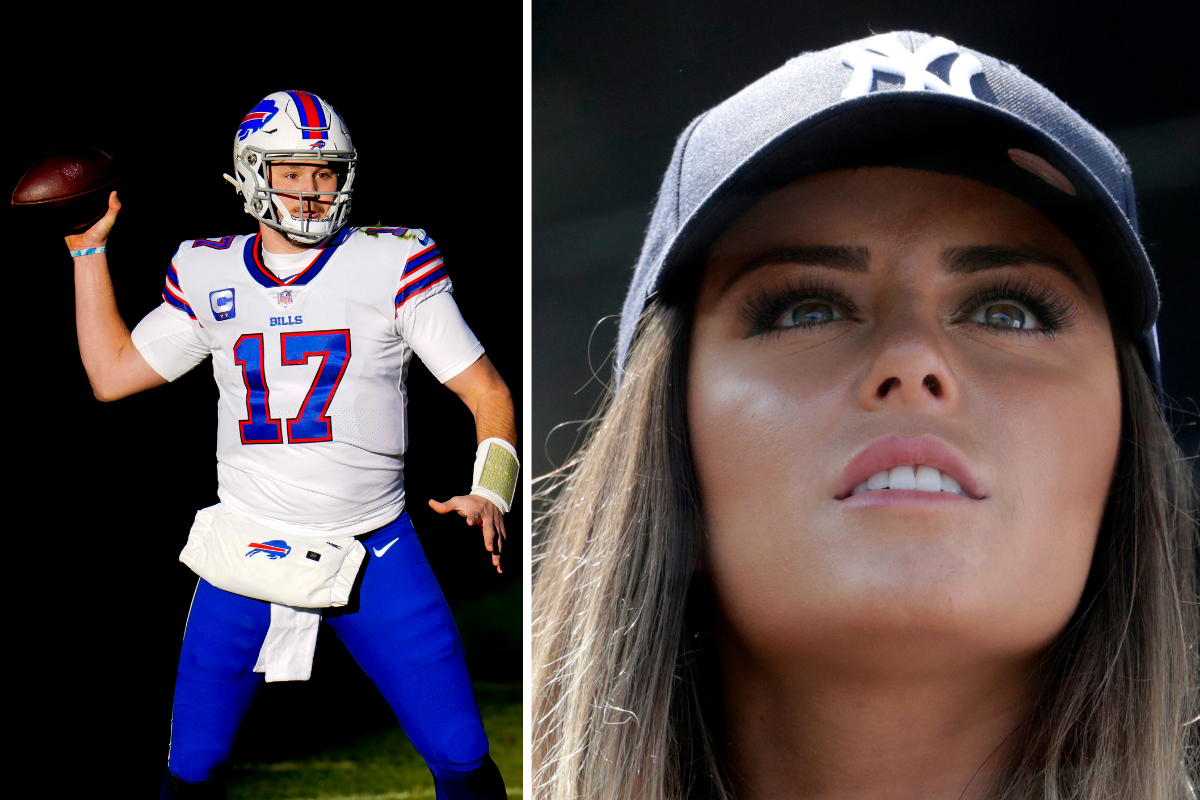 AP Photo/Jack Dempsey (left), AP Photo/Julio Cortez (right)
Buffalo Bills quarterback Josh Allen has officially made the leap to superstardom within the NFL, having led the Bills to an AFC East Division Title while throwing for 37 touchdowns and just 10 interceptions in 2020.
A man of lore among Bills Mafia, the success Allen has brought to upstate New York has garnered him a plethora of new fans, but none more than his stunning girlfriend, former cheerleader Brittany Williams.
Josh Allen's Girlfriend
RELATED: Joe Burrow and His Girlfriend Are The NFL's Next Power Couple
Josh Allen and Brittany Morgan Williams have reportedly been dating for a few years, and she was spotted with her man at the 2018 NFL Draft when he was selected in the first round.
Williams, who was a former cheerleader at Fresno State, often posts pics to social media dressed in Bills attire and supporting Allen. She's often trending among Bills fans for her outfits and support of Allen. Now, Williams works as a Pilates instructor.
While the couple only became official a few years ago, they're lifelong acquaintances, having grown up together in the small town of Firebaugh, California, and both attended high school in the area.
She posted an Instagram photo captioned "My 8-year-old crush became my boyfriend a few years later… I love you! #1yeardown #bae.
While she can typically be found in the stands at Orchard Park, Williams has been forced to root for Allen from home due to the coronavirus pandemic and COVID-19 outbreak.
The two have previously been spotted taking luxurious vacations, to sites such as Monaco, when they attended the 2019 Grand Prix during the offseason.
Josh Allen's Football Career
Josh Allen was not a highly recruited player out of high school, but managed to get an opportunity at the University of Wyoming, where he was able to showcase his unreal arm strength, and eventually make it to the NFL.
Despite being passed on in the draft by other quarterback-needy teams like the Browns and the New York Jets, Allen landed in the perfect spot in Buffalo.
In 2020, he helped the Bills achieve their first division title since 1995, and went undefeated against the New England Patriots during the regular season after decades of the franchise being bullied by Tom Brady and Co.
After clinching the playoff berth and handing a whopping beatdown to the Miami Dolphins, Allen and the Bills have their sights set on the Super Bowl.
With Williams in his corner, Allen will be playing with extreme confidence as the Bills gear up for postseason play.