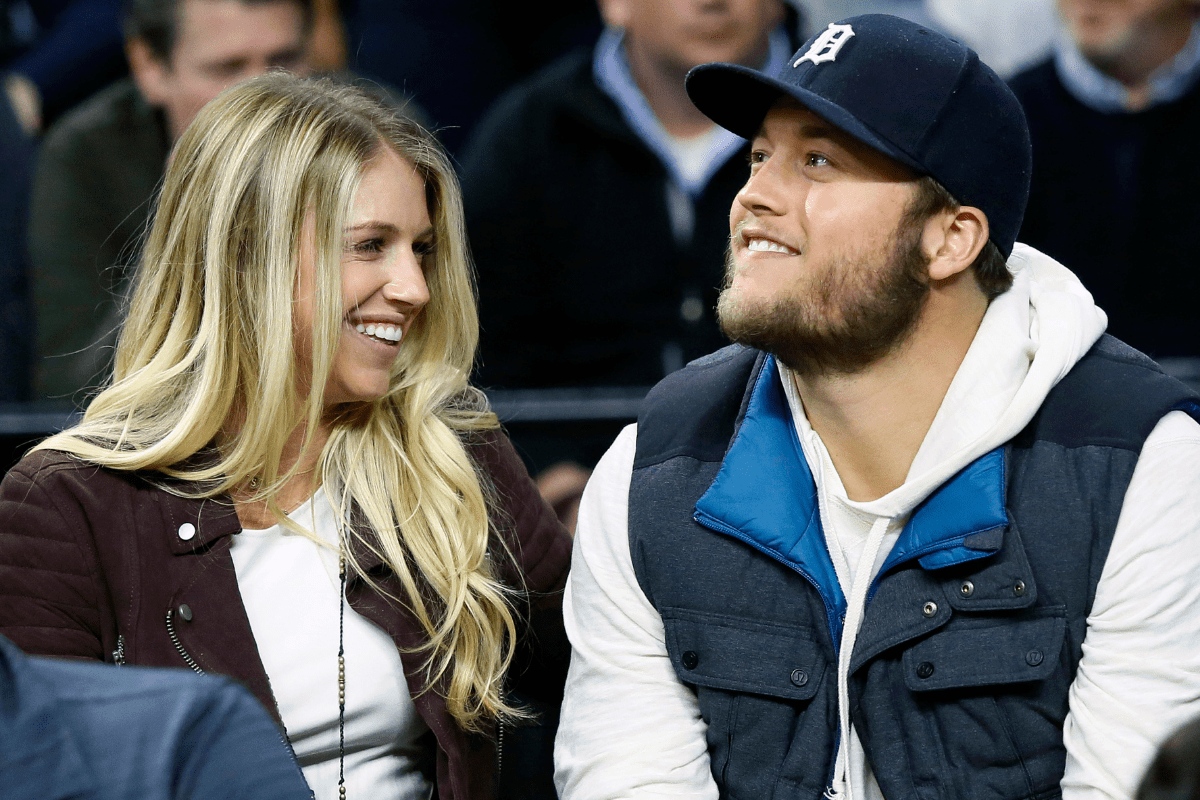 AP Photo/Duane Burleson, File
For former Detroit Lions quarterback and now Los Angeles Rams quarterback Matthew Stafford, the past couple of years have been a whirlwind. On the field, he suffered a back injury that ultimately ended his 11th NFL season. Off the field, his wife Kelly Stafford had surgery to remove a brain tumor. It's been hectic, no doubt, but life started to return to normal.
Before the coronavirus pandemic and COVID-19 outbreak, the Staffords enjoyed a nice family vacation at Disneyland in California. They took their three daughters — twins Sawyer and Chandler, and Hunter — and it was all smiles. They also made another big announcement on the trip.
Matthew and Kelly Stafford were expecting their fourth child over the summer and told the world in an Instagram post. By the end of June, they were proud parents of four beautiful children.
Matthew Stafford's Wife Kelly Stafford
Matthew Stafford, the former first overall pick (first round) in the 2009 NFL Draft, met his wife, Kelly Hall, at the University of Georgia. Matt was the star quarterback for the Bulldogs and Kelly was a cheerleader.
The couple got married in April 2015.
It's safe to say the Stafford family has been through a lot, including trade rumors (and finally a trade) this offseason. Kelly Stafford even chimed in on her Instagram story saying she wouldn't mind Los Angeles if Detroit was done with her husband. Lions general manager Bob Quinn originally shut them all down to the Detroit Free Press, but ultimately traded him in January 2021.
All of that has settled and now the Staffords can enjoy everyday life now that they've left Michigan for Los Angeles with their four daughters.
Kelly's Controversial Coronavirus Statements
When her husband received a false positive test for the coronavirus in August 2020, Kelly took out some anger on the NFL.
She described in an Instagram post how they were treated poorly after he was placed on the COVID-IR, including being approached in a grocery store and having her kids harassed. She was upset because the league released info that Matthew was positive, when he really was not.
"I would also like people to know..if you saw me out and about after this, it was because we already knew it was a false positive. We would never chance endangering anyone with this virus. If we have learned anything in the past two years, it's that we know the value of health and the health of others," she wrote on social media.
That wasn't the first time she made headlines during the coronavirus pandemic. In November 2020, Kelly caught heat after she compared the state of Michigan to a "dictatorship" on social media after the state's government imposed restrictions on in-person dining and bars as well as restrictions for classes in high schools and colleges.
"I'm going to be very blunt," she said in a now-deleted video. "I'm so over it. I'm over living in a dictatorship that we call Michigan. I understand there's a pandemic and I understand it's very scary. I'm scared of it, too. If you are at risk, do not leave your house until there's a vaccine.
"But shutting down these small businesses, things that people have worked their life for, shutting them down again is not the answer because they will not make it. And once we are able to leave our house, once this dictatorship decides to let us have some freedom, there will be nothing left."
Kelly, who was at that point the wife of Detroit Lions quarterback Matthew Stafford (before he was traded), issued an apology over her reaction to the COVID-19 restrictions.
"Should never have used the word 'dictatorship,'" she wrote. "I got caught up in the heat of the moment, that is my fault. i don't know the answer and i won't pretend to. i care about the people who are losing their lives or battling this.. and also the medical staff who care for them. and it is hard knowing these local business owners and watching them struggle and having to lay off their employees, not knowing how they are gonna make it. so i'm sorry. i let my emotions get the best of me. i love michigan and the people here..don't get that twisted in this This place was my rock during my tough times.
"and i wish there was an answer that pleased everyone but we know that is definitely not the case."
Matthew Stafford Kids
RELATED: Patrick Mahomes & His Fiancée Announce Birth of Baby Girl
The brain tumor diagnosis and 12-hour brain surgery (for a tumor called acoustic neuroma) wasn't going to stop the Staffords from having another kid. No way. The twin girls were born in 2017, and Hunter was born in 2018, and announced they were expecting another kid in the summer of 2021.
They were keeping the gender a secret, too.
"Got to enjoy one of the most magical places with my husband and 3 of our kiddos. Not pictured: our middle baby girl, Huntie."

"Baby stafford #4 due this summer (no worries, well before training camp)"

"We won't know whether the stafford kids will continue as a girl squad or if a little brother will enter the craziness until baby is here. Excited and exhausted #staffordpartyof6 #madeindetroit #nomoresedans #staffordstrong"
Then, with everyone waiting for Stafford and his wife Kelly to welcome their fourth child, they shared the trending news on social media.
"Friday, June 26, 2020. Our family became complete," Kelly Stafford wrote.
The couple's fourth child was another baby girl. Her name is Tyler Hall Stafford.
Matt Stafford might be best known for competing with Aaron Rodgers in the NFC North and throwing touchdowns for the Lions at Ford Field, but he's also a proud girl dad and husband. Now, he and his family will have to prove themselves out west for a new football team, who hopefully he can take to the playoffs and even a Super Bowl.
This post was originally published on March 2, 2020 before updating.