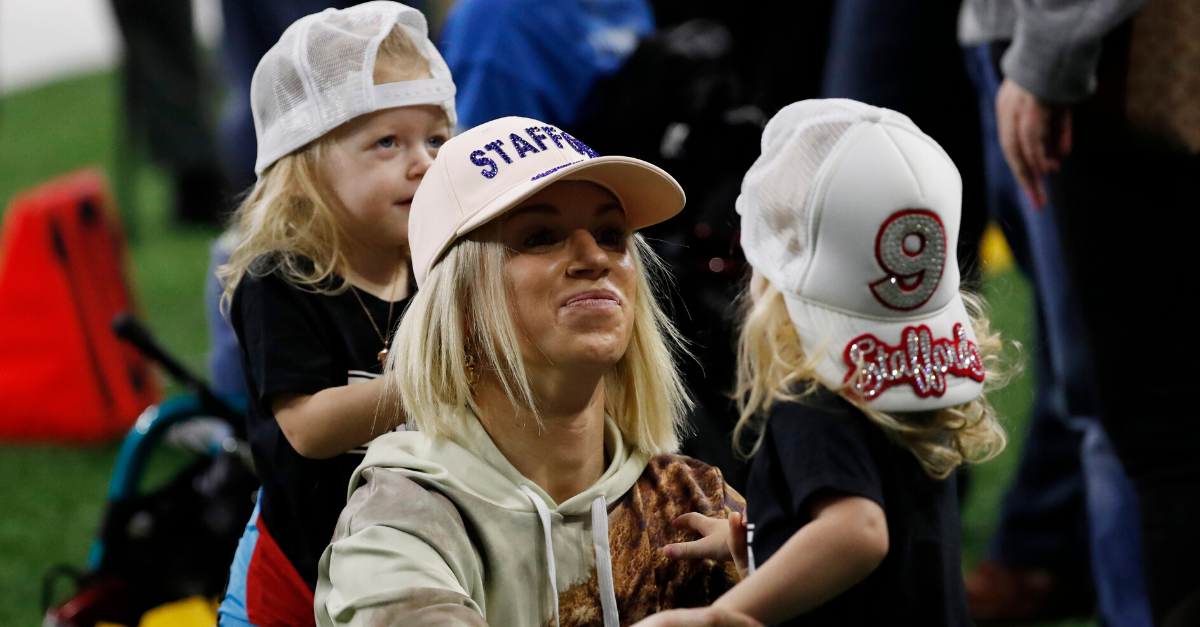 AP Photo/Rick Osentoski
For Detroit Lions quarterback Matthew Stafford, this past year has been a whirlwind. On the field, he suffered a back injury that ultimately ended his 11th NFL season. Off the field, his wife Kelly Stafford had surgery to remove a brain tumor last April. It's been hectic, but life has since returned to normal.
Over the weekend, the Staffords enjoyed a nice family vacation at Disneyland in California. They took their three daughters — twins Sawyer and Chandler, and Hunter — and it was all smiles. They also made another big announcement on the trip.
Matthew and Kelly Stafford are expecting their fourth child this summer and told the world in an Instagram post.
Matthew Stafford Kids
RELATED: Fans Rip Garth Brooks, Thinking He Wore a Bernie Sanders Jersey
The brain tumor diagnosis and 12-hour brain surgery wasn't going to stop the Staffords from having another kid. No way. The twin girls were born in 2017, and Hunter was born in 2018, and now they are expecting another kid later this summer.
They are keeping the gender a secret, too.
"Got to enjoy one of the most magical places with my husband and 3 of our kiddos. Not pictured: our middle baby girl, Huntie.
"Baby stafford #4 due this summer (no worries, well before training camp)
"We won't know whether the stafford kids will continue as a girl squad or if a little brother will enter the craziness until baby is here. Excited and exhausted #staffordpartyof6 #madeindetroit #nomoresedans #staffordstrong"
Don't worry, Lions fans. Matt Stafford, who threw 19 touchdowns in eight games last season, won't be missing any training camp.
Matthew Stafford's Wife
Matthew Stafford, the former first overall pick in the 2009 NFL, met his wife, Kelly Hall, at the University of Georgia. Matt was the star quarterback for the Bulldogs and Kelly was a cheerleader.
The couple got married in April 2015.
It's safe to say the Staffords have been through a lot, but it's exciting their family will grow later this year.