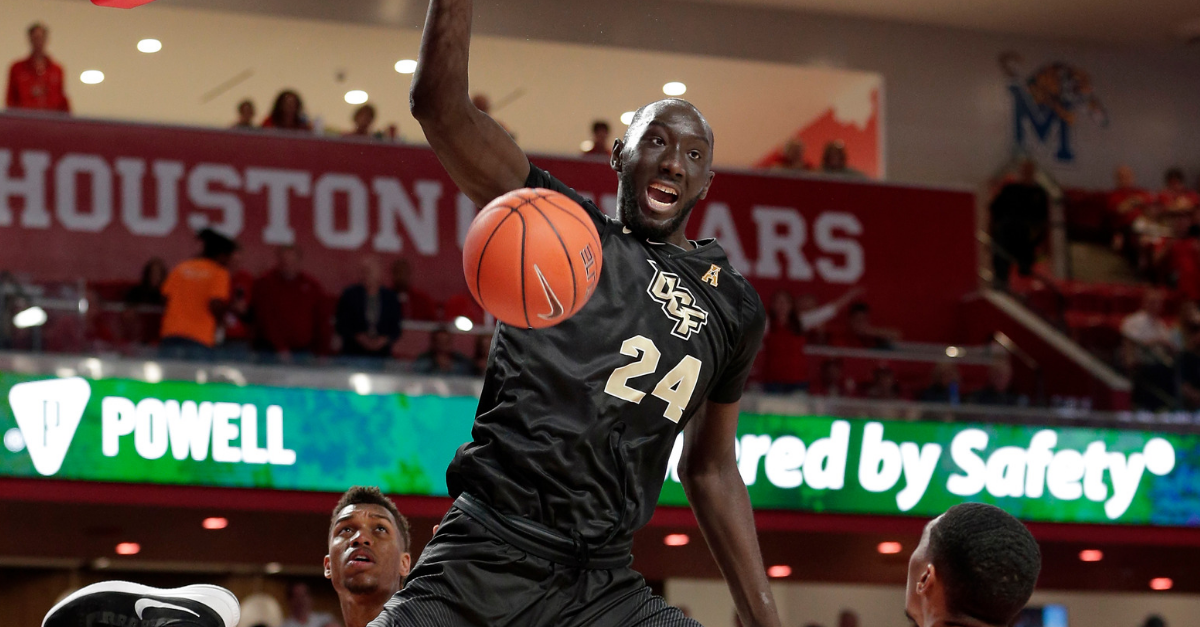 AP Photo/Michael Wyke
It?s March and the madness is upon us. The team everyone is talking about ? The Duke Blue Devils ? features the player everyone is talking about ? Zion Williamson.
Duke is a juggernaut. There?s no denying that. Most will pencil them in as a Final Four lock in their brackets. And they should. But if there?s one early threat in the East Region that could send Mike Krzyzewski and the Blue Devils home before the Sweet 16, it?s the team with the tallest man in college basketball (or NBA, for that matter).
I?m talking about Tacko Fall and the University of Central Florida Knights. Fall is a 7-foot-6, 310-pound center. Let me say that again: SEVEN-FOOT-SIX, THREE-HUNDRED-AND-TEN-POUNDS. That is a full 11 inches taller and 25 pounds heavier than Zion. Talk about an imposing figure.
It?s not even that Fall is some dominating presence offensively ? he?s averaging just 10.9 points per game on a ridiculous 75.4 percent from the field ? it?s that he takes away so much of an opponent?s offense.
Fall?s length at the rim is why he?s averaging 2.5 blocks per game. When you pair him with UCF?s 6-foot-11 forward Collin Smith, it forces teams to, well, steer clear of the paint and shoot the ball more.
After UCF, earlier this month, took down Houston, now ranked 11th nationally, Cougars head coach Kelvin Sampson said Fall ?takes away half your playbook.?
As ESPN?s FiveThirtyEight notes, UCF?s points per possession allowed ranks among the country?s best over the last three seasons since Fall came to Orlando from his home country of Senegal. Before Fall's arrival, UCF was one of the worst in that category.
Related: These Are the 10 Best College Dunks of the Year, and Half of Them Are Zion
The reason UCF?s frontcourt height could stack up well against Duke is because the Blue Devils have been uncharacteristically awful 3-point shooters this year. Like, had-a-little-too-much-wine-during-Thanksgiving-and-now-you-can't-hit-rim-against-your-cousins-in-the-driveway awful.
Not only is their 30.2 percent mark from beyond the arc one of the worst in the country — 339th out of 351 Division-I schools — it?s by far the worst in school history since the NCAA universally adopted the 3-point line in 1986.
And it?s not like Duke doesn?t toss up threes. Their 818 3-point attempts was tied for 63rd in the country this year. The two highly-touted Blue Devils who shoot them the most — RJ Barrett and Cam Reddish — have made 30.4 and 32.7 percent of their attempts, respectively, which is objectively bad.
No NCAA champion over the last 15 years has shot the three as bad as Duke has this year. All of this makes me think Coach K's group is vulnerable against the right team with the right defense. First, you must stop Zion from turning any game into a dunk contest, though.
Of course, none of this matters if UCF doesn't get past VCU — also a great defensive team — in the first round. But if the Knights get it done, don't be surprised to see them give Duke a run for their money or even upset the favorite to win it all.
And you just know UCF fans will claim the national title if it happens. Ugh.