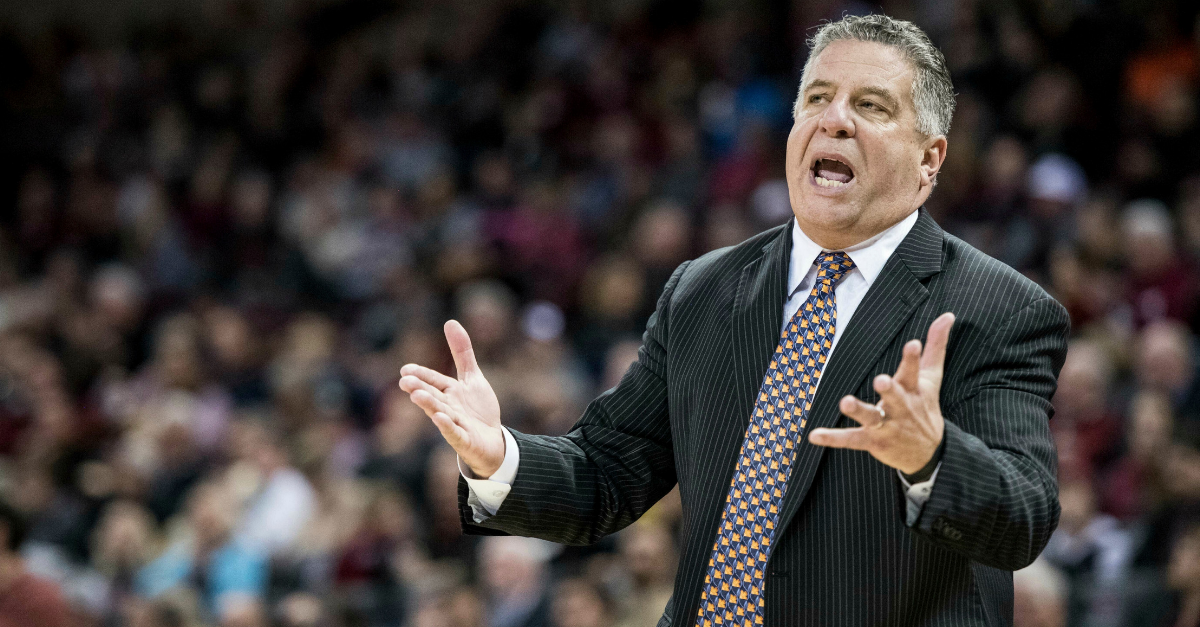 AP Photo/Sean Rayford
If there is a scandal in college athletics that somehow involves the federal government, there's a pretty decent chance the Auburn Tigers — directly or indirectly — are linked to it in some capacity. The proof is just there to back that up.
First, let's just get this out of the way. Auburn head coach Bruce Pearl doesn't exactly have a squeaky-clean track record. From an "illegal" cookout at Tennessee to former Tigers associate head coach Chuck Person getting arrested on corruption and bribery charges, the 58-year-old Pearl has been in his fair share of hot water. Now another assistant could potentially be in some trouble.
During a federal bribery trial last week for a Florida healthcare executive, former Penn head coach Jerome Allen testified that former Quakers assistant and current Auburn assistant coach Ira Bowman was allegedly involved in a bribery scheme at his old program, according to Philly.com.
RELATED: The Biggest College Admissions Scam Ever Involves TV Stars and Coaches
Allen, who was fired by Penn in 2015, testified that he took approximately $300,000 in bribes from Philip Esformes so that his son, Morris, would be on the basketball team. He also claims Bowman knew about the entire scheme and got involved after his contract was terminated by the University of Pennsylvania.
According to AL.com via Law360.com, Morris Esformes never played on the team, but that Allen gave Bowman a debit card to access the separate bank account where the money was being wired.
Is this an NCAA violation? Not exactly. But with the unpredictable nature of the NCAA, who actually knows? It certainly isn't as bad as what might happen to Person, who Bowman ironically replaced last July, but it's kind of bizarre.
Person is scheduled for trial in June on six felony counts, including bribery conspiracy, solicitation of bribes and gratuities, conspiracy to commit honest serves fraud, honest services wire fraud, and conspiracy to commit wire fraud. He was fired by Auburn in November 2017 after being indicted by a federal grand jury.
So, no, Ira Bowman is not in the kind of hot water. It doesn't even have anything to do with Auburn. It might be unfortunate, sure, but the connection back to the Tigers men's basketball program still exists, whether you like it or not.
"Until Jerome's testimony last week, we also were unaware that former assistant men's basketball coach Ira Bowman had any relevant knowledge of the matter. The University has been cooperating fully with the government and the NCAA so that the matter is appropriately redressed."

— Penn Athletics via Philly.com
Ahead of the SEC Tournament in Nashville, Tennessee this week, Pearl said Auburn was "aware of the reports" and it would be "premature" to comment on the matter before knowing all of the facts.
Will Tigers assistant Ira Bowman get in trouble? Only time will tell. But if someone is involved in a scandal, and Auburn basketball is named in any capacity, the only fair reaction is "imagine that" because that's what we have all come to know in recent years.