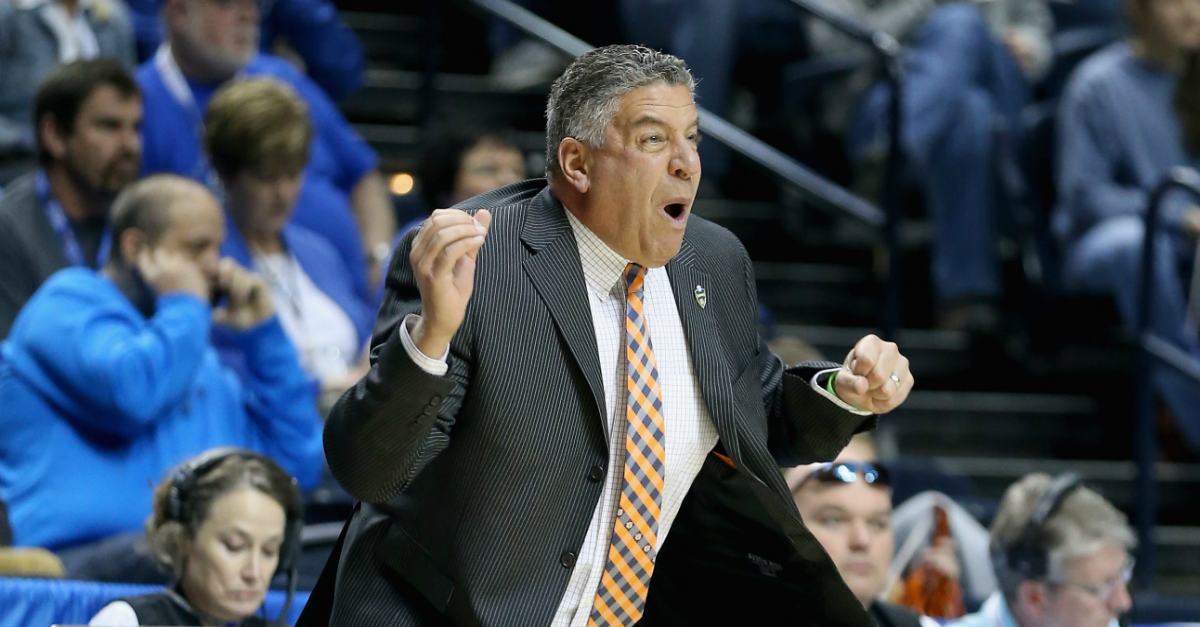 Andy Lyons/Getty Images
NASHVILLE, TN - MARCH 12: Bruce Pearl the head coach of the Auburn Tigers gives instructions to his team against the Texas A&M Aggies during the second round game of the SEC Basketball Tournament at Bridgestone Arena on March 12, 2015 in Nashville, Tennessee. (Photo by Andy Lyons/Getty Images)
The SEC basketball season hasn?t even tipped off yet, and we already have our first controversy. Auburn head coach Bruce Pearl has decided to hang an SEC Championship banner in Auburn Arena. Sounds innocent enough, right? Here is where the controversy comes in: the Tigers were co-champions last season, along with the Tennessee Volunteers.
Pearl made that announcement on Wednesday, October 17, in Birmingham during SEC Media Days. I am sure that statement from the Auburn Tigers is not going to sit well with Pearl?s former school, Tennessee.
Related: Auburn Volleyball Struggles Through 2018 Season with Young Team
The Tigers finished last season at 23-8 and were ranked 23rd in the country, losing in the second round of the NCAA Tournament. One of those losses was to co-champion Tennessee.
With that being said, expectations are sky high for the Tigers this year who were picked to finish third in the SEC behind Kentucky and Tennessee.
The Tigers return second leading scorer Bryce Brown who averaged almost 16 points per game, who when hot, could take over a game. The senior will lead a roster full of juniors and sophomores. Pearl had this to say about his prized player.
Auburn is more than just Bryce Brown. Although he was a huge part of their offense last year, so was junior Jared Harper (13.2 ppg) who, like his teammate, could be deadly from the outside.
However, the biggest and best news for Auburn is the return of center Austin Wiley who had to sit out the 2017 season due to questions of his eligibility by the NCAA because of an investigation done by the FBI about cheating in college basketball.
In January 2018, the NCAA ruled Wiley eligible to play this season. The Tigers, who were known for their 3-point making ability, will need Wiley to stuff the middle and make plays inside. Forward Daniel Purifoy was also ruled eligible and was allowed to return to the team this season too.
If possible, the Tigers could be even better than last year?s squad which could mean a deeper run in the NCAA Tournament, which is a scary thought for any opponent they play this season.