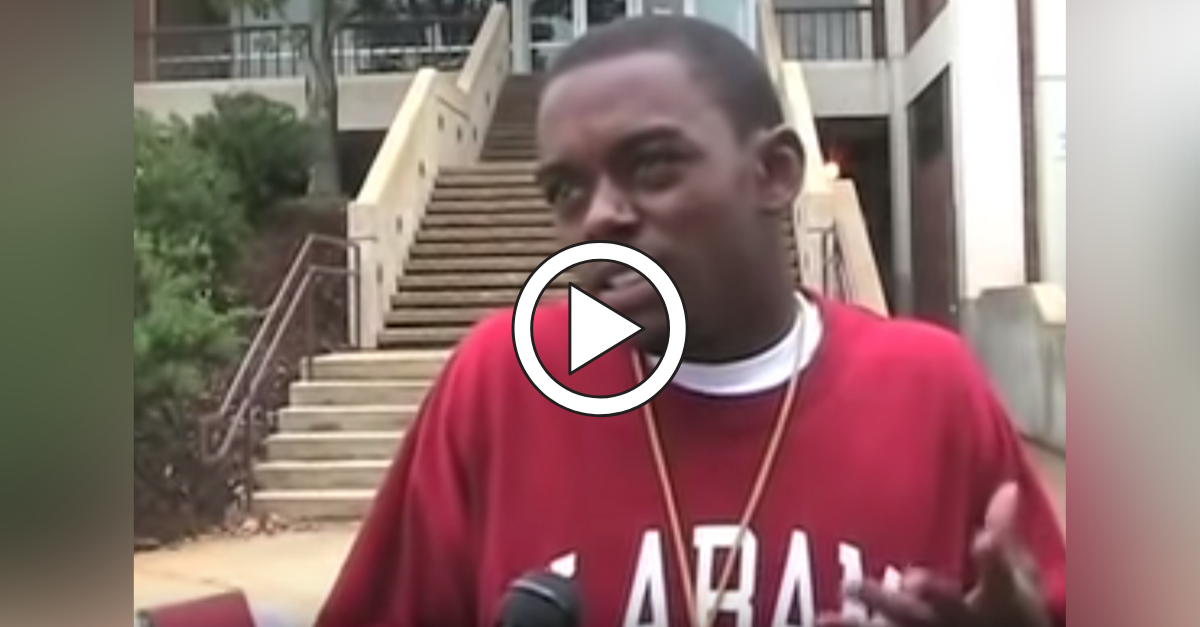 Screenshot from YouTube: nadam251
It's one of the Southeastern Conference's most legendary rivalries, and when the Alabama Crimson Tide and Tennessee Volunteers clash, there's no shortage of love lost between the two programs. Alabama leads the all-time series 56-38-8, including winning the last 11 matchups against the Volunteers.
"The Third Saturday in October" will take place for the 102nd time in 2019, and you can bet that while a mutual respect exist somewhere, there's going to be more than a few harsh words exchanged between fans on game day. There's one fan, however, whose epic rant has stood the test of time and remains an iconic symbol of the deep-rooted hatred between these two college football programs.
Irvin Carney was a sophomore at the University of Alabama when Nick Adam, a campus reporter at the university, approached him during Tennessee week on campus in 2007.
What ensued was an epic viral video rant that, despite how much an Alabama fan might hate Tennessee football, you could not put it more eloquently than Carney did that day.
"I Hate Tennessee"
RELATED: Nick Saban Declares Which Win is His Favorite Since Coaching at Alabama
Pick any reason you want from this fan trashing Tennessee — from the garbage truck workers at Neyland Stadium to the utter despise of former Vols coach Phillip Fulmer — but there might not be a better reason for Carney's hatred than the "throw-up orange" Tennessee colors.
"It's that puke inside of a pumpkin orange, and I don't like pumpkins."

— Irvin Carney
In the midst of this 12-game win streak, former Alabama football coach Jeremy Pruitt aims to become the first former assistant of head coach Nick Saban to beat him. In games against former assistants Derek Dooley, Jim McElwain, Will Muschamp, Mark Dantonio, Jimbo Fisher and Kirby Smart, Saban's teams are undefeated.
Pruitt will try to crack the code on Saturday afternoon in Tuscaloosa, but it's been so long since the Vols last won that nobody attending the University of Tennessee probably remembers their last victory in this SEC matchup.
It's been so long that one Twitter user put together a hilarious thread of "Do You Remember?" celebrity pictures from the last time Tennessee won against Alabama.
We'll see if that deep-rooted hate for Tennessee finally boils over, and they're singing Rocky Top in Knoxville, or if the nightmare will continue, and they'll be singing Sweet Home Alabama all night long once again on The Third Saturday in October.
This post was originally published October 18, 2018.