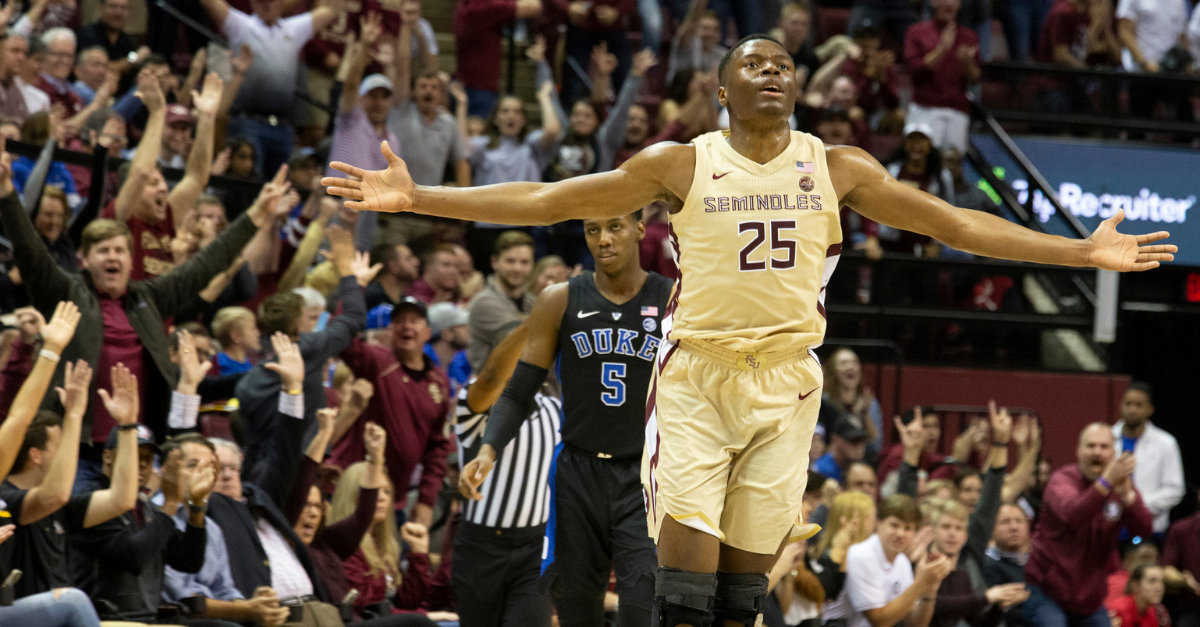 AP Photo/Mark Wallheiser
For the third straight season, Leonard Hamilton and the Florida State Seminoles are in the NCAA Tournament. Last season as a 9-seed, they made it all the way to the Elite Eight. Can the make it back or go even further as the 4-seed in the West Region ? the second-highest in school history ? this year? The Seminoles have a chance to make a run towards the Final Four, but there is a ton of talent trying to do the same thing.
For the Florida State basketball team to reach the Final Four, they will need to win four games. That won't be easy since four of the top 10 teams in the AP Top 25 are in their region. But who will the have to play on their road to the Final Four and the championship game?
Round of 64
(13) Vermont Catamounts
In the first game of the March Madness tournament for the 'Noles, they have to face off with the Catamounts from Burlington, Vermont. (By the way, a catamount is another name for a cougar.) But this is Vermont's second appearance in the tournament in the last three seasons and third in the last eight. Their last win in the tournament was in 2012, which was only their second tournament win in school history. That was a win in a matchup of 16-seeds, but they then lost to North Carolina in the round of 64.
This season, Florida State has to stop Anthony Lamb. The 6-6 forward averaged 21.4 points and 7.8 rebounds on the season, leading the program to an American East Conference title in the regular season and their tournament. This shouldn't be a game they struggle with, but March is full of madness, so they have to be prepared for this game.
Round of 32
(5) Marquette Golden Eagles
The Golden Eagles are one of the teams many experts think are on upset watch because of how they ended the season. With losses in five of their last six games, they seem to be struggling at the worst possible time. But they are led by one of the best scorers in all of college basketball, Markus Howard. Howard averaged 25 points per game throughout the season and will have to play lights out in the tournament to give Marquette a chance.
(12) Murray State Racers
The Racers are a similar team to the Golden Eagles, relying on one main player to score. Ja Morant is seen as one of the top prospects going into the NBA Draft after averaging 24.6 points, 10 assists and 5.5 rebounds. The big difference is they went 27-4 in the Ohio Valley Conference.
Sweet 16
(1) Gonzaga Bulldogs
One of the favorites to win the whole tournament, the Bulldogs have an extremely talented team that can not only score at a high rate, but play pretty good defense. This is arguably the best team Florida State could play in the entire field, so if they could get past the top-seeded Zags, they would have a great chance of making it all the final to the Final Four. TO do that though, they would need to stop Rui Hachimura (20.1 ppg), Brandon Clarke (15.5 ppg, 8.4 rpg, and 3.1 blocks), and Zach Norvell Jr.(15.3 ppg).
(16) Fairleigh Dickinson Knights
Though there is a slight chance they could beat Gonzaga, I can not imagine it is likely. They barely beat Prairie View in the 16-seed match-up, and the Bulldogs are definitely a better team. When they played teams from bigger conferences this season, like Rutgers and Providence, they lost by double-digits in those games.
(8) Syracuse Orange
The Orange are a team I could see making a run like they did in 2016 when they made it all the way to the Final Four as a 10 seed. With most programs, their success comes down to the talent they have on their roster, but with Jim Boeheim and Syracuse, they always have a really good defense with their zone defense. Their real success comes down to how well they can score. But don't be overly surprised if they win a game and give Gonzaga a tough game in the second round.
(9) Baylor Bears
The Bears are led by Makai Mason, who averaged 14.6 points on the season. But they are like FSU and had multiple players in double-digits for scoring, not relying on one player to lead the team. Mario Kegler (10.7 ppg) and Jared Butler(10.1 ppg) were next on the team in scoring.
Elite Eight
Here are the first-round games on the lower half of the bracket with all eight teams FSU could potentially face in the West Region Final.
(6) Buffalo Bulls vs. (11) Arizona State/St. John's
I really like this Buffalo team. They are from a smaller conference, the MAC, but they also played some bigger teams and did pretty well in those. The Bulls beat the 13th-ranked West Virginia and also beat Syracuse by 12 points. So they have shown they can beat some bigger schools. They are led by C.J. Massinburg who averaged 18.3 points this season. In their game against the Mountaineers, Massinburg dropped 43 points to go along with 14 rebounds, hitting nine three-pointers. He was really good against the Orange as well, scoring a game-high 25 points with eight rebounds and five assists.
(3) Texas Tech Red Raiders vs. (14) Northern Kentucky Norse
Texas Tech was pretty good this season, and ended the regular season on a hot-streak with nine consecutive wins. But they did lose their first game of the Big 12 Tournament to West Virginia, a team they beat by 31 earlier in the season. They are led by Jarrett Culver, scoring 18.5 points per game.
Northern Kentucky has one of my favorite mascots in the tournament, the Norse. They also have a really good player in Drew McDonald, who is averaging 19.1 points and 9.5 rebounds. For some reason, they seem like one of the teams that will win some games and McDonald will be the player that the nation will fall in love with.
(7) Nevada Wolfpack vs. (10) Florida Gators
This is an extremely interesting match-up between Nevada and Florida. Even though they struggled for much of the season, I really think the Gators could go on a run if their experience guards can play well. They struggled to score all season, only averaging 68.3 points a game, ranked 282nd out of 353 teams. But if KeVaughn Allen and Jalen Hudson can hit shots, this is a team that could realistically beat anyone. They just beat one of the top teams in the country, LSU, in the SEC Tournament to prove that. But they can also lose to anyone as well, something they proved all season.
The Wolf Pack is led by two players who do the scoring; Caleb Martin(19.2 ppg) and Jordan Caroline(17.3 ppg and 9.6 rpg). Though they play in the MWC, they did have success beating teams from the Pac-12, going 3-0 in games against that conference.
(2) Michigan Wolverines vs. (15) Montana Grizzlies
Michigan had some great wins throughout the season, like against North Carolina, but they also had some bad losses like against Iowa and Penn State. Their top scorer on the season was Ignas Brazdeikis, who averaged 15.1 points and 5.2 rebounds. They should get past Montana pretty easily, but moving forward from there could be a challenge if they don't bring their best.