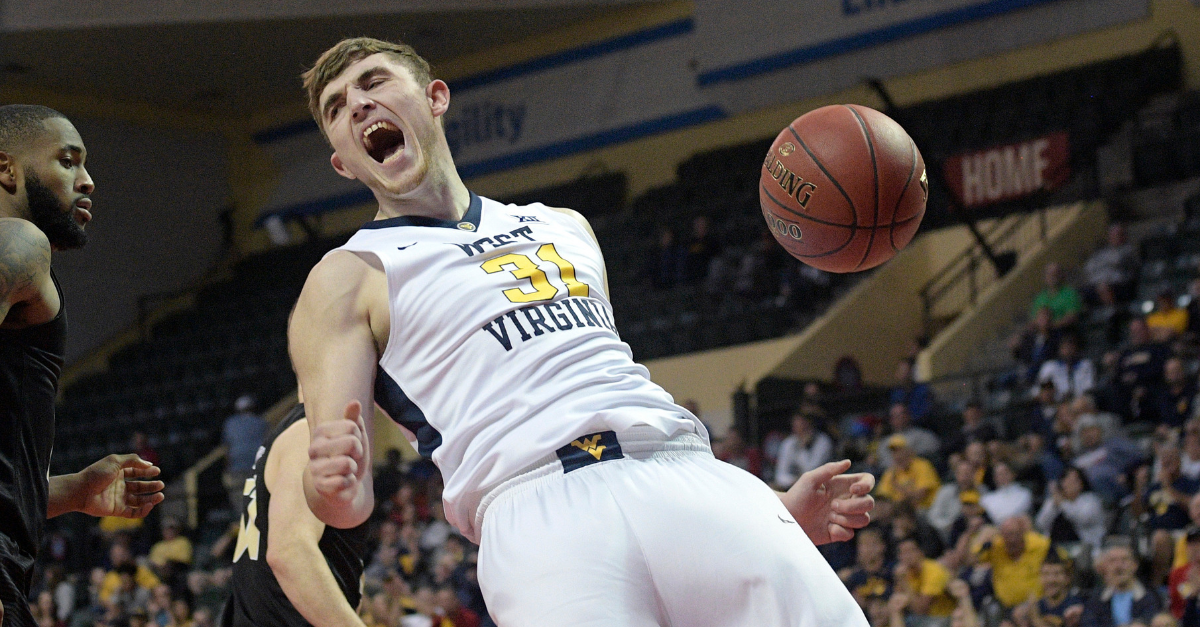 AP Photo/Phelan M. Ebenhack
AP Photo/Phelan M. Ebenhack
In case you haven't heard, the West Virginia Mountaineers stink in 2019. As the college basketball calendar flips to February, WVU ranks dead last in the Big 12 Conference and own a losing record. At this rate, they're going to miss reaching the NCAA Tournament for the first time 2013-14 season. For a team that was ranked No. 13 in the preseason AP Poll, it's safe to say this year is one to forget. Then again, if the Mountaineers keep delivering us can't-miss highlights like they did on February 4, this could end up being a very exciting year.
In an 81-50 thrashing at the hands of 18th-ranked Texas Tech, the Red Raiders shot 52.6 percent to run WVU out of United Supermarkets Arena in Lubbock. The Mountaineers' biggest defensive contribution of the night? That'd be junior forward Logan Routt casually tripping an opposing player while he was riding the bench.
As Texas Tech built a 22-point lead early in the second half, WVU guard Chase Harler sent up a 3-point shot to try and stop the bleeding. That shot, just like 30 others they hoisted up that night, harmlessly clanked off the rim. Behind Harler, though, the real action was just beginning.
Texas Tech's Matt Mooney stumbled into the Mountaineers' bench. As he tried to get back on the court, West Virginia's Logan Routt, a 6-foot-11 forward averaging 2.2 points and 2.1 rebounds per game this year, tripped Mooney up using a MMA-style leg lock. You (obviously) cannot do that, and Routt was promptly ejected as the Texas Tech fans went wild watching him walk to the locker room.
WATCH: Notre Dame Mascot Sinks Full-Court Putt to Win Everybody Golf Tickets
After Routt was assessed a Flagrant 2 foul and was ejected, Red Raiders guard Davide Moretti made both free throws, then Mooney got his redemption by nailing a 3-pointer to cap a 16-1 run that ultimately buried the Mountaineers. WVU lost their 13th game of the season, which already sets up head coach Bob Huggins for one of his worst seasons during his 12-year tenure at Morgantown.
Losing Routt, who played zero minutes in the game, was hardly the deciding factor. But with West Virginia's season slowly spiraling out of control, his trip on Monday night might end up as the only highlight you need to worry about from this season.