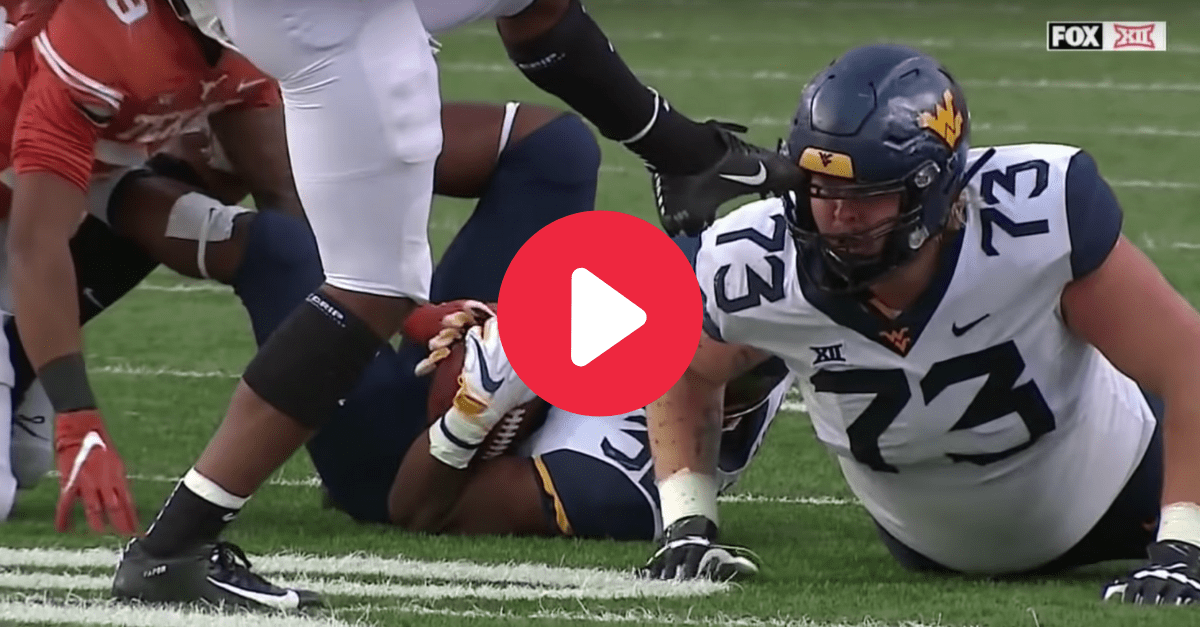 Screenshot from YouTube
With less than two minutes remaining in the fourth quarter, in one of best college football games you will watch all season, West Virginia junior running back Martell Pettaway took the handoff, found a nice hole, and plunged forward for seven yards. It definitely wasn?t the biggest play of the drive against the Texas Longhorns, but it certainly turned out to be the most obscure.
Ask anyone about the Texas-West Virginia game, and they will likely tell you all about the two late touchdowns, the gutsy two-point conversion for quarterback Will Grier in the final seconds, and the unsportsmanlike penalty before the Mountaineers escaped with a 42-41 comeback victory over the Longhorns in Austin, Texas.
Yet, it was that run from Pettaway that produced something quite new.
In an attempt to push the pile, WVU sophomore left guard Josh Sills fell forward. It just so happened that his helmet hit Texas freshman Anthony Cook?s foot so perfectly that the defensive back?s cleat got stuck.
Seriously, in a heated Big 12 game, this actually happened.
Texas Player Gets Cleat Stuck in WVU Facemask
The full play starts at the 2:32:55 mark here, too:
[youtube https://www.youtube.com/watch?v=LHwaEHJO7lc?start=9172&w=560&h=315%5D
Have you ever seen anything like it? That a defender?s cleat would just get lodged in an offensive lineman?s face mask?
What?s even crazier is the blooper was in a key moment and actually served as a quick breather for West Virginia as it started moving into Texas territory.
Cook was forced to get the helmet off Sills, sit on the ground, and remove the cleat.
?GET YOUR FOOT OUT OF MY FACE!? Legendary play-by-play announcer Gus Johnson said during the replay.
Imagine if this happened in the second half of Texas' showdown with the Oklahoma Sooners, or a rivalry like Ohio State-Michigan, Alabama-LSU or in the College Football Playoff championship game and NFL playoffs. The image would be framed everywhere.
Everyone knows how the game ended, and it was incredible, but the drama of the game certainly made most of us miss one of the more bizarre moments you will ever see.
The Mountaineers and head coach Dana Holgorsen definitely had a lot to smile about as they went back to West Virginia University in Morgantown last year.
This post was originally published on November 5, 2018.