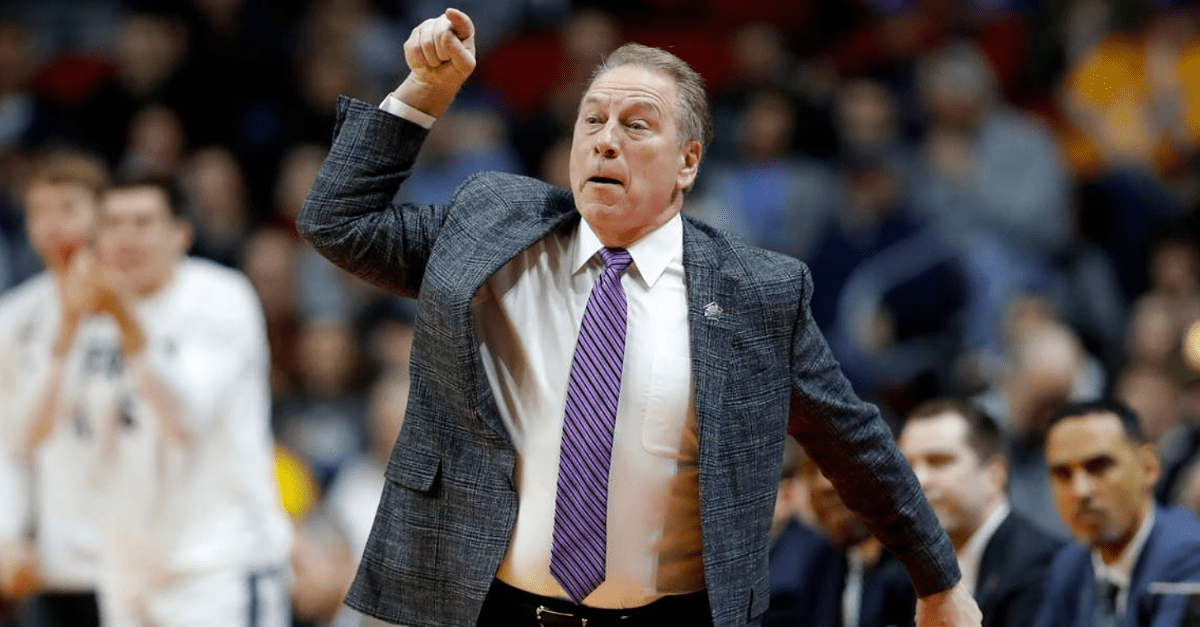 AP Photo/Charlie Neibergall
Back when I played youth football, Coach Carnahan was the biggest prick in the world. If you or your kids played sports, you've definitely met someone just like him. He was loud, arrogant, brash, and loved to spit his chewing tobacco on the weathered practice field we called "The Dust Bowl." For all the parents who despised his behavior around their kids, I can say I've never had a more important coach in my life. Carnahan wasn't going to let me fail; he was motivating me to succeed.
Michigan State head coach Tom Izzo looked like steam was about to pour out of his head when he confronted freshman Aaron Henry on Thursday. During the Michigan State Spartans' first-round victory over Bradley in the NCAA Tournament, Izzo went face-to-face with Henry after a timeout, then lunged at him several times while others restrained him. Izzo was obviously motivating Henry to some end, but was the 64-year-old coach crossing the line and being too aggressive?
Many critics don't see fault in what Izzo did. After all, this certainly isn't the first time he's yelled at a player. The man with over 600 wins, seven trips to the Final Four, and the 2000 National Championship in his pocket gets a lot of leeway, but other people aren't exactly O.K. with what he did.
RELATED: For Michigan State, Winning the Big Ten on Selection Sunday Meant Nothing
I don't think it's even a question. You can see Izzo's passion spill over in the first 10 minutes of every single Michigan State game he coaches. This is March Madness and Izzo was trying to get his guy ready to go. According to junior guard Cassius Winston, Henry jogging on defense caused the Hall of Fame coach to explode.
As a freshman forward playing for a top-5 team in your first NCAA Tournament game, you're going to get called out for an effort-related mistake.
If you watch everyone else around him, they're restraining Izzo from a place of respect, not anger. This is just another example of the "coach's mentality" being used an excuse to cause a scene, and Izzo took a pretty straight shot at all of his critics calling out his actions after the game.
"I get a kick out of you guys. 'Get after somebody because you're trying to hold him accountable.' I don't know what kind of business you're in, but I'll tell you what, if I was the head of a newspaper and you didn't do your job, you'd be held accountable."

? Michigan State coach Tim Izzo, h/t @BradGalli on Twitter
College basketball players are, after all, kids. They're student-athletes who need guidance and motivation, even if the NCAA tries telling us that's all they are. Izzo hasn't built this career without getting in a few players' faces, and he's not planning to stop doing it any time soon.
WATCH: