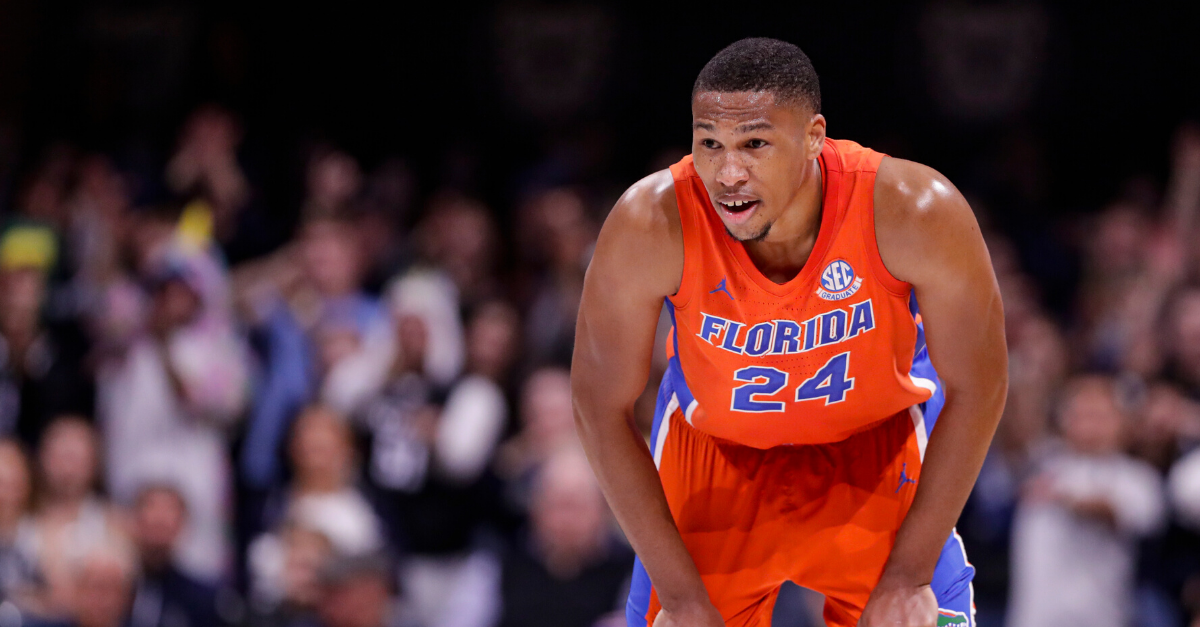 AP Photo/Michael Conroy
Editor's Update: The 2020 basketball season was canceled due to the spread of COVID-19 and coronavirus outbreak. Florida finished the shortened season with a 19-12 record.
The SEC is growing stronger as a basketball conference. Auburn and LSU have emerged as contenders in a league that's traditionally headlined by Kentucky. Tennessee was one of the top teams in the country last season. South Carolina made the Final Four in 2017.
Don't forget about the Florida Gators either.
The Gators entered the 2019-20 campaign after a 19-15 record and second-round NCAA Tournament appearance last season, where they fell to Michigan 64-49. Departures include key contributors KeVaughn Allen, Jalen Hudson, and Kevarrius Hayes. Allen led the team in scoring, while Hudson led in steals and Hayes in blocks. All three provided valuable senior leadership.
Incoming Virginia Tech graduate transfer Kerry Blackshear Jr. looks to transcend the box score and fill the leadership void. Head coach Mike White spoke of Blackshear's skill set at SEC Media days this past September:
"He gives us an opportunity to play a little bit differently offensively than we've played here in that we've struggled to score on the interior," White said. "He's the best passing big that I've coached. He's good at a lot of things."
Accompanying Blackshear to Gainesville are incoming five-star recruits Scottie Lewis and Tre Mann. Lewis was the number seven recruit in the country according to 247Sports, while Mann was ranked 21st. Both show NBA potential.
Returning for the Gators are sophomores Keyontae Johnson, Andrew Nembhard, and Noah Locke. All three averaged over 20 minutes per game last year. Look for Nemdhard to be another team leader alongside Blackshear.
The Gators have a formidable regular season schedule. Non-conference opponents include in-state rivals Florida State and Miami. White's squad also faces off against a trio of Big East opponents. They face Xavier as part of the Charleston Classic, Butler in Indianapolis, and Providence in the Naismith Basketball Hall of Fame Invitational in Brooklyn. In SEC play, they square off against Kentucky in Lexington on February 22nd. Additionally, they face Georgia, Vanderbilt, Tennessee, Auburn, and Alabama.
The young Gators are chomping at the bit to make another deep run in March and share dreams of reaching the Final Four in Atlanta.
Florida Men's Basketball Schedule 2019-20
Oct. 29: LYNN (EXHIBITION)
—
Nov. 5: NORTH FLORIDA
Nov. 10: FLORIDA STATE
Nov. 14: TOWSON
Nov. 17: at UConn
Charleston Classic (Charleston, SC)
Nov. 21: Saint Joseph's
Nov. 22: Miami (Fl.)
Nov. 24: Xavier
—
Nov. 29: MARSHALL
—
Dec. 7: at Butler
Dec. 17: Providence — Naismith Basketball Hall of Fame Invitational (Brooklyn, NY)
Dec. 21: Utah State — Orange Bowl Classic (Sunrise, FL)
Dec. 28: LONG BEACH STATE
—
Jan. 4: ALABAMA*
Jan. 7: at South Carolina*
Jan. 11: at Missouri*
Jan. 14: OLE MISS*
Jan. 18: AUBURN*
Jan. 21: at LSU*
Jan. 25: BAYLOR — Big 12/SEC Challenge (Exatech Arena at Stephen C. O'Connell Center)
Jan. 28: MISSISSIPPI STATE*
—
Feb. 1: at Vanderbilt*
Feb. 5: GEORGIA*
Feb. 8: at Ole Miss*
Feb. 12: at Texas A&M*
Feb. 15: VANDERBILT*
Feb. 18: ARKANSAS*
Feb. 22: at Kentucky*
Feb. 26: LSU*
Feb. 29: at TENNESSEE*
—
Mar. 4: at Georgia*
Mar. 7: KENTUCKY*
SEC Men's Basketball Tournament: Begins March 11 in Nashville, TN
* — Denotes Southeastern Conference Game
**— Games will be televised on either CBS Sports, ESPN, ESPN2, ESPNU, FOX or SEC Network